If you have a tight space and you have relatives and friends visiting often, you might need to read this Emma Sofa bed review. People who rent in Sydney or Melbourne rarely have guest rooms so the use of a sofa bed can solve a practical issue.
After seeing great success with their mattresses, the people at Emma decided to release a sofa bed that would combine functionality and practicality. What is interesting here is that although this is not a mattress, they still offer a great service so you will get a 100-night trial period and a 5-year guarantee. As expected from such a brand, delivery is free and the Emma sofa bed will be delivered in two separate boxes. Mine was delivered around ten days ago so it's time now to move to the full review below.
Construction
The Emma Sofa bed is made of two parts, the sofa bed and the two armrests. Assembly will only take a couple of minutes and you don't need any tools for that. The armrests have a hidden storage space that allows you to store whatever you need but also the two free throw pillows that come with this sofa bed. The fabric is made of recycled PET bottles and is very durable. It feels soft and when you sit on it, you feel this is a premium fabric.
Underneath the cover, they have used CertiPUR-US certified foam that has a nice bounce and it's free from any harmful substances. Finally, all the wooden parts are made with FSC-certified wood which shows the quality of this piece of furniture.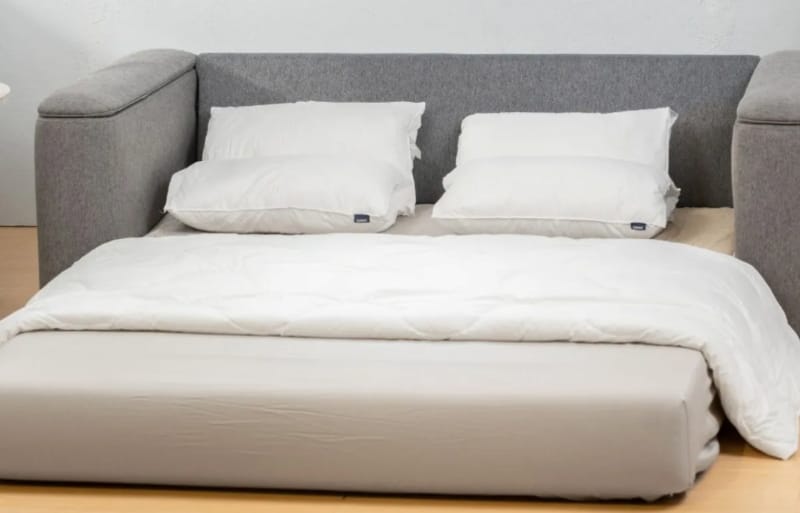 Design & Practicality
The design of this sofa bed is a modern one and it will suit most living rooms. It's available in grey and this is the only colourway that you can find. This hopefully will change in the near future and I would personally like to have more options. The opening mechanism is simple, allowing you to have a double-sized bed in seconds. This is great but it also helps with durability. After all, complex mechanisms tend to have problems more easily. Finally, the hidden armrest storage space is a nice touch and you can use it to store whatever you want, including your remote controls or your favourite magazines.
Comfort
One of the main things you should consider before buying a sofa bed is its comfort. The challenge for every maker is to create a comfortable sofa to sit on and a supportive bed to sleep on. The engineers at Emma did a good job at it and this is a very comfortable sofa. For me, this is the most important part as it's gonna be used mostly as a sofa. As a bed is not bad and you will have no issue sleeping on it for a few nights. However, it cannot be compared to a good mattress but as a guest bed, it does an excellent job at this task. Overall, this is a well-balanced sofa bed that won't disappoint.
Verdict
I am ready to complete this Emma Sofa bed review but before I do so, I would like to share my final thought with you. Emma managed to build a practical piece of furniture that combines quality with design. Their experience in building top-notch mattresses helped them create a comfortable sofa bed that allows you to accommodate two guests without having an extra room for them. That is hard to ignore so if you are in the market for a versatile sofa bed, this is definitely one to consider.
PROS
Supportive and comfortable
Easy to open mechanism
100-night trial period
CONS
Available only in grey