If you look for affordable ways to improve your sleep, you should definitely read my Peace Lily Latex pillow review. After seeing great success with their latex mattress, they developed a pillow range to help people sleep better. In this review, I will talk about the latex option which is the firmer of the two.
The Peace Lily Latex pillow is a big one measuring 74cm x 43cm x 12.5cm. It weighs 2.5kg and it fits queen pillowcases. When you order one, you will get free delivery and a 100-night trial period that allows you to try it before you decide to keep it or not. If you are not happy with it, you can return it and get a full refund. My pillow arrived almost 3 weeks ago so it's a good time now to move to the full review below.
Construction
The design of this pillow is a straightforward one and it's used by several makers. The people at Peace Lily used a single piece of 100% Natural Latex foam with many properties. Firstly, it's a breathable material that has the ability to regulate heat so you can sleep without feeling too hot or too cold. Secondly, natural latex is very durable so this pillow will last you for a really long time.
Finally, this material is designed to provide firmer neck support and it works better than traditional memory foam. In addition, the engineers at Peace Lily drilled holes in this pillow that further improve breathability. This is a great design and I am glad that they put a lot of thinking behind that. The latex foam used here is eco-INSTITUT certified which means that it's free from hazardous materials and substances. Overall, this is a well-made pillow and Peace Lily did a great job here.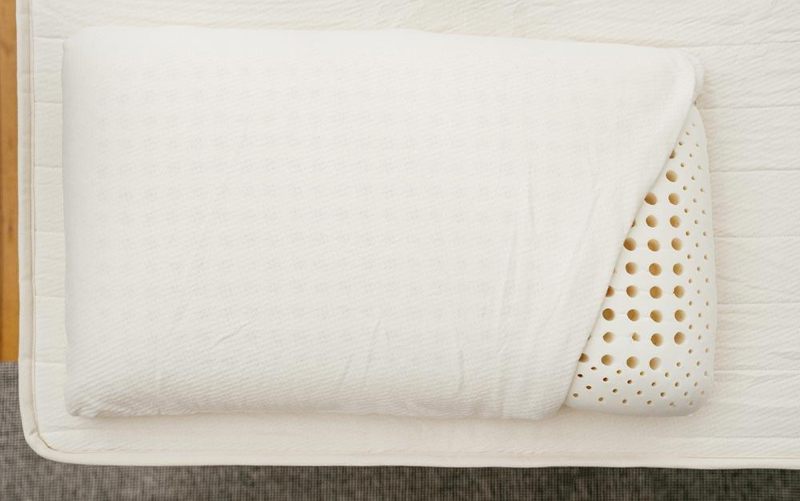 Cover
The cover of this pillow is made of 100% organic cotton that is GOTS certified. That means it has passed all the tests and it's really organic. They chose this material because it's breathable and skin-friendly. Moreover, it's not hard to maintain so you can clean it easily. The design is plain but that is expected from a brand that makes all-natural products. If you want to remove the cover, there is a zip so it's easy to remove it when needed. Overall, this is a well-made cover that does the job.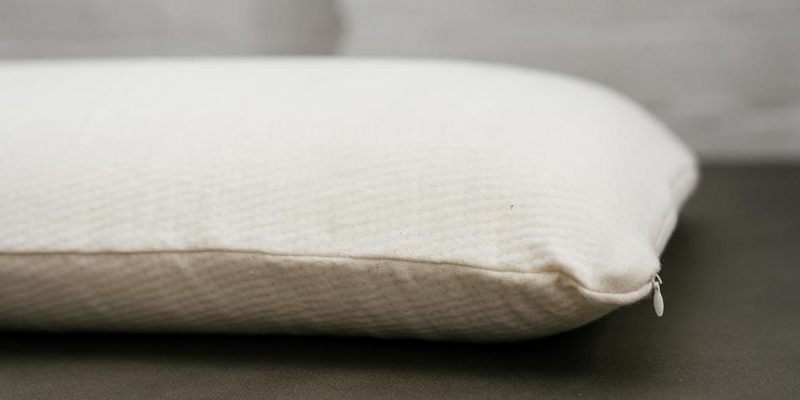 Support
I have mentioned many times that the height of the pillow is one of the most important factors you should consider before choosing your next pillow. The Latex pillow measures 12.5cm in height so it's best suited to back and side sleepers. If it wasn't so firm, it would also be good for stomach sleepers but I personally found it slightly higher than I would prefer. Having said that, the latex foam is very supportive and I felt that it did a great job with my neck. Every morning I felt well-rested and the pillow helped my spine to align properly. Overall, this is a supportive pillow that would mostly suit back and side sleepers.
Is the Peace Lily Latex pillow any good?
This is always a tough question to answer now that I am about to complete this Peace Lily Latex pillow review. In my opinion, this pillow would be ideal for those looking for:
An all-natural pillow that has a firmer feel.
A latex pillow that is fairly priced.
A pillow that comes with a 100-night trial period and free shipping.
If you look for all of these, the Peace Lily latex pillow should be an option that you should consider. I personally think that it's hard to find an all-natural pillow that performs so well and doesn't cost a fortune so for me this is a good buy.
Peace Lily Latex Pillow Review
PROS
All natural materials
Firm support
100-night trial period
CONS
Not great for stomach sleepers