The 'mattress in a box' industry is getting bigger and bigger these days. But not all makers are new. Some make mattresses for more than a decade now. In this Ergoflex mattress review, I will talk about their 5G memory foam option which is very popular in Australia.
Awarded "Best Mattress for Back Pain" for 2023
This mattress is a foam-only one and is geared towards people who suffer from back pain or other orthopaedic problems. Ergoflex wants to position itself as a Tempur alternative but only in quality not in price. The mattress is designed in Australia but is manufactured in state-of-the-art facilities in China. The mattress comes packed in a grey carton box and is delivered directly to your door. Mine arrived almost two weeks ago so it's a good time now to write the full review.
What is an Ergoflex mattress made of?
The Ergoflex mattress is made of a total of 3 foam layers.
A high-density visco-elastic memory foam layer that provides the body with the needed pressure relief. It also helps to minimise motion transfer.
A Cool-Sleep airflow layer that is there to help the mattress breathe. It regulates the temperature at the very core of the mattress.
A high-resilience foam base that provides the body with the needed support. This layer keeps the mattress altogether.
In the picture below, you can see the placement of the different layers.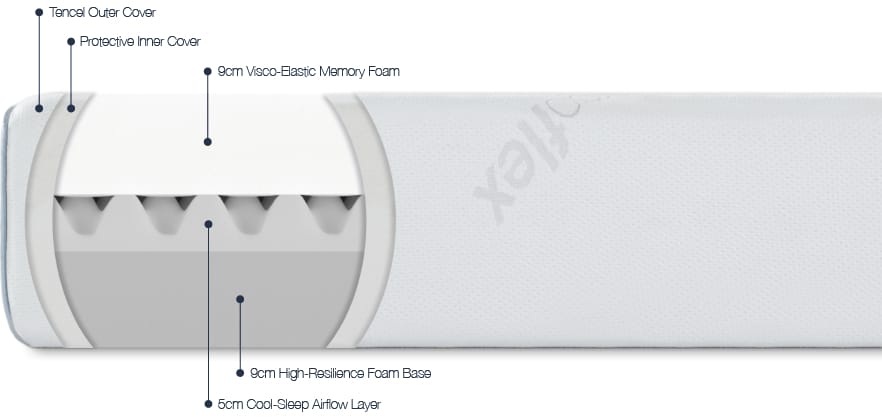 What is the cover made of?
The cover of this mattress is made of Natural Tencel. It's a fantastic material that has many advantages. Firstly, it's very breathable and feels soft. Secondly, it's hypo-allergenic and anti-microbial so if you are an allergy sufferer this mattress can be good for you. The cover is removable and you can machine wash it at 30°. Besides the outer Tencel cover, the mattress features a protective micro-fine inner cover which protects the core of the mattress.
The design of the cover is Scandi, featuring grey and white tones. I personally liked it as it looks very different from all the other mattresses I have reviewed. In general, I think this is one of the best covers I have seen. It's made with excellent material, it's very breathable and it's easy to clean. I don't think I have any complaints here.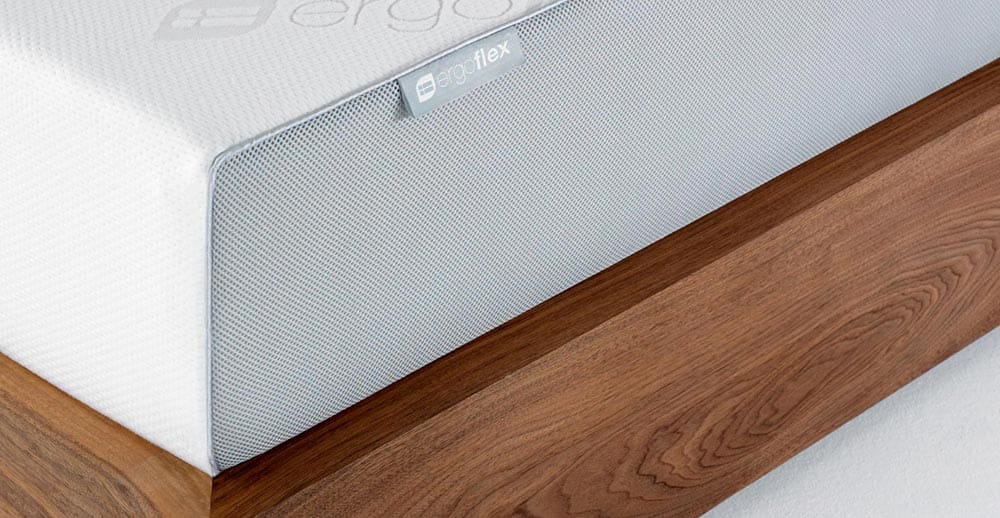 How firm is the Ergoflex mattress?
The Ergoflex mattress features an Orthopedic design so I was expecting it to be firmer than most rolled mattresses. It still is a medium-firm mattress but I would say it's a 7 in my virtual scale. I remind you that 10 is really firm and 1 is really soft. It's time now to talk about the different sleeping positions and how this mattress performed.

Starting from the back position, I immediately felt the high-quality memory foam layer hugging my shoulders and hips. It's a firm foam and I must say it felt great in this position. The support and pressure relief were there and my spine was aligned properly. The mattress did an excellent job in this position.
Moving to the side position, the foam reacted relatively quickly for a memory foam one but the mattress felt a bit firm for this position. Sinkage was not enough for my spine to get into the right position and I felt that I needed more depth in the hip area. Firmer mattresses tend not to suit the side position so I was expecting that.
Finally, moving to the stomach position, the mattress offered the right support in the hips and chest area. It was extremely comfortable and the firmness of the mattress is ideal for this position. I think that the Ergoflex mattress is ideal for the back and stomach position and average for the side position.
The mattress is also very good for couples. The foam construction means minimal motion transfer so you won't be disturbed by your partner. The edge support is also good for a memory foam mattress and in general Ergoflex is well-built.
What type of bed should I use with this mattress?
Ergoflex can be placed on any flat surface including your floor. However, I advise you to use a base which allows the mattress to breathe better. You can use a slatted one, a foundation one or on an adjustable one depending on your needs and taste. This mattress will work just fine with every one of the above options.
Will it come packed in a box?
As I have already mentioned above, the Ergoflex mattress comes directly to your door packed in a carton box. Next-day delivery is free for all sizes provided you live in Brisbane, Canberra, Melbourne and Sydney. If you live elsewhere, delivery can take longer but they usually have fast times.
The box will be delivered to your front door so make sure you have someone to help you with it. Ergoflex is one of the heaviest mattresses out there so be prepared. You will receive an email and a text on the day your mattress is dispatched and in general I found communication to be adequate. The courier arrived on time and he was polite and friendly. If you want a Saturday delivery you should contact them and they will arrange it for you for an extra fee. Overall, they offer a really good service here and unlike other companies, they can deliver to outlying Australian islands, New Zealand or other Pacific Islands.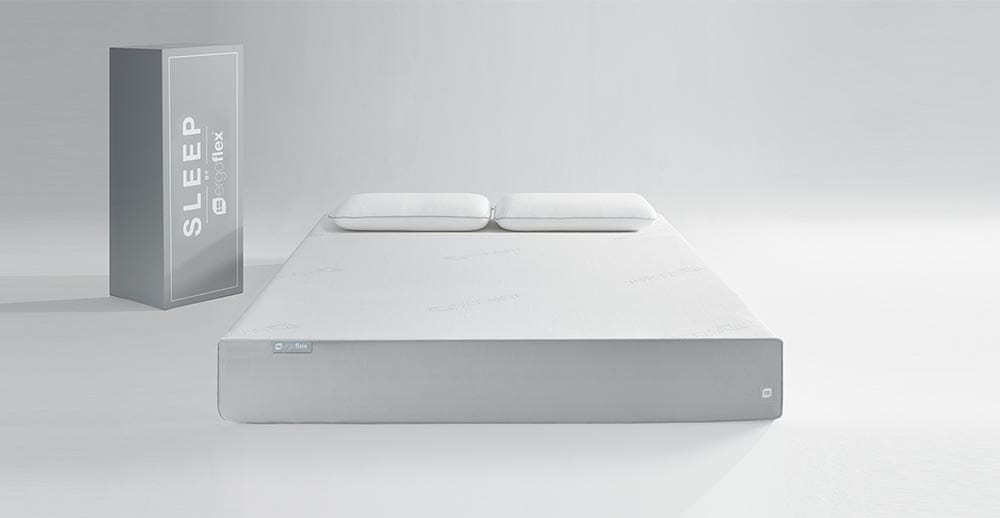 Will the Ergoflex mattress come with a trial period?
The Ergoflex mattress comes with a 30-day trial period. This gives you a month to test the mattress and decide if you are happy with your purchase. This is an area that Ergoflex could do better. Most 'mattresses in a box' come with a 100-night trial period. If you are not happy with the mattress, you can return it and get a full refund. Mattresses that are returned are donated to the charity RizeUp which helps victims of family and domestic violence. This is a great gesture and I hope more makers will follow their lead.
Besides the trial, you will also get a 10-year warranty which covers any material or workmanship defect arising in that period. This shows they have trust in their manufacturing process.
How much does it cost?
The mattress is available in 6 sizes. The smaller (Single) goes for $1,049 and the bigger (King) sells for $1,899. Ergoflex is not the cheapest option but they always run promotions so you don't have to pay full price. If you want to save money make sure you visit the discount page here. The table below has pricing information for all the available sizes.
| | | |
| --- | --- | --- |
| SIZE | DIMENSIONS | PRICE |
| Single | 92 x 188 x 23cm | $1,049 |
| Long Single | 92 x 203 x 23cm | $1,099 |
| King Single | 107 x 203 x 23cm | $1,129 |
| Double | 138 x 188 x 23cm | $1,499 |
| Queen | 153 x 203 x 23cm | $1,699 |
| King | 183 x 203 x 23cm | $1,899 |
Is the Ergloflex mattress any good?
Completing this Ergoflex mattress review, I would like to share my final thoughts with you. This mattress is great for anyone looking for:
An Orthopedic mattress that is excellent for sleepers who prefer the back or the stomach position.
A mattress that features a hypoallergenic Tencel cover.
A memory foam mattress that is good for couples.
Ergoflex is a great mattress. It's very well built and it's a great choice for anyone looking for an affordable Tempur alternative. If you are one then definitely go for it!
PROS
Fantastic pressure relief
Excellent Tencel cover
Stays cool during sleep
CONS
30-day trial period could be longer