If you suffer from neck pain, you should probably read this Zamat Butterfly Button Shaped pillow review. This is an interesting new option from Zamat, a maker that was founded back in 2017 and specializes in cervical pillows.
For those who have never heard of this term before, cervical pillows have a curved design that adapts to your head, neck and shoulder. They can help you alleviate pain but also improve breathing and reduce snoring. After seeing a Facebook ad, I was really keen to try this out so I ordered mine almost 3 weeks ago. The Zamat pillow comes with a 100-night trial period so I didn't hesitate to buy one. I got it ten days ago so let's move to the full review below.
Construction
The unique thing about this pillow is its shape. The engineers at Zamat wanted to give people a number of options so they came up with this design. As you can see in the image below, they have added side foam panels and armrests. As you can imagine, these were added after a lot of research and this is one of the most versatile pillows I have ever seen.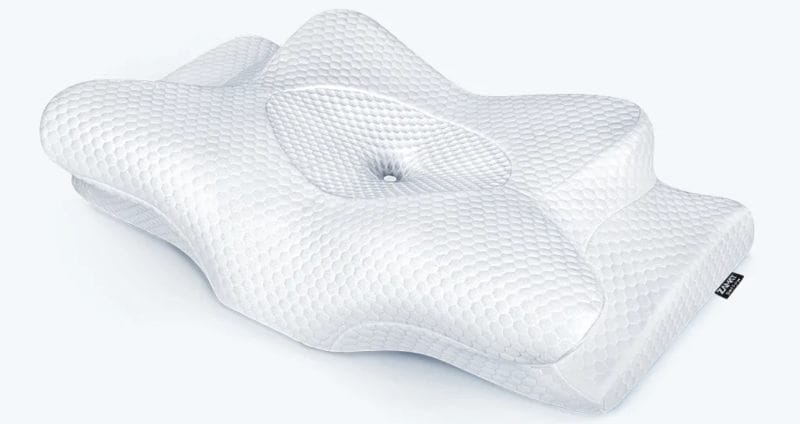 In terms of the materials used to make this pillow, the core is made of 100% premium memory foam. The good news is that this is CertiPUR-US certified so you can rest assured it's free from any toxic substances including mercury and lead. This is a 'cooling type' of memory foam but it's not the best I have seen. I felt that other foam pillows stayed cooler and there is definitely room for improvement here.
At the bottom of this pillow, you will find a removable foam layer that allows you to adjust its height. This is definitely a clever touch but I will talk about it later. The overall construction and the finish are excellent and the people at Zamat did a great job here.
Cover
The cover of this pillow is made of 100% polyester which is a material that has many useful properties. To begin with, polyester is very durable and this is the main reason so many pillow makers use it for their covers. Secondly, it's a breathable material that allows airflow. That not only keeps the sleeping surface cool but it's more hygienic too.
The cover is a removable one and you can wash it at 40 degrees using a gentle cycle. This is very practical and I always prefer washable covers. The sleeping surface feels soft and the cover has a nice fit. Overall, I was happy with the quality of the cover so no complaints at all.
Support
Most people who want to buy a cervical pillow are either having a bad neck or suffer from tension headaches. These two problems are frequently connected to bad posture and the Zamat Butterfly pillow aims to correct that. I have been using this pillow for almost a week now and I must admit I saw an improvement.
However, I need to mention here that due to its 'weird' shape, you will probably need some time to get used to it. In my case, I struggled a bit the first two nights but then I figured it out. Moreover, depending on your preferred sleeping position, you should decide whether you want to remove or keep the extra foam insert. I chose the former as I am more of a stomach sleeper.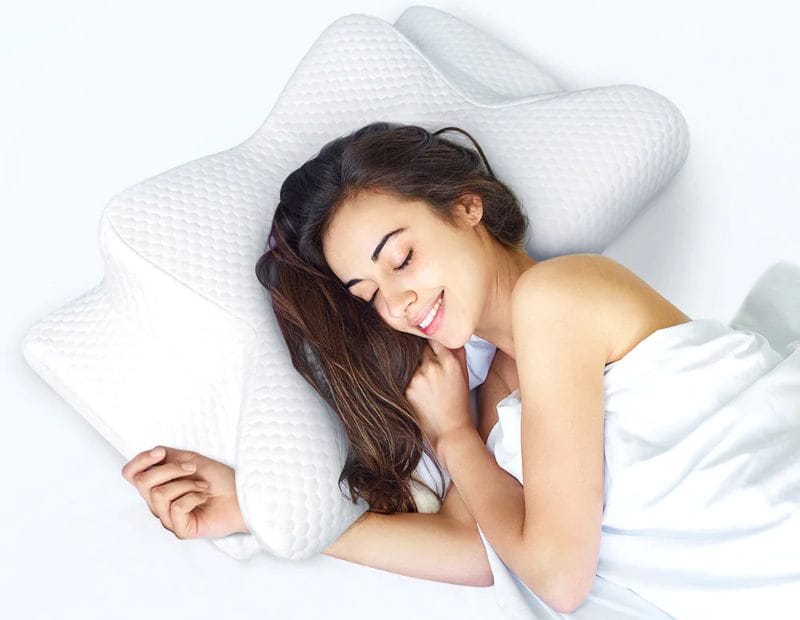 What is great about this pillow is its pressure-relieving properties. My neck felt well-rested in the morning and the neck ache was less severe. I believe that the more you use this pillow the better the results will be. One point I need to make here is that if you like sleeping with your arms under the pillow then probably this is not the ideal option for you. Other than that, this is a versatile pillow that will help you have a better posture during sleep.
Will this pillow help me?
This is always a difficult question to answer but I will try to do my best since I am ready to complete this Zamat Butterfly Button Shaped pillow review. This can be a great option for those looking for:
A cervical pillow that can reduce neck pain and tension headaches.
A pillow that is built for all sleeping positions.
A pillow that comes with a 100-night trial period.
If you look for ways to improve posture during sleep, this pillow from Zamat can be a good start. It features a unique design that will suit most sleeping styles and it comes with an affordable price tag. For all these reasons, this is an option I can recommend.
Zamat Butterfly Button Shaped Pillow Review
PROS
Unique and innovative design
High-quality memory foam
100-night trial period
CONS
Delivery times can be long