If you want to improve the way you sleep, you should probably read this Valmori Latex mattress review. For those who have never heard of this brand before, Valmori manufactures mattresses since 1963 and it was originally founded in Milan, Italy.
The Valmori range, includes two other options, the Valmori Spring mattress and the Valmori Hybrid mattress. As expected these days, all Valmori mattresses come packed inside boxes but more on that later. Without any further ado, let's move to the full review below.
What is this mattress made of?
This mattress features 3 layers plus the cover. In detail, these are:
A latex memory foam layer that is designed to keep the sleeping surface cool during the night. Memory foam has pressure-relieving properties which are important for demanding parts of our bodies like our hips and shoulders.
A micro-springs layer that can provide your body with the needed comfort and support.
An ergonomic support foam layer that is the foundation of this mattress. It features a 5-zone system that has the ability to provide tailored support.
The mattress measures 23cm in height and it's CertiPUR-US certified. That means it's free from nasty chemicals and it's safe for human health.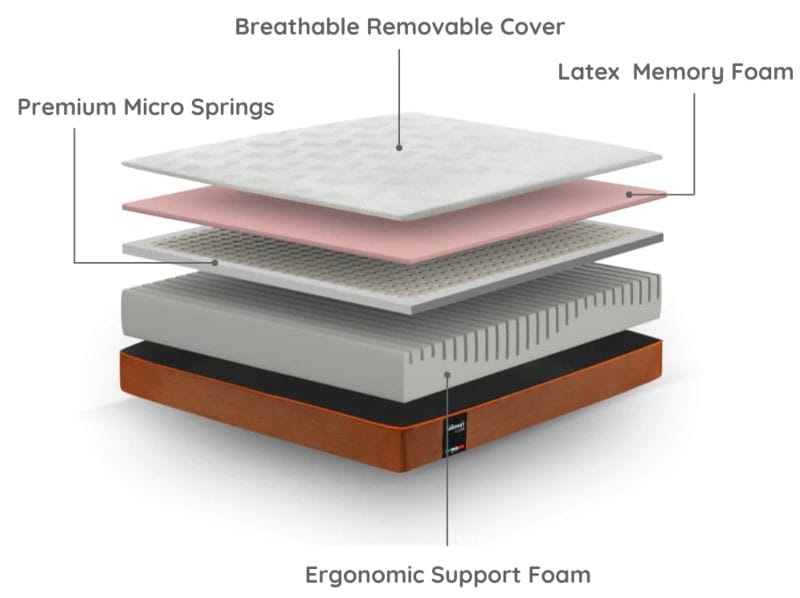 Is this a nice cover?
The cover of this mattress is designed to allow airflow which is very important if you live in Australia. It features a white top part and an orange side part. The former is the sleeping surface and has the ability to regulate heat. The latter is the side and bottom part and it features a mesh surface that increases airflow. The two parts are connected with a sturdy zip mechanism and if you want to clean it, you can remove it and pop it inside your washing machine. This is useful and that means you can maintain this cover with little effort. Unfortunately, there are no side handles so if you want to move this mattress, you need to try harder. The design is a modern one and it's one I personally like. Overall, this is a well-made cover that works great.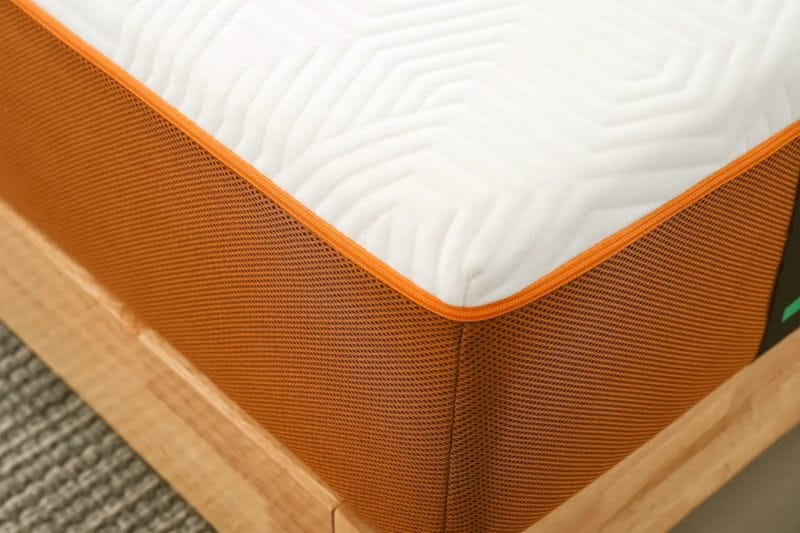 Is this a firm mattress?
I want to continue with this Valmori Latex mattress review and discuss its feel. This is a medium-firm mattress that feels closer to a medium profile. If I use my virtual scale here, I would say it's a 6 with 10 being really firm.

As I have mentioned above this mattress is best suited to people who seek comfort and pressure relief. Unlike other latex mattresses, this one is more of a hybrid one as it features a layer made of micro-springs. This is an interesting combination that works well so you should expect balanced support. Due to its feel, I would say that it wouldn't be a great choice for overweight people and if you are one, you should probably look at the Valmori Spring mattress which comes with a firmer feel. Overall, the Valmori Latex mattress is best suited for those who want to sleep comfortably and seek rest for their joints and spine.
Is there free delivery?
If you decide to buy a Valmori mattress, you will get a free delivery service that is available nationwide. If you live in Sydney, you are eligible for next-day delivery while for the rest of the Metro areas the delivery time should be around 3-4 days. For the rest of Australia, this can go up to 10 days but this is quite normal. Valmori uses its own logistic partners so you should expect the carton box to arrive in excellent condition. Although this is not the quickest service out there, the important thing is that they offer free delivery, therefore I can't complain.
Can I try this mattress before I buy it?
Many people don't feel comfortable buying a mattress online and to be fair this is quite normal. The good news is that all Valmori mattresses come with a 100-night trial period so you have plenty of time to try it and decide later whether you want to keep it or not. If you feel that this is not for you, you have the right to return it and ask for a full refund. The process is a simple one and you don't need to keep the original packaging to have the right to make a return.
Besides that, when you buy a Valmori mattress, you will also get a 15-year warranty which is one of the longest in the Australian market. This is fantastic and it shows how confident they are about the products. Overall, this is a great package and the people at Valmori do a great job here.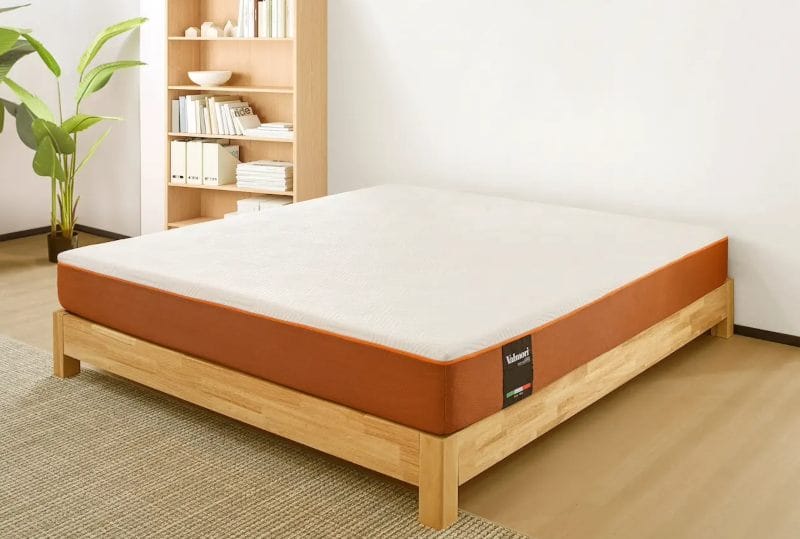 How much will it cost me?
The Valmori Latex mattress is available in two sizes so you have limited options to choose from. The smaller size (Queen) sells for $1,150 with the bigger one (King) going for $1,250. Having said that, the people at Valmori run frequent promotions so you will probably pay less than that. The table below has pricing information for all available sizes.
| | | |
| --- | --- | --- |
| SIZE | DIMENSIONS | PRICE |
| Queen | 153 x 203 x 23cm | $1,150 |
| King | 183 x 203 x 23cm | $1,250 |
Is this a good option for me?
This is the question I need to answer now that I am about to complete this Valmori Latex mattress review. I think that this one would be a good option for anyone looking for:
A latex mattress that is comfortable and supportive.
A well-made mattress that sleeps cool.
A mattress that comes with a 15-year warranty.
If you look for all of these, the Valmori Latex mattress should be high on your list. This is a well-balanced mattress that is comfortable and has great pressure-relieving properties. Moreover, it's fairly priced and it comes with great service and support. For all these reasons, this is a mattress I can recommend.
Valmori Latex Mattress Review
PROS
Comfortable and supportive
Sleeps cool
15-year trial period