In this Newentor Hesperis mattress review, I will talk about this interesting option that recently got my attention. Newentor is a relatively new brand that launched back in 2017 and since then, they have seen a lot of success.
This is their first mattress and they decided to create an adjustable one but more on that later. The Newentor Hesperis mattress is a boxed one and it will be delivered directly to your door. This way, you won't pay any middlemen so you will get more value for your money. It's time now to move to the full review below.
What is this mattress made of?
The Hesperis mattress features 3 layers plus the cover. These are:
A Gel-Visco memory foam layer that has excellent pressure-relieving properties. They infused it with gel to help it stay cool during the night.
A Q-Stretch foam layer that adds comfort but also support. This high-density foam can help your spine be aligned and healthy.
A high-elastic foam layer that is the base of this mattress. It comes with a 7-zone system that can help with better spine alignment.
The mattress measures 22cm in height so it comes with a relatively low profile. The image below gives a better look at how this mattress looks from the inside.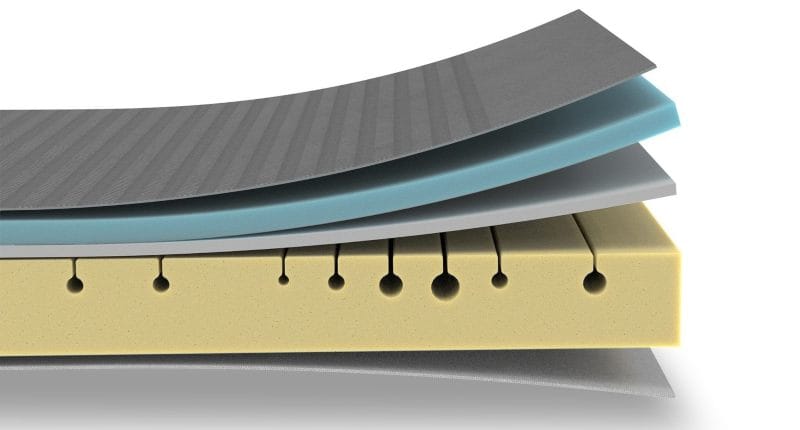 How is the Newentor cover?
The cover of this mattress is one of the best things about it. It's made of coconut charcoal which is an environmentally friendly material. Besides that, this type of material is very breathable so your mattress will sleep cool. The fact that is infused with charcoal adds antibacterial and anti-mite properties so if you suffer from allergies this can be a great choice. I need to mention here that this cover comes with the OEKO-TEX 100 label which ensures that it doesn't contain any harmful chemicals.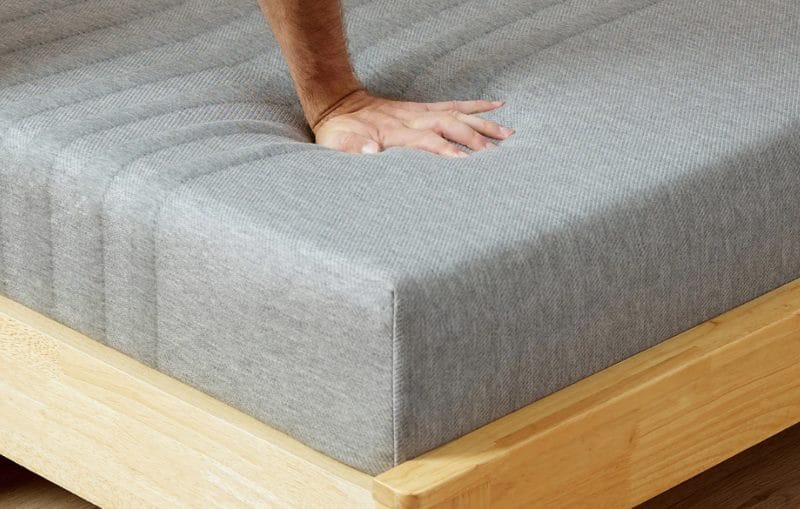 The cover features a grey colour and the design is a very modern one. It's a removable cover and if you want to clean it, you can pop it inside your washing machine. Make sure you use a mild detergent and a cold cycle. At the bottom, there is an anti-slip surface that will keep your mattress in place. This is practical thinking and I love when makers think this way. Overall, this is a fantastic cover and Newentor did a great job here.
How firm is this mattress?
Let's continue now with this Newentor Hesperis mattress review and discuss its firmness. As I have already mentioned, this is an adjustable mattress so you can choose its feel according to your needs. All you have to do is swap the foam layers to create the perfect combination. According to the maker, there are 3 different firmness profiles; medium, medium-firm and firm.
The Hesperis mattress is designed with couples in mind so you should expect minimal motion transfer. On the other hand, the edge support is not great but that is expected from an adjustable foam mattress. Overall, this is a mattress that will suit most sleepers mainly due to its adjustable feel.
Do they offer free delivery?
If you decide to buy a Newentor mattress, you will get free delivery regardless of where you live. This is impressive and it's something that not all makers offer. Mattresses are usually dispatched within 2 working days from the moment you place your order. Depending on where you live, you might receive your order within 5-10 days. They work with a number of delivery companies including Fastway, Eparcel, Toll and Allied. Overall, their service is a relatively quick one and they have great reviews about their service.
Does it come with a trial period?
When you buy a Newentor mattress, you will get a 120-night trial period that gives you exactly 4 months to try this mattress and decide later whether you want to keep it or not. In case you are not happy with it, you can return it and get a full refund. The process is a straightforward one and they will take care of everything. All returned mattresses are donated to a local charity.
Besides that, you will also get a 10-year warranty that will cover you for a long time. This is great and if you want to find out more about the terms and conditions, you can visit their warranty page. Overall, this is a great support package and the people at Newentor did a great job here.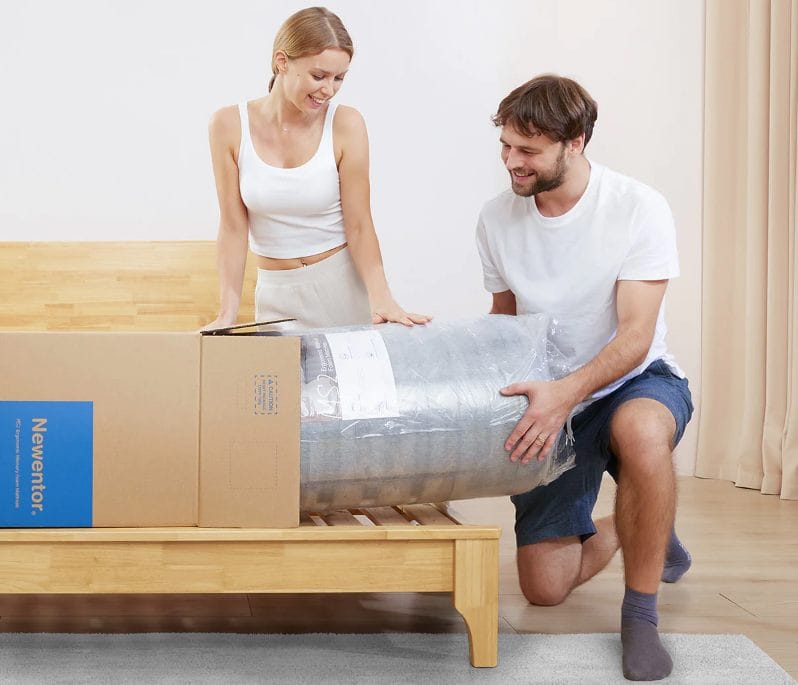 How much does it cost?
The Hesperis mattress is available in 7 sizes so you have plenty of options to choose from. The smaller size (Single) costs $880 with the bigger size (Super King) going for $1,380. However, they run frequent promotions so you don't have to pay the full price. For example, at the moment of writing, there was a 30% off promotion. The table below lists all the available sizes and their prices.
| | | |
| --- | --- | --- |
| SIZE | DIMENSIONS | PRICE |
| Single | 92 x 188 x 22cm | $880 |
| Long Single | 92 x 203 x 22cm | $920 |
| King Single | 107 x 203 x 22cm | $980 |
| Double | 137 x 188 x 22cm | $1,080 |
| Queen | 153 x 203 x 22cm | $1,180 |
| King | 183 x 203 x 22cm | $1,280 |
| Super King | 203 x 203 x 22cm | $1,380 |
Should I buy this mattress?
This is not an easy question to answer but I will do my best now that I am about to complete this Newentor Hesperis mattress review. I think that this mattress would be a good fit for those looking for:
An adjustable mattress that comes with 3 different profiles.
An affordable mattress that is built with high-quality materials.
A mattress that comes with a 120-night trial period.
If you look for all these, the Hesperis mattress should be one to consider. It's well-made and it comes with excellent service and support. A value-for-money option for those who look for a customizable mattress but don't want to break the bank.
Newentor Hesperis Mattress Review
PROS
Adjustable firmness
Great cooling system
120-night trial period
CONS
Edge support is average