In this Emma Foam pillow review, I will explore this interesting option that promises customised support. After seeing great success with their Emma Original mattress, they decided it was about time to launch a new product so this pillow was born.
Unlike other pillows in the market, this follows a different path and it comes with a modular design. It allows you to customise the feel and the height according to your needs but I will talk about it later. The Emma Foam pillow measures 70x40cm and when you buy one, you will get a 100-night trial period. That means that you can try it at home and decide later whether you want to keep it or not. If you are not happy with it, you can return it and get a full refund. Besides that, the pillow also comes with free delivery for mainland Australia which is great. Delivery takes usually 1-3 days for Metro areas and 8-10 days for the rest of Australia. Mine arrived about a week ago so it's a good time now to move to the full review below.
Construction
The Emma Foam pillow features 3 different inserts which you can use to customise your sleeping experience. The first one is a Firm HRX Supreme Foam layer which is the most supportive one and it is designed to help with even weight distribution. The second one is an Airgocell foam layer which is designed to keep the sleeping surface cool during the night. Finally, the third one is a memory foam layer which has contouring properties. All the materials used to make the Emma Foam pillow follow the OEKO-TEX® Standard 100. That means that they are tested for harmful substances and that they are safe for human health. Overall, this is a high-quality pillow and I was quite impressed by it.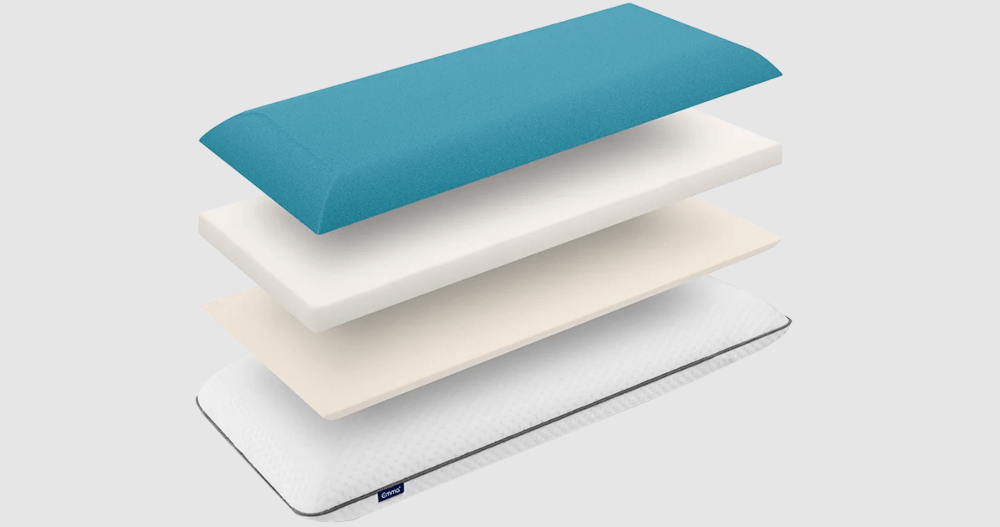 Cover
The cover of this pillow is made of 98% polyester and 2% elastane. They went with this blend because it has a number of advantages. To begin with, polyester is a breathable material which is important, especially during the summer. In addition, it's quite strong and it's easy to maintain. Elastane is added to ensure a great fit which is much needed for a pillow of this design. After all, the cover should not be loose if you remove an insert. If you want to clean it, you can remove it and use your washing machine. This is great as I like to regularly clean my pillows. I advise you to do the same and wash it every 6 months. The design is a modern one featuring a white colour which is separated by a grey line. The cover feels nice and I think that Emma did a great job here.

Support
When you design a modular pillow, you have to execute it correctly and Emma managed to do that! Depending on your preferences, you should remove or add inserts and Emma has created the below short video to help you build your ideal pillow. I tried all the different combinations and I felt that the pillow did a great job in every single one of them. After all, I believe that the height of the pillow is a significant factor, so having the ability to change it is just great. Moreover, the foams used here are very supportive and my neck and head felt great every morning. Overall, this is a good all-rounder and it's a pillow that really impressed me.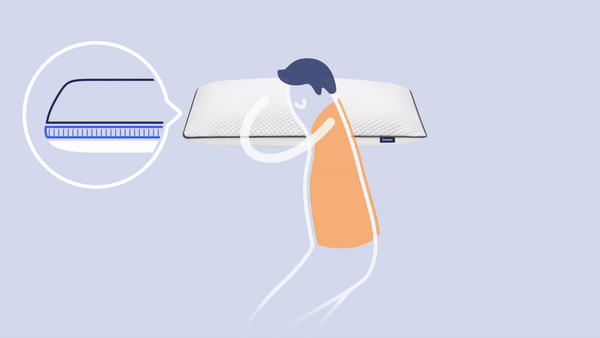 Is the Emma pillow for me?
This is always a tough question to answer but I will do my best now that I am about to complete this Emma Foam pillow review. This one will be a great match for everyone looking for:
A modular pillow that can be easily customised.
A cooling pillow that is designed for Australian summer.
A pillow that works well in every sleeping position.
If you look for all these features, the Emma Foam pillow should be first on your list. It's a cleverly designed pillow that comes with excellent service and support. Emma did a great job here and I highly recommend it.
PROS
Clever design
Great materials
100-night trial period
CONS
Some might find this pricey