Buying a mattress these days can be a difficult task as there are so many options to choose from. In this Macoda mattress review, I will talk about this hybrid option which is a very interesting one. As you expect, it will come packed in a box and will be delivered directly to your door.
The mattress is geared towards combo sleepers and allows you to change the feel when you want. But more on that later! The mattress is designed in Australia but is manufactured overseas. It's a company that wants to give back to the community and they work closely with the Salvation Army charity. My mattress arrived about a month ago so let's move now to the full review below.
What is a Macoda mattress made of?
The Macoda mattress has a 4-layer construction. These are:
A natural latex layer that adds bounce but also keeps the sleeping surface cool during the night.
A gel-infused memory foam layer which provides your body with the needed pressure relief. The infused gel helps to keep this layer cool during sleep.
A high-density support foam layer which provides your body with the needed support.
A 5-zone pocket-spring layer that provides more support for the areas you most need it and more comfort where you don't. They have cleverly added firmer coils on the edges for increased edge support.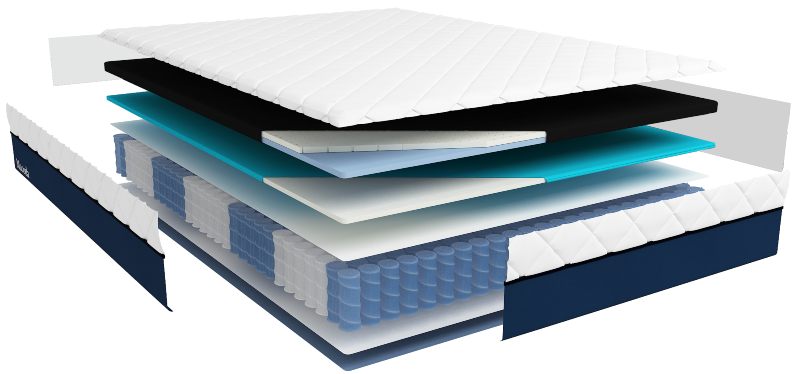 What is the cover made of?
The cover of the Macoda mattress is a great one. It's made of two parts, the top white one and the bottom blue one. The white part is made of bamboo which is a material with many benefits. It's very breathable and feels quite soft. It's also very eco-friendly and it's naturally hypoallergenic. The blue part is made of polyester which is a breathable material but at the same time, it's quite strong. The top part can be removed which will allow you to change the placement of the inserts if you want to have a different feel.
The design of the cover is not an exciting one and it's quite basic. However, this is not important as we always use sheets. The bamboo part feels quite soft and overall, this is a high-quality cover. If you want to clean it, unfortunately, you cannot machine wash it. Instead, you should use warm soapy water and remember to dry it out completely afterwards.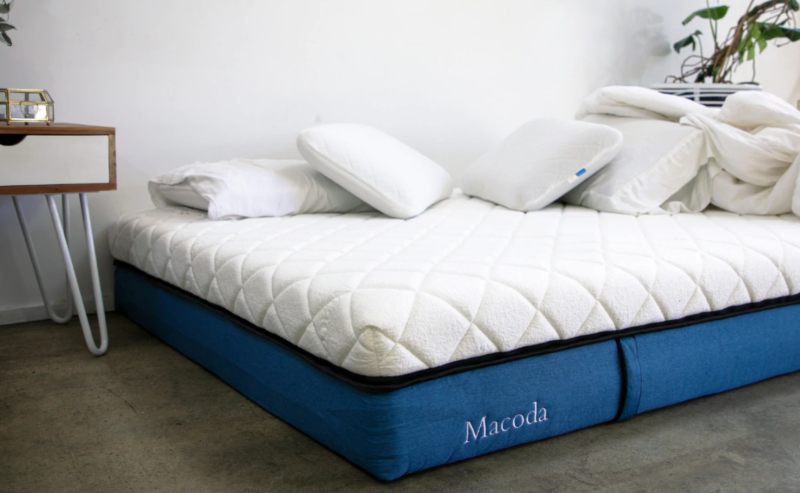 How firm is the Macoda mattress?
I want to continue writing this Macoda mattress review and talk about its feel. One of the reasons that someone should buy this mattress is the ability to change the feel by swapping the inner layers. It's quite similar to the Ecosa mattress. For this review, I kept the initial setup which is a medium one. If I use my virtual scale here, I would it's a 6 with 10 being really firm. It's actually the softest mattress I have reviewed so far but I remind you that you can adjust this according to your needs. I would like now to talk about the different sleeping positions and how this mattress performed.

Starting from the back position, the mattress felt really comfortable but at the same time, support was adequate. I also felt that pressure relief was good and overall the setup worked for me.
Moving to the side position, sinkage increased and the springs did a good job with my spine which was aligned properly. Hybrid mattresses usually do a good job with this position and the Macoda mattress is not an exception.
Finally, moving to the stomach position, I felt that this setup was too soft for my taste. If you are a stomach sleeper, you should probably change the setup. I felt that my hips were not supported and my spine was not aligned correctly. Overall, the mattress did well in the back and side position.
The edge support is very good which was expected from the design they used here. The firmer coils on the edges work well so you will get a great performance across the whole sleeping surface. If you are a couple, I would suggest you look at a memory foam mattress that tends to have minimal motion transfer.
What type of bed should I use with this mattress?
You can place this mattress on any flat surface, including your floor. However, I would suggest you either use a slatted base or a spring box. They are more hygienic but also help with the airflow which is important for every mattress. If you use a slatted base, make sure the distance between them is not bigger than 7cm.
Will it come packed in a box?
As I have already mentioned above, the Macoda mattress is a boxed one. That means that it will come packed in a box and will be delivered directly to your door. They offer free delivery to all of mainland Australia and Tasmania. Depending on where you live, you will get your mattress within 2-10 working days. I live in Sydney so my mattress came in 4 days. The courier was polite and the whole process was straightforward. I received excellent communication from them and overall I was happy with my experience.
Will the Macoda mattress come with a trial period?
The Macoda mattress comes with a 10-year warranty which means that you will be covered for a really long time! This is great and it shows how confident they are in their production process. The mattress also comes with a 100-night trial period which gives you more than 3 months to test and decide whether you are happy with your purchase. If you are not happy with it, you can return it for free and get a full refund. The process is not complicated and you don't have to keep the original packaging to be able to complete a return. Overall, they offer an excellent package here so no complaints at all.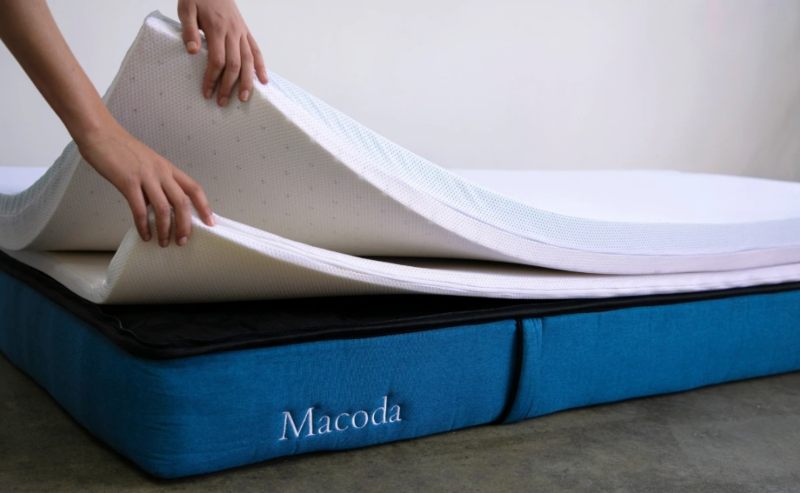 How much does it cost?
The mattress is available in 5 sizes and this is one of the most affordable boxed mattresses you can find in Australia. The smaller Single sells for $800 with the biggest King one going for $1,300. The table below has pricing information for all available sizes.
| | | |
| --- | --- | --- |
| SIZE | DIMENSIONS | PRICE |
| Single | 92 x 188 x 29cm | $800 |
| King Single | 107 x 203 x 29cm | $900 |
| Double | 138 x 188 x 29cm | $1,050 |
| Queen | 153 x 203 x 29cm | $1,200 |
| King | 183 x 203 x 29cm | $1,300 |
Is the Macoda mattress any good?
After finishing this Macoda mattress review, it's a good time now to share my final thoughts with you. I think that this would be a good option for anyone looking for:
A mattress that can be customised to your needs.
A well-built hybrid mattress that is very affordable.
A mattress that has great edge support.
If you really look for all these then this can be a good option. If you don't want to break the bank and look for a hybrid mattress then definitely consider getting this one.
PROS
Good value for money
Ability to change the feel
Bamboo cover
CONS
Not great for couples