If you have a bad back, you should definitely read this Ecosa Pure mattress review. This is another adjustable option from the popular Australian maker that seems very interesting.
Unlike its cheaper sibling, the Pure mattress combines foam layers with pocket springs to create a versatile and supportive mattress. The philosophy remains the same here so this is another boxed mattress. Besides this one, Ecosa also released the Vital mattress and with these two new options, they try to offer customers a better sleeping experience. My Pure mattress was delivered almost 2 weeks ago so it's a good time now to move to the full review below.
What is the Pure mattress made of?
This mattress features six layers plus the cover. In detail, these are:
A BounceTech latex foam layer that will provide your body with the needed comfort. This type of foam has a bit more bounce than regular foam.
A micro-coil layer that has the ability to distribute weight evenly. This layer also increases airflow.
A Talalay high-density latex layer that has great support properties.
A pocket springs layer that promotes better spinal alignment. This type of spring can reduce motion transfer so you won't disturb your partner during sleep.
A recycled felt layer that protects the pocket springs.
A firm latex layer that also supports the pocket springs layer.
This mattress measures 29cm in height so you should expect a high profile. To have a better look at what it looks like from the inside you can look at the image below.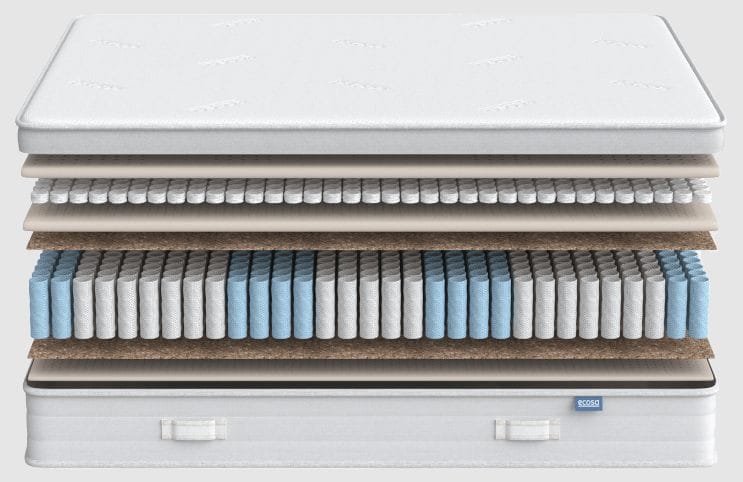 How good is the cover?
The cover of this mattress is made from recycled materials. For every mattress, they recycle 80 bottles and repurpose them to make this OceanCycled cover. This is a fantastic initiative and hopefully, more makers will follow this lead. The upper part of the cover is removable and machine-washable. The cover has a beautiful design featuring light grey sides and a white top part. To improve practicality, they added two handles on every side that will help you move it when that is needed. The cover looks and feels of great quality and the people at Ecosa did a great job here.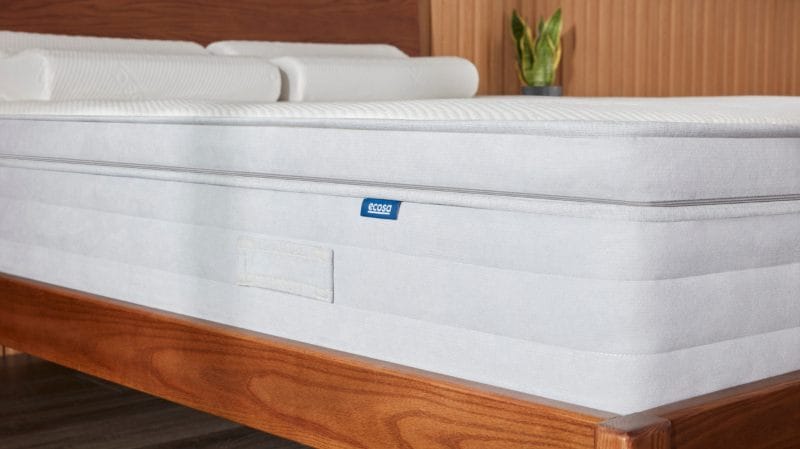 Is this a firm mattress?
Let's continue now with this Ecosa Pure mattress review and talk about its feel. One of the main reasons you should buy this mattress it's the fact that it comes with two firmness configuration options. You can either choose to have a medium or a medium-firm feel. For this review, I chose to have the medium-firm feel. If I use my virtual scale here I would say it's 6.7 with 10 being really firm. Let's see now how this mattress performed in the different sleeping positions.

Starting from the back position as always, the mattress hugged my hips and shoulders and that helped my spine to align correctly. The mattress felt really comfortable and I was well-supported.
Turning to the side position sinkage increased and the latex layers did an excellent job with my hips and shoulders. Again, my spinal alignment was correct and I was really impressed by the performance of this mattress.
Finally, moving to the front position I felt that I chose the correct setup and the sleeping surface was firm enough for me. The Pure mattress is a great all-rounder and I felt that it will suit most sleepers.
Ecosa is known for making excellent mattresses for couples and the Pure one is no exception. Moreover, the hybrid design means you will get great edge support which will allow you to get in and out of bed with ease.
What type of bed should I use with this mattress?
If you decide to buy this mattress you can still use your old bed frame. According to the maker, you should make sure that you use a frame that is supportive which will allow the mattress to perform at its best. I prefer to use slatted frames as they're great with airflow but you can use whatever fits your needs. Make sure you avoid placing the pure mattress on your floor as this won't allow it to breathe properly.
How will it be delivered?
If you decide to buy any Ecosa mattress you will get free delivery regardless of where you live in Australia. What is even better is the fact that if you live in the Metro area, Ecosa offers free next-day delivery. This is great service and it shows how much they value their customers. My mattress was delivered the following day and I remind you that I live in Sydney. The courier was prompt and polite and the box came in excellent condition. Communication was great and overall, they offer one of the best services in Australia.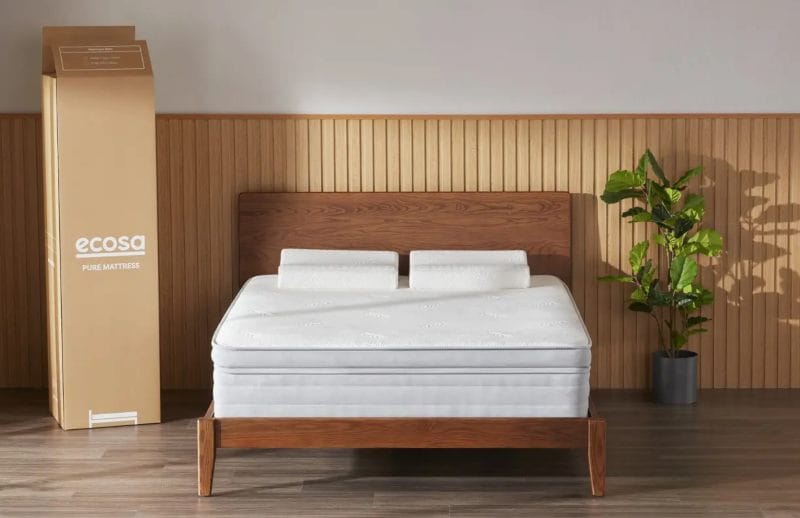 Can I try it first?
All Ecosa mattresses come with a 15-year warranty that will cover you for a really long time. This is great, especially if we consider that most other makers offer a 10-year warranty. Of course, before you buy your next mattress make sure that you read carefully the terms and conditions so you know what is included in your cover.
Besides that, the mattress also comes with a 100-night trial period that gives you more than 3 months to try your Pure mattress and decide later whether you want to keep it or not. In case, you are not happy with it, you can return it and get your money back. Returns are free and you don't have to keep the original packaging to be able to request one. Overall this is a complete package and they did a great job here.
How expensive is this mattress?
The Ecosa pure mattress is available in two sizes. That means that you don't have many options to choose from. However, this is normal if we consider that this is a premium mattress. The smallest size will cost you $2,225 while the bigger one goes for $2,475. Having said that the people at Ecosa run frequent promotions so you will probably pay less than that. For example at the moment that this review was written there was a 25% off promotion.
| | | |
| --- | --- | --- |
| SIZE | DIMENSIONS | PRICE |
| Queen | 153 x 203 x 29 cm | $2,225 |
| King | 183 x 203 x 29 cm | $2,475 |
Who should buy this mattress?
This is a logical question to answer and I will do my best now that I'm about to complete this Ecosa Pure mattress review. In my opinion, this mattress would be ideal for anyone looking for:
An adjustable mattress that is built with premium materials.
A hybrid mattress that is ideal for those who suffer from a bad back.
A durable mattress that comes with a 15-year warranty.
If you look for all these then this mattress is one of the best options in the Australian market. Ecosa managed to build a proper premium mattress here that comes with two firmness profiles. This last thing makes the difference and the pure mattress is a unique proposition. If you have the budget for it, this is a mattress I highly recommend.
Ecosa Pure Mattress Review
PROS
Great for all sleeping positions
Adjustable firmness
15-year warranty
CONS
Only 2 available sizes