If you are looking for a place to put your new mattress, you should definitely read my Emma Signature bed review. After releasing the popular Emma Diamond mattress, the engineers at Emma decided it was the right time to develop their first bed frame. As you expect from such a maker, this is a great piece of furniture that will improve the aesthetics of your bedroom.
After spending almost a decade sleeping on an IKEA bed, I was really curious to try something new. The Emma Signature looked very appealing in every way so I decided to give it a try. Mine was delivered almost two weeks ago so it's a good time now to move to the full review below.
Construction
This bed frame is made with high-quality materials so you should expect a solid construction. The actual frame is made with metal and plywood while the upholstery features a polyester fabric. The combination works well and the frame looks more expensive than it actually is. The engineers at Emma developed the FlexiSlats which can prevent mattress sagging. They are very robust and they will allow your mattress to perform at its best. It's not a coincidence after all that this bed frame comes with a 5-year warranty. Moreover, you will also get a 100-night trial period that gives you more than 3 months to try it. If you are not happy with it, you can return it and get a full refund.
Another important thing about this bed frame is the fact it's really easy to assemble. According to the maker, it will take you around 30 min to complete but make sure you have someone to help you. The bed will arrive packed inside 2 carton boxes and inside them, you will find a booklet with all the needed instructions. I felt that it was easier to make than an IKEA bed and that says a lot. Overall, this is a high-quality frame so there are no complaints at all.
Design
One of the main reasons you should buy this bed frame is its design. Emma created a Scandinavian look that will instantly improve the aesthetics of your bedroom. It comes with a graphite colourway that looks classy and premium. The padded headboard adds comfort and you will feel great during sleep. The black legs also look very premium but unfortunately, you can't use the space underneath the bed as there is not enough height to allow you to store things there. Overall, this is a very good-looking bed frame and the designers at Emma did a great job here.
Support
Most people buy a new bed because their old one can no longer support their mattress. The engineers at Emma know that so they have built an extra-strong frame that can support almost any weight. The clever FlexiStats work great and your mattress will definitely perform at its best. It's not a coincidence after all, that this mattress comes with a 5-year warranty. I personally saw a significant difference after switching from my old IKEA bed and I believe I should have made the change ages ago. Overall, this is a robust construction that will complement your mattress.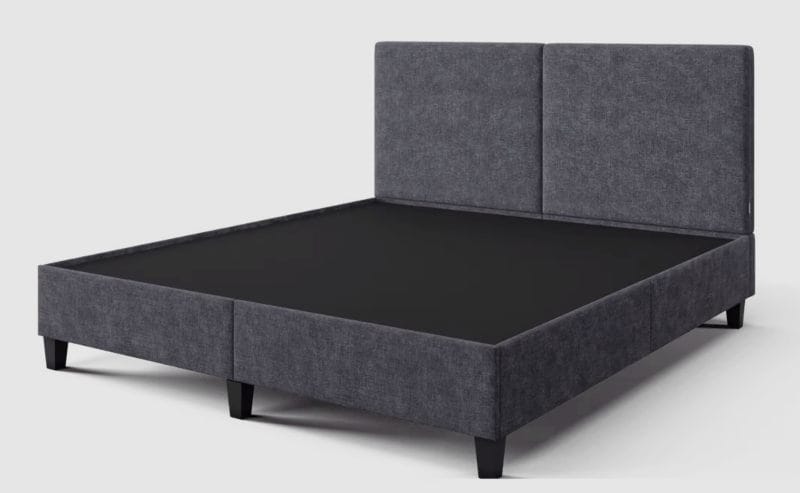 Pricing
The Emma Signature bed is available in 5 sizes so you have plenty of options to choose from. The smaller size (Single) will set you back $1,099 with the bigger (King) going for $1,539. However, Emma is a brand that runs frequent promotions so you will probably pay less than that. For example, at the moment of writing, they run a half-price promotion. The table below lists all the available sizes and their prices.
| | | |
| --- | --- | --- |
| SIZE | DIMENSIONS | PRICE |
| Single | 198 x 97 x 112 cm | $1,099 |
| King Single | 213 x 112 x 112 cm | $1,209 |
| Double | 198 x 143 x 112 cm | $1,319 |
| Queen | 213 x 158 x 112 cm | $1,429 |
| King | 213 x 188 x 112 cm | $1,539 |
Verdict
I would like now to complete this Emma Signature Bed review and share my final thoughts with you. I think that this is an excellent choice for anyone looking to get an affordable bed that doesn't lack quality. The people at Emma did a great job here so if you want to combine looks with practicality, this is the way to go.
Emma Signature Bed Review
PROS
Excellent looks
Very supportive
100-night trial period
CONS
No room to store things underneath the bed