In this Atlantis mattress review, I will talk about this premium option that is designed and built here in Australia. This mattress is built with high-quality materials and it's an eco-friendly option. It's available in 3 different firmness profiles and it's packed with great service and support. Do all these make it the right choice for you? Let's find out in the full review below.
FREE DELIVERY
Atlantis Mattress
Free metro delivery for all mattresses
Free metro delivery for all mattresses
Show Less
What is this mattress made of?
The Atlantis mattress is made of 3 layers plus the cover. In detail, these are:
A comfort layer that is made of two types of foam, including a HybridFlow foam that is breathable and has temperature-regulating properties.
A changeable support system that determines the feel of this mattress. This can be adjusted according to your needs and taste.
A pocket springs layer that can contour your body. It features a zoned system that can provide tailored support. According to the maker, this type of spring can minimize motion transfer.
The mattress measures 36cm in height so you should expect a high profile. All foams used here are GECA certified and that shows that they only use high-quality materials.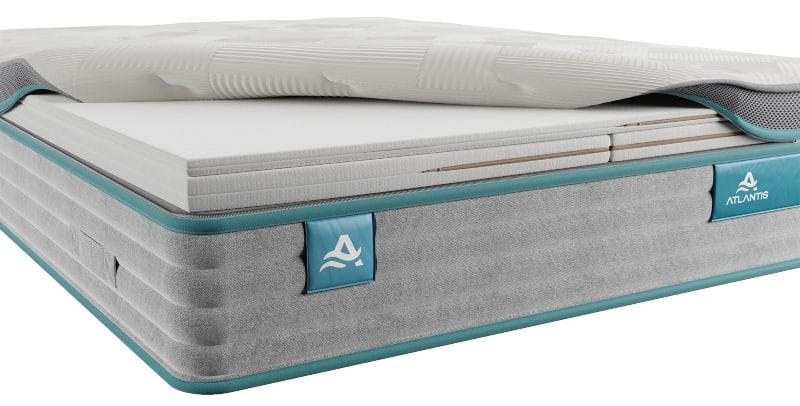 What is the cover made of?
The cover of this mattress is one of the best I have seen. The upper part features a blend that is made of Seaqual fibre and Tencel. The former is made from rescued plastics from our oceans while the latter is made of wood pulp. This makes this cover an eco-friendly option and it shows the principles of this company. The cover features a side mesh panel that increases airflow. This leads to a sleeping surface that can stay cool during the night and also better hygiene. The top part feels soft and quite luxurious and it's easy to understand the quality here.
The design is a modern one combining white, grey and petrol colours. On the sides, you will find four handles that will allow you to move your mattress with more ease. These are essential as this is a quite heavy mattress. Overall, this is a fantastic cover and it's what you expect from such a premium mattress.
Is this a firm mattress?
I would like now to continue writing this Atlantis mattress review and talk about its feel. During the design process, the people at Atlantis decided that they wanted to give more options to their customers. For this reason, this mattress is available in three different firmness profiles; soft, medium & firm. However, the customization doesn't stop there and you can also choose to have a half/half mattress. For example, you might prefer to have a firm side but your partner prefers to have a soft one. With this mattress, everything is possible and this definitely makes it an exciting option.

The three different profiles have significant differences and as you can see in the scale above, the soft version is 5, the medium version is 6.2 and the firm version is 7.3. Depending on your needs, you should choose the right option. Having a bad back, I would probably go for the firm option. The Atlantis mattress features great edge support and it's designed to minimize motion transfer. This makes it a good choice for couples. Overall, this is a great all-rounder and with all these options, it will definitely suit every sleeper.
How is this mattress delivered?
Unlike most mattresses on this site, the Atlantis mattress is not a boxed one. The makers believe that a good product doesn't need a compromise and they want to offer consumers the best they can. For this reason, they have decided not to roll their mattresses.
If you live in a metro area excluding NT & TAS, you are eligible for free delivery that usually takes between 5-7 business days. If you live in another area, you should use the shipping calculator during checkout to determine costs. In that case, delivery can take up to 21 days but that obviously depends on where you live. Besides that, Atlantis also offers an old mattress removal service that will cost you an extra $60. Overall, this is a good service although it could be a bit faster.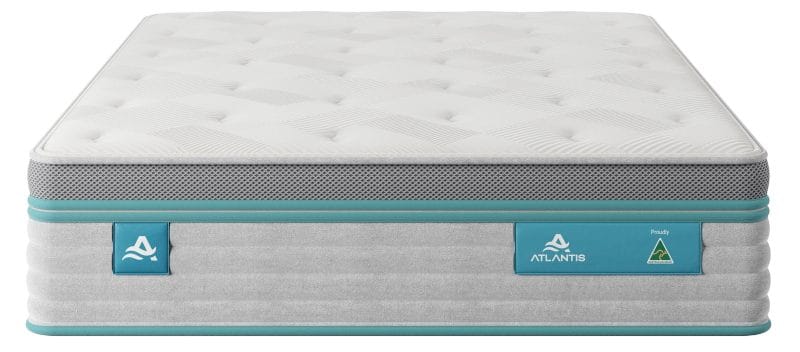 Is there a trial period?
One of the great things about the Atlantis brand is its service. When you order a mattress from them, they offer a 100-night period that allows you to try the mattress for more than 3 months and if you are not happy with it, they will give you your money back. Besides that, they also offer a free comfort adjustment so they can try to tailor the feel of the mattress to your taste. This is fantastic and it shows how much they value their customers.
Finally, all Atlantis mattresses come with a 10-year warranty which will cover you for a long time. Overall, this is a great support package which is what is expected from such a premium maker.
How much will it cost me?
The Atlantis mattress is available in 5 sizes so you have plenty of options to choose from. The smaller size (Single) will set you back $1,399 while the bigger (King) goes for $2,149. This is not the cheapest mattress on the market, but I think it's fairly priced as it comes with great specs. The table below has pricing information for all available sizes.
| | | |
| --- | --- | --- |
| SIZE | DIMENSIONS | PRICE |
| Single | 92 x 188 x 36cm | $1,399 |
| King Single | 107 x 203 x 36cm | $1,499 |
| Double | 138 x 188 x 36cm | $1,699 |
| Queen | 153 x 203 x 36cm | $1,899 |
| King | 183 x 203 x 36cm | $2,149 |
Is this a good buy?
It's time now to complete this Atlantis mattress review and share my final thoughts with you. I think that this mattress would be great for anyone looking for:
A hybrid mattress designed and built in Australia.
An eco-friendly mattress that comes with a lot of customization options.
A mattress that comes with a 100-night trial period.
If you look for all these, the Atlantis mattress should be a choice to consider. It's a great all-rounder that will suit every sleeper and it's built by Aussies for Aussies. In my view, this is a mattress I can highly recommend.
FREE DELIVERY
Atlantis Mattress
Free metro delivery for all mattresses
Free metro delivery for all mattresses
Show Less
PROS
Australian made
3 firmness profiles
Excellent materials
CONS
Not the cheapest in the market