For most Aussies, sleeping during the summer can be difficult. Using a cooling pillow is a good start but with all these options out there is not always easy to choose. In this Origin Alpaca pillow review, I will talk about this latest release that looks very promising.
For those that have never heard of this brand, Origin is a German maker that has seen a lot of success down under. Their Origin Hybrid Pro mattress is a true best-seller and one of the best mattresses I have reviewed. For this reason, I was really keen to try the Alpaca pillow too. When you buy one, you will get a 7-night trial period and a 2-year warranty. Mine was delivered almost ten days ago so it's time now to move to the full review below.
Construction
During the design process, the engineers at Origin wanted to create a pillow that has excellent cooling properties. For this reason, they decided to use a blend that is made of 40% Alpaca wool and 60% Suprelle Blue. The former is sourced straight from Australian farms and it's more eco-friendly than its traditional wool counterparts.
Alpaca fibre can provide great comfort and is very kind to sensitive skin. Suprelle Blue fibre is made of recycled water bottles and it's super fluffy. Moreover, it's a breathable material that can wick moisture away. The blend is great and this pillow is made in Australia using local materials and skilled labor. This is fantastic so if you are looking for a Aussie-made pillow, this can be a great choice.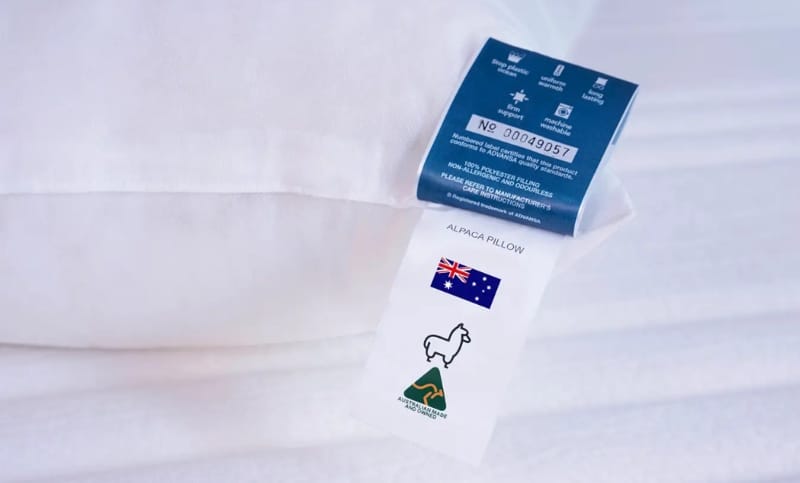 Cover
The cover of this pillow is made of a 100% Tencel and polyester blend. They chose this combination as it has a number of properties. To begin with, Tencel is breathable and can regulate heat efficiently. Secondly, it's an eco-friendly material, especially when compared to others, cotton for example. Finally, Tencel is easy to maintain and this cover is removable and machine-washable.
The cover feels soft and nice and I must admit that it looked more premium than I originally expected. The only thing that I didn't like is its design and I think that the people at Origin should have done a better job here. Other than that, this is a great cover that combines quality with practicality.
Support
As I have mentioned many times, before you choose your next pillow, you should first consider your preferred sleeping position. According to that, you should choose a pillow that has the right loft. The Origin Alpaca pillow measures 11cm in height so this makes it a versatile option. If you are a big guy like myself, this will suit you for every sleeping position, including the stomach one. This was a nice surprise for me and I really enjoyed sleeping with this pillow.
The filling is supportive and my neck was well-rested every morning. Alpaca wool has a nice bounce too which makes it a unique option. Overall, this is a true all-rounder and a pillow that will satisfy even the most demanding sleepers.
Should I buy the Origin Alpaca pillow?
This is the question in everyone's head right now and I will try to answer it before I complete this Origin Alpaca pillow review. I think that this would be a great option for anyone looking for:
An Australian-made pillow that is ideal for all sleeping positions.
A hypoallergenic pillow made with Alpaca wool.
A pillow that comes with a 7-night trial period.
Origin managed to build a high-quality pillow here using local materials and labour. It has packed it with excellent service and support and this is a winning combination. This is not the cheapest option out there but high-quality has its price and for this reason, this is a pillow that I can recommend.
Origin Alpaca Pillow Review
PROS
Fantastic materials
Nice cover
7-night trial period
CONS
Not the cheapest option