If you look for a super-premium mattress you are in the right place. In this Dusk and Dawn Signature mattress review, I will talk about this fantastic option that is designed for very demanding sleepers. After reviewing the Dusk and Dawn Premiere and Essential mattresses, I was really keen to try this mattress which sits at the top of their range.
Awarded "Best Hybrid Mattress" for 2023
Just like its siblings, the Signature mattress is available in 2 firmness profiles so you can choose to get either the 'Comfy Medium' or the 'Firm Support'. For this review, I will only talk about the medium option so you should be aware of it. Mine arrived around 3 weeks ago so let's move now to the full review below.
$300 OFF

Dusk & Dawn Mattress
$300 off mattresses at Dusk & Dawn
What is a Dusk and Dawn Signature mattress made of?
This mattress has a complicated construction that features 7 layers. In detail, these are:
A Dusk-Air Tech layer that is very breathable and is the first comfort layer. It's naturally anti-microbial so it's great for those who suffer from allergies. This layer has excellent thermo-regulating properties.
An Eco-Air foam layer which is a breathable material and will keep the sleeping surface cool during the night.
An Italian Graphite memory foam layer that helps with pressure relief. Graphite has anti-microbial properties and makes this memory foam more breathable.
A Breathe Tech comfort layer that connects the upper with the lower layers.
A layer made of mini coil springs that features a 5-zoned system. They are designed to contour and support your body.
A layer made of regular pocket springs that will provide your body with the needed support. The independent springs also help minimise partner disturbance.
A power edge box that encases the whole mattress. It's there to help with edge support.
The Signature mattress is the thickest mattress I have reviewed. It measures 38cm in height and all foams used to make it are GECA certified.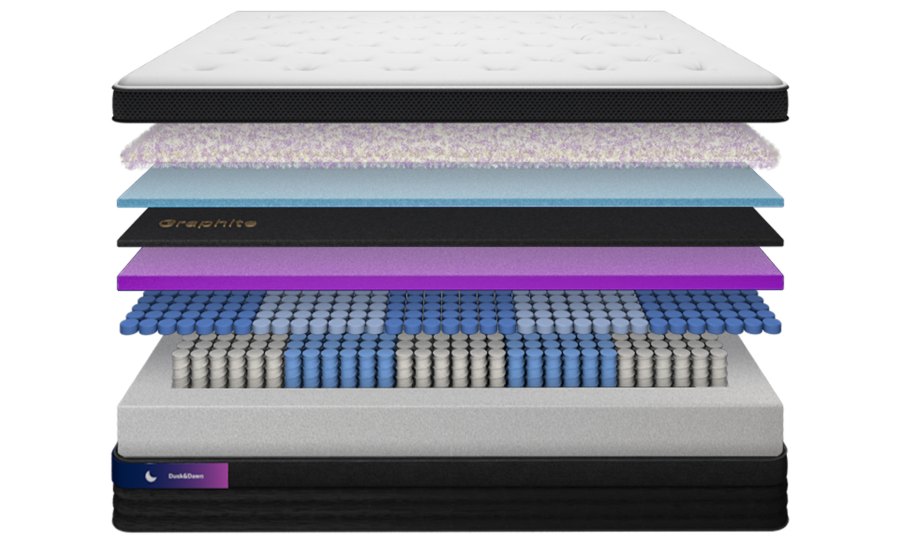 What is the cover made of?
One of the strengths of this mattress is the cover. It's made of a comfort-stretch premium fabric that feels soft and it's very breathable. That means that the sleeping surface will stay cool during the night even during the hot summer months. To help with that, they added a 3D mesh gusset which increases airflow and in my opinion is a very clever design. The cover has the ability to regulate the body's heat and it's very well-made overall. Unfortunately, it's not a removable one, so you should use a cloth and some mild detergent if you want to clean it. The design is a modern one with the upper part being white and the side part being black. Overall, it has a premium finish and it's a cover that complements well this fantastic mattress.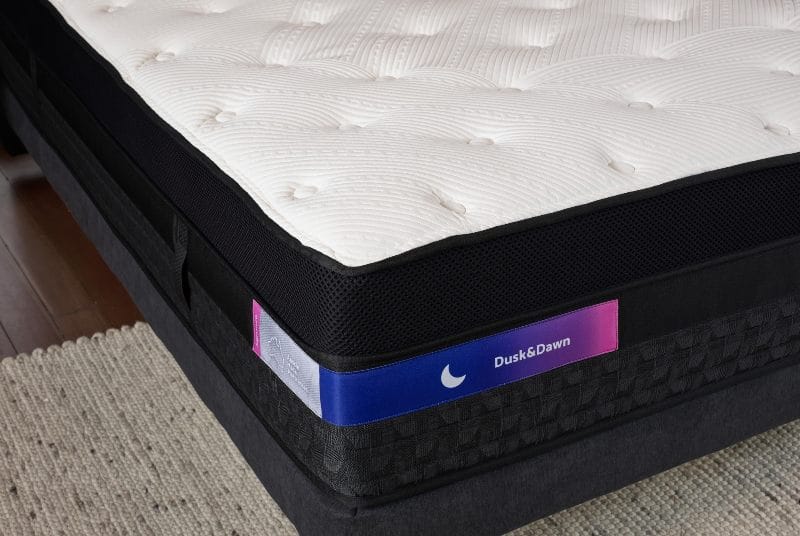 How firm is the Dusk and Dawn Signature mattress?
I would like now to continue with this Dusk and Dawn Signature mattress review and talk about its feel. The one that I got has a medium-firm feel and if I use my virtual scale here, I would say it's a 6.5 with 10 being really firm. Let's talk now about the different sleeping positions and how this mattress performed.

Starting from the back position, the mattress felt extremely comfortable and I was very impressed by it. I could tell straight away that this mattress is a premium one. Pressure relief was great and my back was well supported.
Turning to the side position, the mattress reacted quickly and it did a great job distributing my weight evenly. My spine alignment was correct and I felt that this mattress would definitely suit side sleepers.
Finally, moving to the stomach position, I felt well-supported although the mattress was slightly softer than I would have liked. However, the mattress still performed very well and pressure relief was great. If you are on the heavier side and like to sleep on your stomach, I would advise you to choose the firmer choice.
If you have a partner, the Dusk and Dawn Signature mattress is a fantastic choice. It has great edge support so it will be easy for you to get in and out of bed. Moreover, it has minimal motion transfer so you won't disturb each other during the night. These two elements make it ideal for couples and overall, this is a mattress that will suit every type of sleeper.
What type of bed should I use with this mattress?
If you buy this mattress, you don't need a special set-up to use it with. Instead, you can use your old bed frame provided it's in good condition. I used my old slatted frame and I had no issue with the Signature mattress.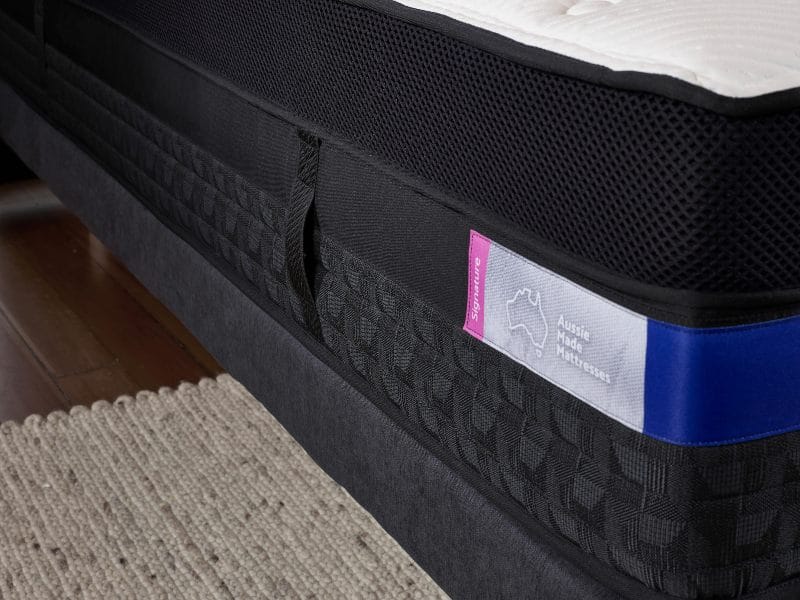 Is this a boxed mattress?
Most of the mattresses that I review here are rolled ones but the Signature mattress doesn't belong to this category. After all, the way it's made doesn't allow it to be compressed and squeezed into a box. When you order one, you will get free delivery provided you live in the Metro area. If you live in the regional areas you will be asked to pay a $180 delivery fee. During the checkout process, you can choose to have your old mattress removed. This will cost you an extra $70 but it's a good deal as it can be difficult to get rid of your old mattress. Mine arrived within 5 working days and the whole process was straightforward. Overall, I was happy with the service I got.
Will the Dusk and Dawn Signature mattress come with a trial period?
When you order a Dusk and Dawn mattress, you will get a 100-night comfort guarantee that makes it easier to buy a mattress online. That means that if you are not happy with the firmness of your mattress, you can ask them to change it for you. For example, if you buy the 'medium comfy' mattress and you find it too soft, you can request to change it and get the 'firm support' one. This is great and it shows how much they value their customers. The process is simple and they will come to pick your mattress up, make the changes and return it back to you. Overall, they offer a good service here so no complaints at all.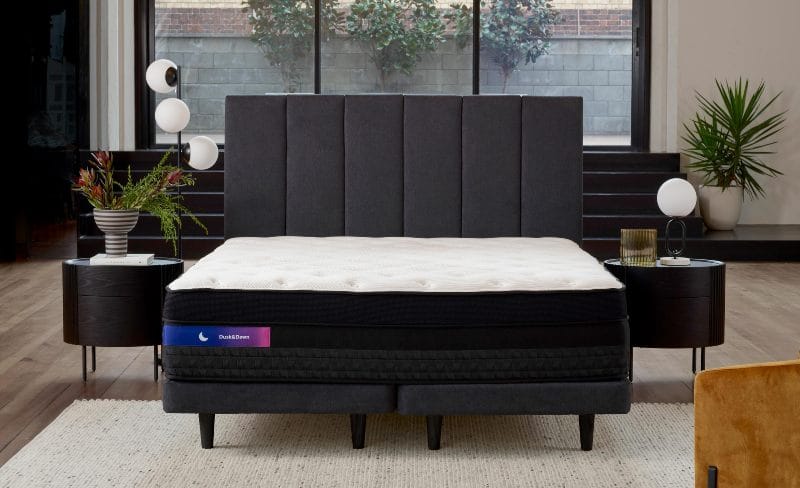 How much does it cost?
This mattress is available in 6 sizes so there are plenty of options for you to choose from. The smaller size (Single) will cost you $2,899 with the bigger (Super King) going for $4,249. However, you probably won't have to pay the full price as they run frequent promotions. For example, at the moment of writing, a King mattress would cost you $3,299. The table below has pricing information for all available sizes.
| | | |
| --- | --- | --- |
| SIZE | DIMENSIONS | PRICE |
| Single | 92 x 188 x 38cm | $2,899 |
| Long Single | 92 x 203 x 38cm | $2,949 |
| King Single | 107 x 203 x 38cm | $3,049 |
| Double | 138 x 188 x 38cm | $3,149 |
| Queen | 153 x 203 x 38cm | $3,449 |
| King | 183 x 203 x 38cm | $3,849 |
| Super King | 203 x 203 x 38cm | $4,249 |
Is the Dusk and Dawn Signature mattress any good?
It's time now to complete this Dusk and Dawn Signature mattress review and share my final thoughts with you. In my opinion, this would be a great option for those who look for:
A premium hybrid mattress that is made with high-quality materials.
A mattress that is available in 2 firmness profiles.
An Australian-made mattress that is great for couples.
If you look for all of these, the Signature mattress should be high on your list. It's definitely the most premium mattress that I have reviewed but all these come with a cost. However, if you have the budget for it, this is a great choice and a good all-rounder.
$300 OFF

Dusk & Dawn Mattress
$300 off mattresses at Dusk & Dawn
Dusk and Dawn Signature Mattress Review
PROS
Fantastic materials
Available in 2 firmness options
Great for all sleeping positions
CONS
Not the cheapest in the market