The 'mattress in a box' industry is booming with more and more makers entering this space. In my Ecosa mattress review, I will talk about this adjustable mattress that is one of the most popular ones in Australia.
This is a foam-only mattress that has a unique feature. The design of this mattress allows sleepers to change the firmness to what suits them better. All you have to do is simply swap two layers or flip the mattress This differentiates it from the competition and it's a very interesting feature. This mattress is a rolled one so it comes packed in a box. The mattress is designed in Australia but manufactured in China. Once you receive your mattress, give it a full day to decompress. Regarding the weird odour, don't worry at all, this will wear off soon. Let's move now to the full review below.
What is an Ecosa mattress made of?
The Ecosa mattress design features 3 layers.
A G-7 Gel memory foam layer that is there to help with pressure relief. It's infused with gel particles which help the mattress stay cool during the night.
An ECO-Tex memory foam layer which behaves like latex for added bounce. It helps with comfort and pressure relief.
A support foam layer which is firmer than the upper layers and works as the base of this mattress. It provides the body with the needed support. Cuts have been applied in areas that need more help like our hips and shoulders.
In the picture below you can see the placement of the 3 layers.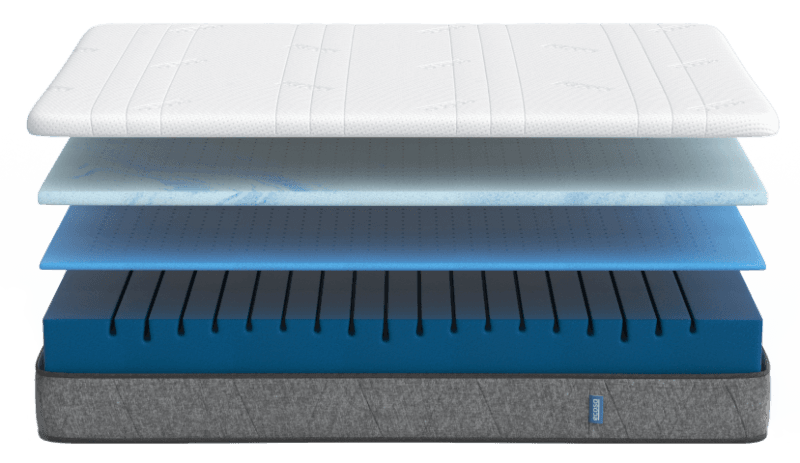 What is the cover made of?
The cover of the mattress is made of premium polyester. It's a double-knitted fabric and it's very breathable. It's not the softest one but it's very strong and durable. Underneath the cover, there is an inner cover which uses German micro-filament technology. It's there to keep the mattress waterproof and dust-mite-free. This is a great addition to the cover and I personally loved it!
The cover is removable and you can machine wash it. This makes it easy to maintain and clean. The design of the cover is a nice one featuring a two-tone colour scheme. Overall, Ecosa did an excellent job here and the cover is one of the best I have seen so far.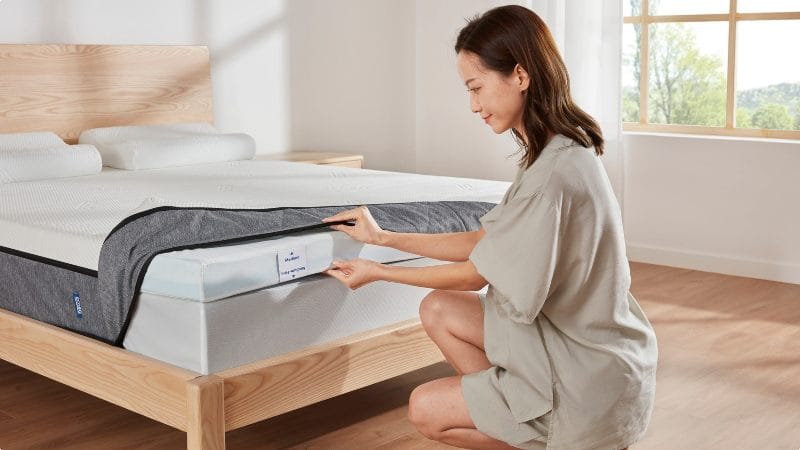 How firm is the Ecosa mattress?
It's time now to continue writing this Ecosa mattress review and talk about its feel. The biggest advantage of this mattress is the ability to change the feel by rearranging the foam layers. The initial setup is a medium-firm one but you can change it to either a medium one or a firm one. For this review, I kept the initial setup which on my virtual scale feels like a 6.7 with 10 being really firm. I will now talk about the different sleeping positions.

Starting from the back position, as usual, I felt the memory foam hugging my shoulders and hips but I didn't sink too much which was good. I really think this mattress has a very nice firmness level, especially for people weighing above 80kg. My back was supported and I felt that my spine was aligned properly.
Moving to the side position, the mattress adjusted slowly to my movement which was expected from a memory foam mattress. Sinkage increased but the mattress is a bit firm for side sleepers. It was comfortable but I felt that my spine was not aligned properly. Again, since you can change the firmness, I am sure you will find the right setup to suit your sleeping style. For the review, I had to go with the initial one.
Turning to the stomach position, I felt very well supported and it was super comfortable for my spine. I found Ecosa to be excellent in this position with my weight and I really enjoyed it. My hips were positioned in the right place and overall I think the mattress worked great.
Ecosa is also very good for couples. Not sure if you have seen the video but it has minimal movement transfer. I definitely recommend it to people who share their bed with a partner. The edge support is not bad for a memory foam mattress but it's nothing special. Overall, I think this mattress will suit any sleeper simply because it has a versatile design with 3 different feels.
What type of bed should I use with this mattress?
This mattress doesn't need a special setup to work. According to the maker, you can place this on your floor, on a slatted base, on a foundation base or on an adjustable base. If you place this on the floor make sure you air the bottom part frequently in order to avoid moisture and dust mites.
Is the Ecosa mattress a boxed one?
I have already mentioned that the Ecosa mattress is a rolled one. It is delivered in a carton box directly to your door. They have no permission to get inside your house so you will need to carry the box to the room you plan to set it up. The box can be heavy, especially for the bigger sizes, so make sure you have help.
Delivery is free for all sizes and they can deliver to Mainland Australia. If you live in the Metro area your mattress can get to you within the same day! This is great to see as it shows how much they value their customers. If you don't live in the Metro area then you should expect your mattress within 2-7 days. I live in Sydney so I got a next-day delivery which was great. The courier was polite and on time. Overall, I think Ecosa did really well here.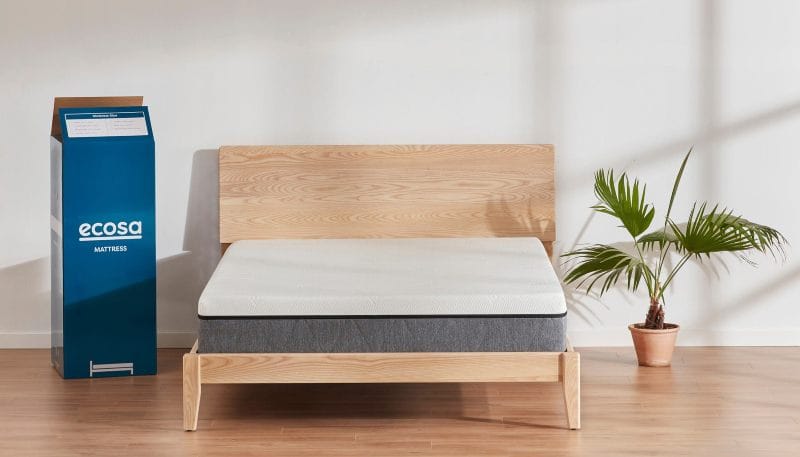 Will the Ecosa mattress come with a trial period?
The Ecosa mattress comes with a 100-night trial period which gives you enough time to try this mattress before you decide to keep it. If you are not happy with it, you can return it and get a full refund. You don't have to keep the original packaging to be able to return your mattress. The mattress also comes with a 15-year warranty which is better than what most mattresses in a box come with. This is great by Ecosa and it shows they really trust their manufacturing process. Of course, make sure you read carefully the T&Cs so you know exactly what you get from the warranty. Overall, I think they offer a lot here.
How much does it cost?
The mattress is available in 7 sizes! This is great to see as Ecosa offer more sizes than the average mattress maker. The smaller size (Single) sells for $799 and the bigger one (Super King) goes for $1,499. Ecosa is not the cheapest mattress in a box but they run frequent offers so you don't have to pay full price most of the time. I list all the discount codes here so definitely visit this section of the site.
| | | |
| --- | --- | --- |
| SIZE | DIMENSIONS | PRICE |
| Single | 92 x 188 x 25cm | $800 |
| Long Single | 92 x 203 x 25cm | $900 |
| King Single | 107 x 203 x 25cm | $950 |
| Double | 138 x 188 x 25cm | $1,050 |
| Queen | 153 x 203 x 25cm | $1,150 |
| King | 183 x 203 x 25cm | $1,350 |
| Super King | 203 x 203 x 25cm | $1,650 |
Is the Ecosa mattress for me?
Finishing this Ecosa mattress review, it's a good time to share my final thoughts with you. Ecosa is a great option for anyone looking for:
A mattress that can be adjusted to 3 different feels.
A memory foam mattress that comes with excellent service and support.
A couple-friendly mattress with minimal motion transfer.
I was really impressed by Ecosa. It's well built, it has a clever design and it's great for people who share their bed. A great choice for anyone looking for a versatile memory foam mattress.
PROS
Minimal motion transfer
Adjustable firmness
Great cover