In this Onebed X mattress review, I will talk about this premium hybrid option that recently got my attention. After having great success with their Original mattress, the people at Onebed decided it was about time to release a hybrid option. This is how the Onebed X was born and it became very quickly one of Australia's best-selling mattresses.
Unlike the other two mattresses in their range, this combines memory foam with pocket springs to create a mattress that is more comfortable and feels more premium. Despite those differences, this is still a boxed mattress. I got mine about 3 weeks ago so it's a good time now to move to the full review below.
55% OFF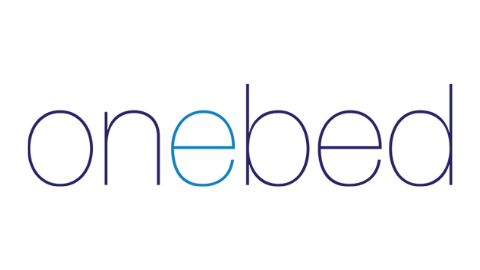 Onebed Mattress
Up to 55% off mattresses at Onebed
What is a Onebed X mattress made of?
The Onebed X mattress is made of 5 layers plus the cover. In detail, these are:
A Davina foam layer that is designed to help with motion isolation. It also adds comfort and can keep the sleeping surface cool during sleep.
A cooling gel-infused memory foam layer that is there to provide your body with the needed pressure relief. The infused gel helps it to stay cool.
A charcoal memory foam layer that has the ability to regulate the body's heat very efficiently. It can also remove odours and helps with pressure relief.
A layer made of pocket springs that will provide your body with the needed support. They have designed a 5-zone system to support better the more demanding areas of your body like your hips and shoulders.
A high-density base foam layer that keeps the mattress altogether. It also improves edge support.
The mattress measures 30cm in height and all the foams that are used here follow the CertiPUR-US standards. The image below will give you a better look inside the Onebed X mattress.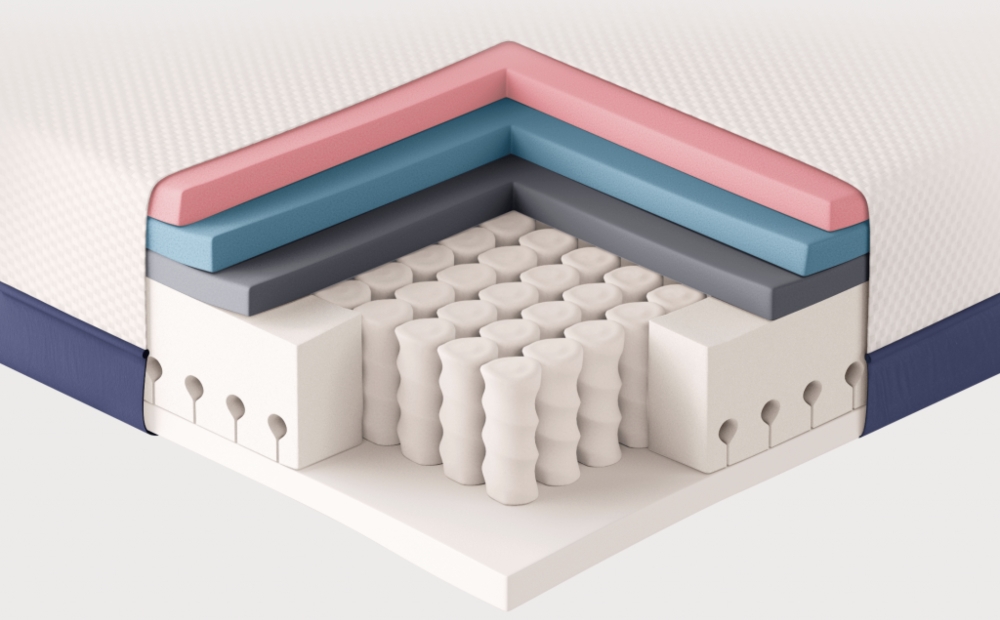 What is the cover made of?
The cover of the Onebed X mattress is made of a viscose-blended fabric. Known as 'artificial silk' viscose has a number of properties that make it ideal for a mattress cover. Firstly it feels luxurious but at the same time, it's a strong material. Secondly, it's very breathable and it doesn't trap heat. Lastly, it can retain its shape so your cover will remain in place. The design is a contemporary one and it features a bi-tone colourway. The upper part is white and the bottom part is dark navy. Overall, this is a well-made cover and Onebed did a great job here.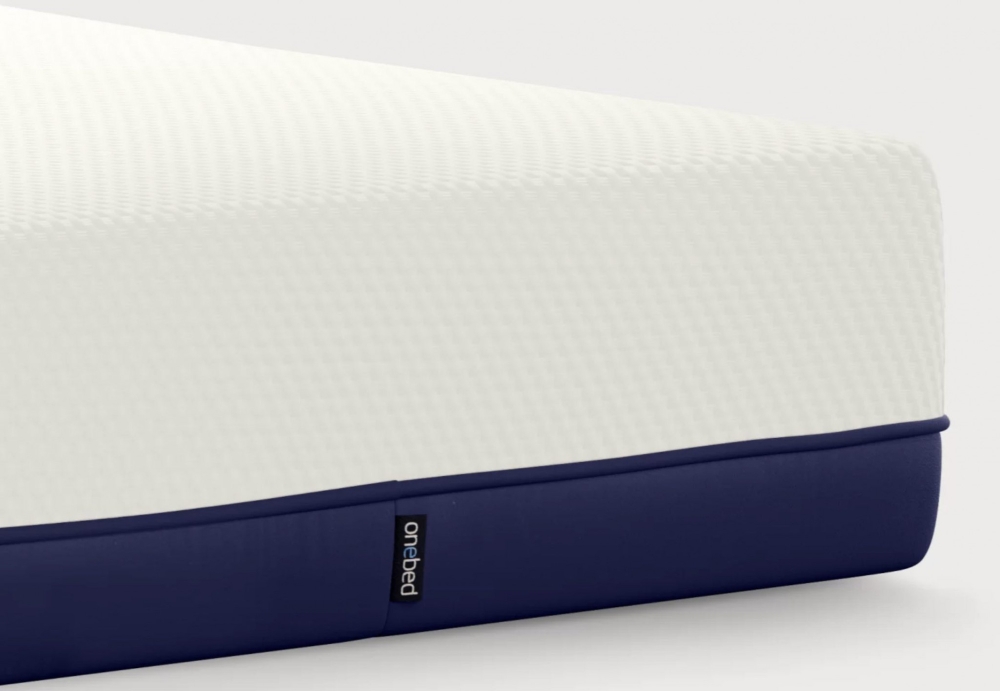 How firm is the Onebed X mattress?
Let's continue now with this Onebed X mattress review and talk about its firmness. This mattress is designed for those who look for comfort and support so it comes with a medium-firm feel. If I use my virtual scale here, I would say that this is a 6.5 with 10 being really firm. I would like now to talk about the different sleeping positions and how this mattress performed.

Starting from the back position, the upper foam layers hugged my body and pressure relief was great. The springs reacted well and I felt well-supported. It was comfortable in this position and the mattress did a good job distributing my weight evenly.
Turning to the side position, the mattress adjusted quickly and sinkage increased to allow better spine alignment. Support remained good and I didn't experience any pain in the hips or shoulder area.
Finally, turning to the stomach position, I felt that the mattress did a good job supporting my hips and shoulders. Pressure relief was adequate and I felt that it was comfortable sleeping this way. Overall, this mattress is a good all-rounder and it will suit every type of sleeper, including combo ones.
If you share your bed with your partner, this can be a good choice. The foam layers reduce motion transfer while the springs and base foam help with edge support. This combination makes it a couple-friendly mattress.
What type of bed should I use with this mattress?
When you buy a Onebed mattress, you should make sure you have the right type of bed. According to the maker, you should use a slatted base or bed frame. The main reason behind it is to avoid the risk of mildew or mould forming on your mattress. This is even more important for those who live in areas of Australia where humidity is a problem. If you use a slatted frame remember that the distance between each slat should not be longer than 7cm.
Will it come packed in a box?
It's already mentioned above that the Onebed X mattress is a boxed one. Every order comes with free delivery for mainland Australia and Tasmania. Onebed is known for quick delivery times and in my case, it was 4 working days. I remind you that I am based in Sydney. The box is a solid one and it kept the mattress in good condition. Communication was great and the delivery company did a great job. Overall, I was happy with the service I got from them.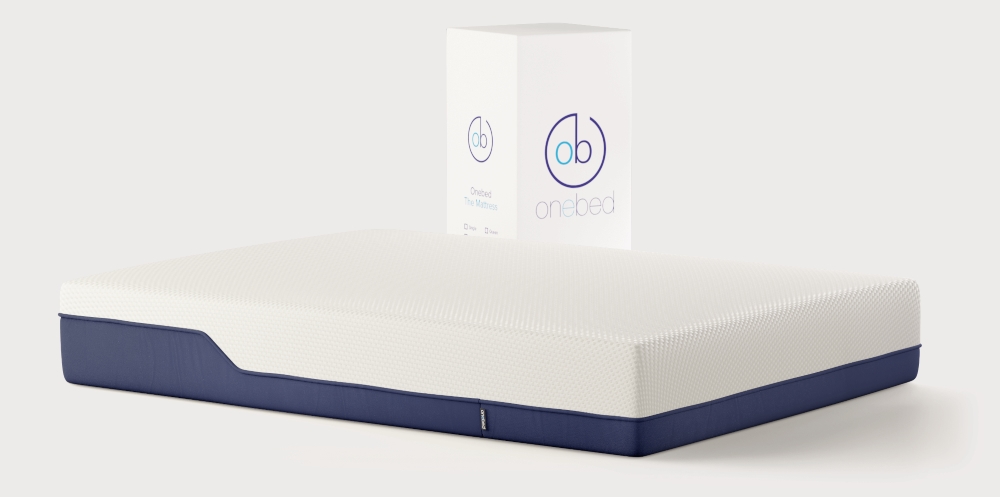 Will this mattress come with a trial period?
When you buy a Onebed mattress, you will get a 125-night trial period which is one of the best offers in the market. This will give you more than 4 months to try this mattress and decide later whether you are happy with it or not. If for any reason you are not happy with it, you can return it and get a full refund. All returned mattresses are donated to the Salvation Army and this is a great gesture by Onebed. Returns are free and all you have to do is contact them and they will arrange everything. Moreover, the mattress comes with a 15-year warranty that completes an already great package.
How much does it cost?
The Onebed X mattress is a premium mattress but it doesn't come with a premium price tag. This makes it one of the best value-for-money options in the market. The smaller size (Single) goes for $2,090 with the bigger (King) selling for $3,490. However, they run frequent promotions so you don't have to pay the full price. For example, at the moment of writing, they offered a free size upgrade so all mattresses were sold for $1,200! To see what the current offer is visit my coupon code page here.
| | | |
| --- | --- | --- |
| SIZE | DIMENSIONS | PRICE |
| Single | 92 x 188 x 30cm | $2,090 |
| King Single | 107 x 203 x 30cm | $2,415 |
| Double | 138 x 188 x 30cm | $2,725 |
| Queen | 153 x 203 x 30cm | $3,045 |
| King | 183 x 203 x 30cm | $3,490 |
Is the Onebed X mattress any good?
It's time now to complete this Onebed X mattress review and share my final thoughts with you. I think that this mattress would be ideal for those looking for:
A hybrid mattress that is both comfortable and supportive.
A well-made mattress that is designed for all sleeping positions.
A mattress that comes with a 125-night trial period and a 15-year warranty.
If you look for all of these, the Onebed X mattress should be high on your list. It's a big improvement from their Original mattress and I would definitely spend the extra bucks for it. After all, it's hard to find a good all-rounder that is fairly priced.
55% OFF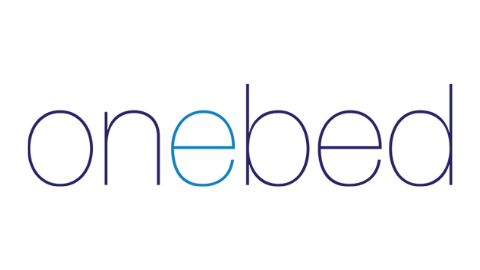 Onebed Mattress
Up to 55% off mattresses at Onebed
PROS
Good for all sleeping positions
Comfortable and supportive
125-night trial period