In this Emma Wooden bed review, I talk about this new release from the popular brand. This is the second bed frame that they have developed and that comes as a natural step for them. After all, they have seen enormous success with their Emma Comfort mattress and they felt that they wanted to offer customers more products.
I recently decided to renovate my guest bedroom and since I already had a good mattress, I felt that a new bed will do the job. After a quick research, I decided to order a queen-size frame that arrived within 3 days. Since one side is adjacent to the wall, I went for the 2 drawer solution. Without further ado, let's move now to the detailed review below.
Construction
The Emma Wooden bed is well-built and is made with two main materials. The bed base and headboard are made from FSC-certified pine wood. That means that Emma is committed to protecting the health and resilience of forests worldwide. This is very important, especially nowadays when our forests are in danger. Besides that, the frame has a metal slatted frame that is 3cm thick. The whole construction is very robust and is not a coincidence that this bed comes with a 5-year warranty.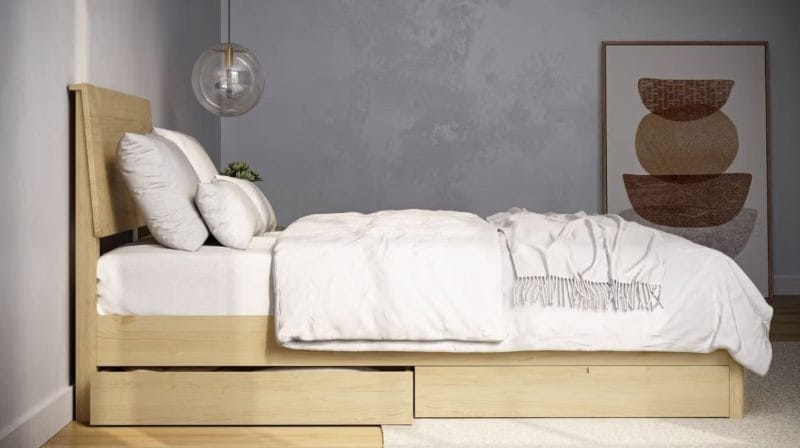 The Emma Wooden was delivered inside 4 boxes and the assembly took me around 45 minutes. The instructions were well written and I didn't need any extra tools for the whole process. However, I advise you to have a second person with you as it will make the assembly process a lot easier. The Emma Wooden comes with a 100-night trial period so you have plenty of time to get used to it. If you are not happy with it, you always have the right to return it and get a full refund. Overall, this is very well-made and the designers at Emma did a great job.
Design
The design of this bed is a traditional one and I think it will suit most bedrooms. The wood features a light colour tone and the frame has a great finish. On their site, you have the option to buy this frame without a storage solution or to have drawers underneath your bed. Depending on the size, you can opt to have 2 or 4 drawers. Personally, I think that the drawers make this frame look better so they are not only a practical solution. The bed looks of great quality and it will improve the aesthetics of your bedroom. Overall, this is a well-made frame and I loved that it comes with practical solutions.
Support
One of the main reasons you should buy this bed is its support. It comes with a metal slatted frame that can support your mattress and help it perform at its best. The wooden parts are also very sturdy and it's not a coincidence that the Emma Wooden bed comes with such a long warranty. I placed my Emma Comfort mattress on it and I saw a great improvement when compared to my old IKEA frame. Although most people focus on getting the right mattress, you have to make sure that you use a bed frame that works great. Overall, this is a frame that won't disappoint you and it will help your mattress perform better.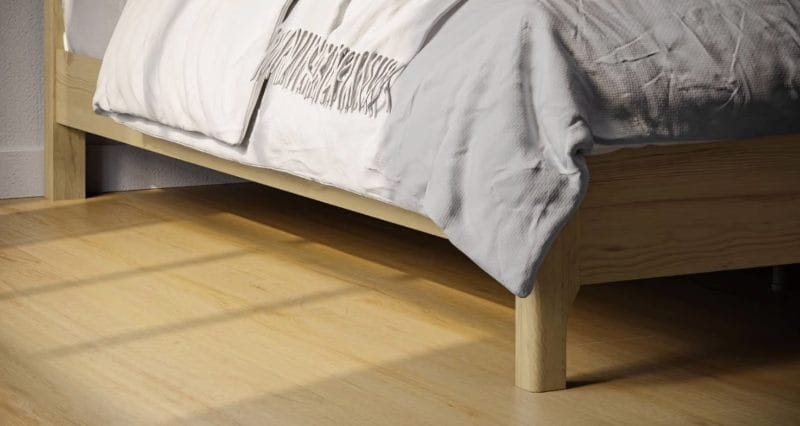 Pricing
The Emma Wooden bed is available in 5 sizes so you will definitely find one for your needs. The smaller available size (Single) sells for $2,199 with the bigger (King) going for $2,859. Of course, this is not the price that you will pay as the people at Emma are known for their frequent discount campaigns. For example, at the moment of writing a Queen size bed would only cost you $1,150. The table below has pricing information for all available sizes.
| | | |
| --- | --- | --- |
| SIZE | DIMENSIONS | PRICE |
| Single | 188 x 92 x 25cm | $2,199 |
| King Single | 203 x 107 x 25cm | $2,309 |
| Double | 188 x 138 x 25cm | $2,419 |
| Queen | 203 x 153 x 25cm | $2,529 |
| King | 203 x 183 x 25cm | $2,859 |
Verdict
I am ready now to complete this Emma Wooden bed review and express my final thoughts on it. I think that this is another winner from Emma and if you look for a fairly priced option that doesn't lack quality, this is definitely a bed that you should consider.
PROS
Made with great materials
Very supportive
100-night trial period
CONS
Available in only one colourway