If you are looking for a way to wake up more rested, you should read my Origin latex pillow review. For those who have never heard of this brand, Origin is a German maker that designs mattresses and other sleeping products. They initially saw great success with their Origin Hybrid mattress and decided it was the right time to release more products.
This pillow comes with a 7-night trial period that gives you a whole week to try it and decide later whether you want to keep it or not. Returns are free and if you are not happy with your purchase you can ask for your money back. It also comes with free shipping for all regions of Australia and a 2-year warranty. My pillow was delivered almost ten days ago so let's move to the full review below.
Construction
This pillow has a simple design and it's made of a single piece of latex foam. To improve it, the engineers at Origin infused it with cooling gel. That allows it to breathe better and manage heat more efficiently. Moreover, latex is naturally hypoallergenic and antimicrobial. This makes it a fantastic choice for people with sensitive skin or allergy sufferers.
Another benefit of latex is the ability to hold its shape for many years. That means that this pillow can be a good investment and it will last you for a really long time. Finally, the Origin latex pillow is an anti-dust mite one so you can sleep safely. Overall, this is a high-quality pillow and Origin did a great job here.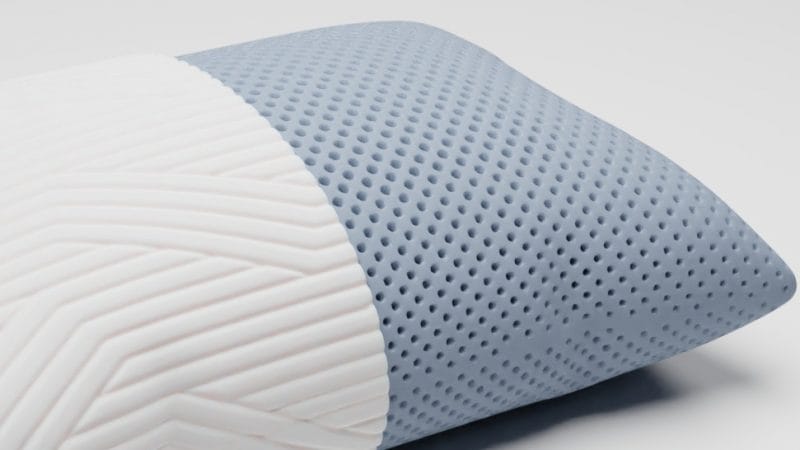 Cover
The cover of this pillow is made of a Tencel blend. If you read my reviews, you know that I am a huge fan of this material. For starters, Tencel is very breathable so the sleeping surface will stay cool during the night. Secondly, Tencel is naturally hypoallergenic so if you have sensitive skin, this can be a great choice for you. Finally, this is a material that is eco-friendly as it's made of wood pulp.
The cover features a clean white look that looks modern. There is a geometric pattern that I personally love with a tiny badge with the Origin branding. The sleeping surface feels soft and I felt that this pillow is a premium one. If you want to clean it, the good news is that this is removable and machine-washable. Just make sure you use a gentle cycle and mild detergent. Overall, this is an excellent cover that is a great addition to this pillow.
Support
Before you choose a pillow, you should first consider the position you prefer to sleep. According to that, you should choose a pillow with the right height. The Origin latex pillow measures 13cm in height so it's best suited for back and side sleepers. If you are a front sleeper, then you should probably consider another pillow.
I tried it in the back and side position and I felt that the latex core was very supportive and it did a great job with my head and neck. Besides that, pressure relief was great and I felt that my neck was well-rested every morning. Overall, this is a well-engineered pillow and if you sleep on your back or side, it can be a great choice for you.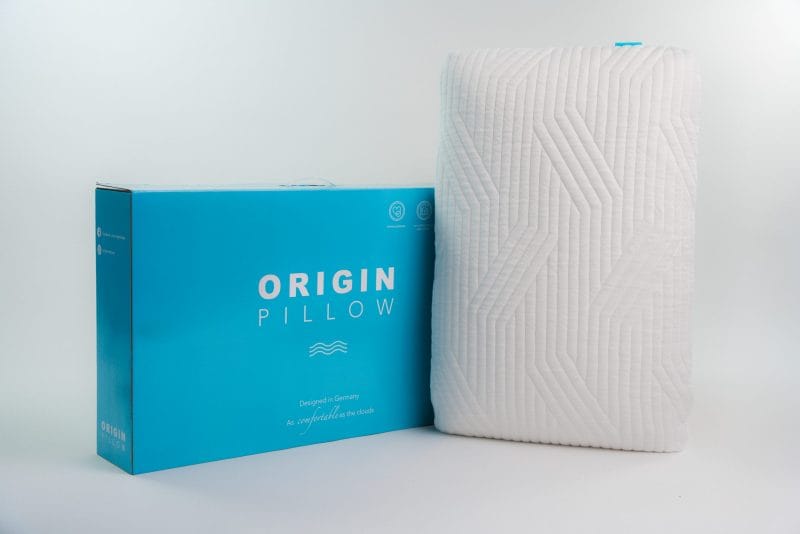 Is this a pillow I should buy?
This is not an easy question to answer but I will do my best now that I am ready to complete this Origin latex pillow review. In my opinion, this would be best suited for those looking for:
A latex pillow that has excellent pressure-relieving properties.
A value-for-money pillow that sleeps cool.
A pillow that comes with a 2-year warranty.
Origin managed to build another great product here and this is a pillow that I really like. If you don't sleep on your stomach and you look for a supportive and versatile pillow, this is definitely one to consider.
Origin Latex Pillow Review
PROS
Very supportive
Removable Tencel cover
7-night trial period
CONS
Wont's suit stomach sleepers