In this Onebed pillow review, I will talk about this interesting option that promises to change the way you sleep. After releasing the Onebed Original mattress, they decided to create a pillow for those who look for a customised experience.
Just like their mattress, the Onebed pillow can also be adapted to your needs. It allows you to change the height which is the main comfort factor when it comes to pillows. However, I will talk about this in detail later. The pillow measures 45cm x 65cm and it comes with free delivery for mainland Australia and Tasmania. Mine arrived about a month ago so it's a good time now to move to the full review below.
Construction
The Onebed pillow has a straightforward design. For the filling, they used memory foam pieces that can be removed or added. This allows you to create a pillow that has the right height for your sleeping style. When designing it, the people at Onebed decided to fragment the memory foam instead of using a whole piece to achieve three main things. Firstly, they wanted a pillow that feels like a feather pillow but is more eco-friendly. Secondly, they wanted their pillow to have pressure-relieving properties and memory foam is an excellent material for this cause. Lastly, fragments allow airflow so this pillow sleeps cool. This is a clever approach and overall, this is a well-made pillow.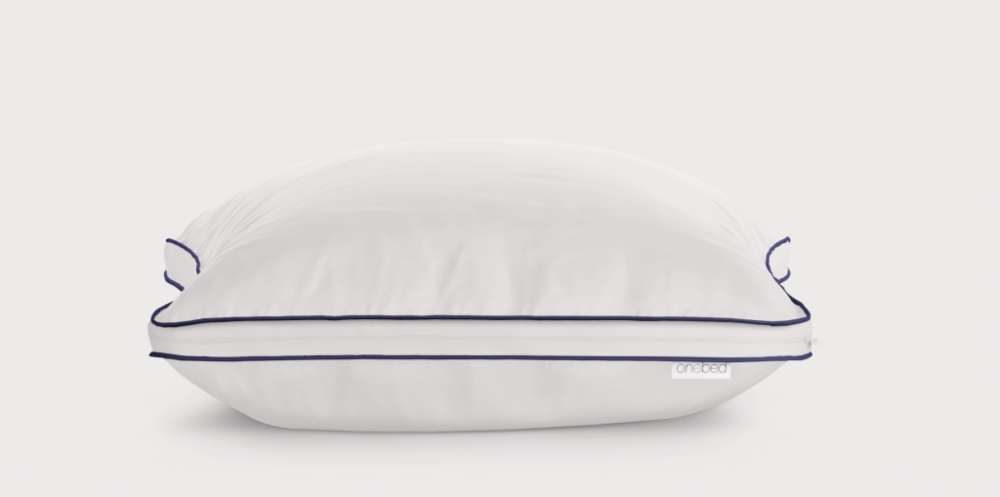 Cover
The cover of the Onebed pillow is made of 2 layers. For the outer one, they used a plush microfibre fabric that feels soft and adds comfort. The inner cover is made of a cooling fabric that helps the sleeping surface stay cool during the night. As you expect, this is a removable cover and you can use your washing machine at 40 degrees. This is great and according to the maker, you should wash it every 6 months to keep it fresh and clean. The design of the cover is a modern one featuring a white colour with some blue lining details. Overall, it's a high-quality cover and I think that Onebed did a great job here.
Support
When you create an adjustable pillow, you have to execute it correctly and Onebed did a good job here. I started by using the original setup with all the fragments inside the pillow and slowly removed handfuls of foam. I repeated this process a couple of times and finally, I had the setup that I wanted. The pillow felt great and the memory foam fragments did a good job supporting my head and neck. Pressure relief was adequate and overall the Onebed pillow did a good job. However, I felt that it doesn't feel like a feathered alternative but that is not necessarily a bad thing. Overall, I think that it's a high-quality pillow and it's suitable for all types of sleepers.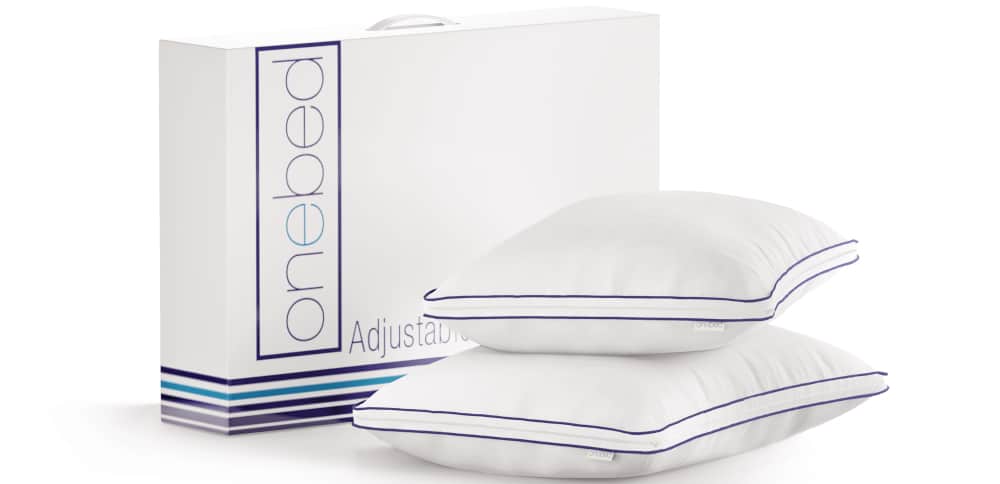 Is the Onebed pillow for me?
This is the question I have to answer now that I am about to complete this Onebed pillow review. With this in mind, I think that this option would be ideal for those looking for:
An adjustable pillow that will suit every type of sleeper.
A pillow that has great pressure-relieving properties.
A well-made pillow that is fairly priced.
If you look for all these, the Onebed pillow can be a great option. The modular design is a clever one and if you look for a customisable experience, this is a great option. The pillow is fairly priced and it comes with free delivery. Overall, it's a great addition to their range and a great option for combo sleepers.
PROS
Adjustable height
High-quality materials
Free delivery