One of the main problems that I face living in Sydney is the lack of space. It's always hard when you have friends visiting and you try to figure out where everyone will sleep. In this Ecosa Rio sofa bed review, I am discussing this interesting option that looks promising.
Ecosa is a well-known mattress brand but in recent years, they have developed a series of furniture pieces that include beds, sofa beds and bedside tables. The Rio Sofa Bed is one of their most recent ones but it's definitely the most interesting one. If you decide to buy one, they offer a great service that includes free next-day Metro delivery and a 5-year warranty. I decided to get mine almost two weeks ago so it's time now to move to the full review below.
Construction
The Rio sofa bed is made of two parts; the armrests and the bed. It's delivered in one big box and all you have to do is assemble it. This process is an easy one and it will only take you a minute. I have to mention here that you don't need any tools for that and you can do it by yourself.
The cover is made of recycled ocean bottles and they have worked with Ocean Cycle for this project. This is a great initiative by Ecosa which shows that they have the right corporate values. Underneath the cover, you will find premium cushioning foam that has a nice bounce and feels comfortable. Overall, this is a well-made sofa bed that will impress you with its quality.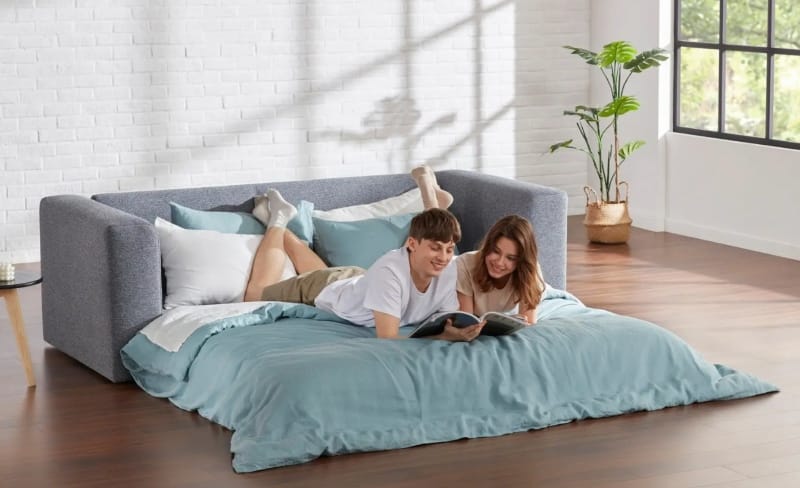 Design & Practicality
One of the things I love about this sofa bed is its design. It's a really stylish one and it will definitely improve the looks of your living room. What is even better here is that it's available in 3 colourways so you will find the one that suits your taste. I personally loved the beige one which I think looks very premium. The Rio sofa bed is available in two sizes; 2.5 seater and 3 seater. As you understand, there are many options for you here which is one of the main strengths of their offering.
The opening mechanism is a simple one so you can have your bed ready in seconds. According to the maker, they wanted to keep it simple but also more durable as mechanisms with springs and metal parts are a thing of the past. Overall, this is a gorgeous piece of furniture that I really loved.
Comfort
When building a sofa bed, the challenge is to make it good for both roles. Having said that, the most important is its function as a sofa and this is something that the engineers at Ecosa achieved. It's very supportive and comfortable and the construction looks sturdy. This last part is very important and you won't feel that it moves in an uncomfortable way.
As a bed, I would say that it gets the job done so don't expect a hotel-like experience. However, for a few nights, your guests will sleep comfortably which is the purpose of this sofa bed. The foam used here has cushioning properties and overall, I think that this is a comfortable piece of furniture.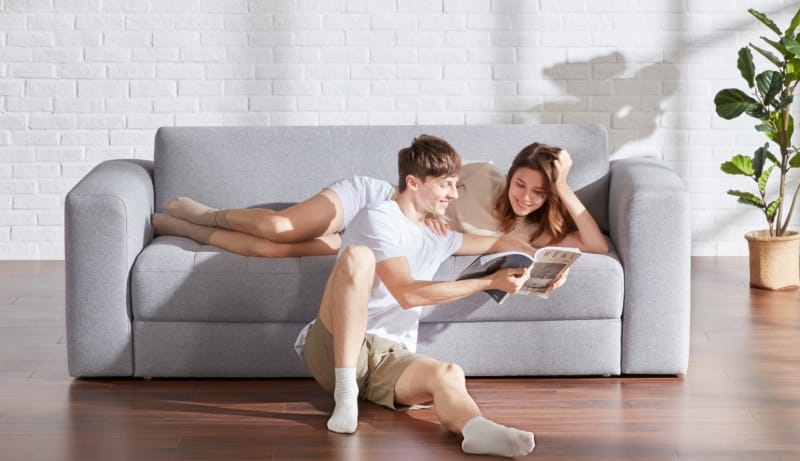 Verdict
I am ready now to complete this Ecosa Rio sofa bed review and share my final thoughts with you. This is a great addition to their range and it's a piece of furniture that can serve both its functions very well. This is hard to achieve so if you look for a quality sofa bed, the Ecosa Rio should definitely be on your shortlist.
Ecosa Rio Sofa Bed Review
PROS
Available in 3 colourways
Easy to open mechanism
5-year warranty