If you look for ways to improve your sleep, you should read my Dusk and Dawn Essential mattress review. This is the cheapest option from their range, including the Dusk and Dawn Premiere and the Dusk and Dawn Signature mattresses.
The Essential mattress follows the same design philosophy as its siblings and it combines foam with pocket springs to create a balanced mattress. It's available in 2 options, 'Comfy Medium' and 'Firm Support' so you can choose the one that suits your needs. For this review, I will talk about the medium choice so you should be aware of it.
$250 OFF

Dusk & Dawn Mattress
$250 off mattresses at Dusk & Dawn
What is a Dusk and Dawn Essential mattress made of?
The Essential mattress is made of 5 layers plus the cover. These are:
A Dusk-Air Tech layer that can regulate the body's heat very efficiently. It's a breathable blend that is naturally anti-bacterial and anti-dust mite. This layer also adds comfort.
An Eco-Air foam layer that helps the mattress stay cool during the night.
An Elasta Gel foam layer that has great pressure-relieving properties.
A high resilience foam layer that helps with comfort.
A zoned pocket springs layer that will provide your body with the needed support. This type of spring minimises motion transfer so you and your partner can sleep better.
This mattress measures 30cm in height so it's a relatively thick one. All foams used here follow the GECA standards.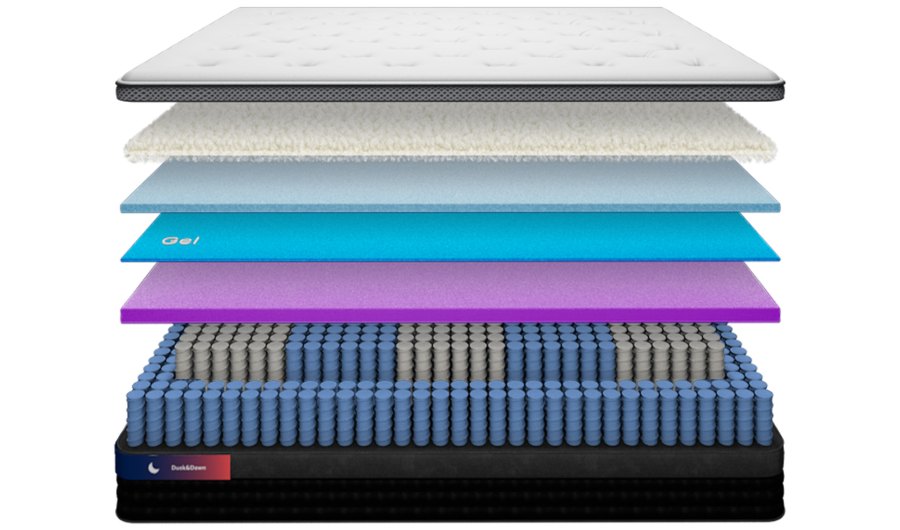 How good is the cover?
When designing this mattress they wanted to give a premium character to it. For this reason, they used a cover that is made of a stretch fabric that feels soft but strong at the same time. It's a breathable cover that will allow your mattress to sleep cool during the night even during the hot Australian summer. To enhance it further, they have added a 3D mesh gusset which is a clever feature. The design is a contemporary one with the upper part being white and the side part being black. The cover is not removable so if you ever need to clean it, you should use a piece of cloth and mild detergent. Overall, it's a great cover and I think they did a great job here.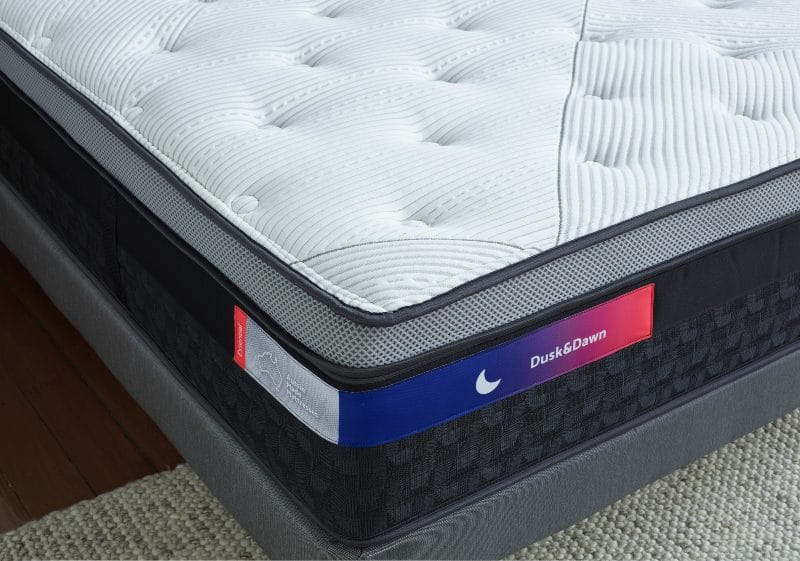 How firm is this mattress?
It's time now to continue with this Dusk and Dawn Essential mattress review and talk about its feel. It's already mentioned above that this mattress is available in 2 options but for this review, I will talk about the medium one. If I use my virtual scale here, I would say it's a 6.5 with 10 being really firm. Let's talk now about the 3 main sleeping positions and how this mattress performed.

Starting from the back position, the mattress felt comfortable and my back was well supported. The pocket springs distributed my weight evenly and pressure relief was great.
Turning to the side position, the mattress reacted quickly and sinkage increased. That helped my spine to align properly and I felt that the Essential mattress did a good job with this position. The medium option would definitely suit side sleepers.
Finally, moving to the stomach position, I felt well supported, but I think that the firmer option would better handle my weight. However, if you are a smaller person the medium option would be fine too. Overall, this is a mattress that will suit combo sleepers and this is quite impressive, especially at this price point.
If you are a couple, the edge support is good. However, the other Dusk & Dawn mattresses that have the foam perimeter are significantly better on this end. This is one of the corners they cut to reduce the cost. Moreover, the mattress features minimal motion transfer, especially for a hybrid option. This is impressive and it means that you can forget about partner disturbance which is a common problem among couples.
Can I use this mattress with any type of bed?
If you buy the Dusk and Dawn Essential mattress, you don't need a special type of bed frame to use it with. According to the maker, you can use a slatted frame or a divan bed. Regardless of what you choose as your base, make sure that the mattress is well-supported so it can perform at its best.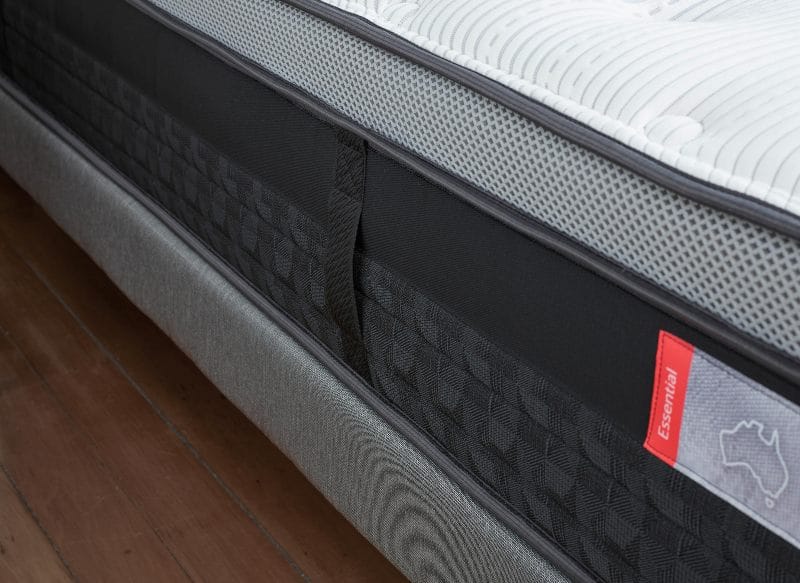 Is this a rolled mattress?
Most of the mattresses I have reviewed here are boxed ones but the Essential mattress doesn't belong to this category. The way they make it doesn't allow this mattress to be compressed and squashed into a box. When you order one, you will get free delivery if you live in the Metro area. On the other hand, if you live in the regional areas, there will be a $180 delivery fee. During the checkout process, you can also choose to have your old mattress removed. This option will cost you an extra $70 which is a great deal as it can be difficult sometimes to get rid of your old mattress. Mine was delivered within 4 days and the whole process was straightforward. Overall, I was happy with the service I got from them.
Does the Dusk and Dawn Essential mattress come with a trial period?
When you buy a Dusk and Dawn mattress you will get a 100-night comfort guarantee that gives you more than 3 months to try this mattress and decide later whether you like its feel or not. If for any reason you are not happy with it, you can ask for a 'comfort change'. In this case, they will come and pick your mattress up, adjust its firmness and return it back to you. The process is straightforward and they will take care of everything. This is great service and it's something you expect from a premium brand like Dusk and Dawn.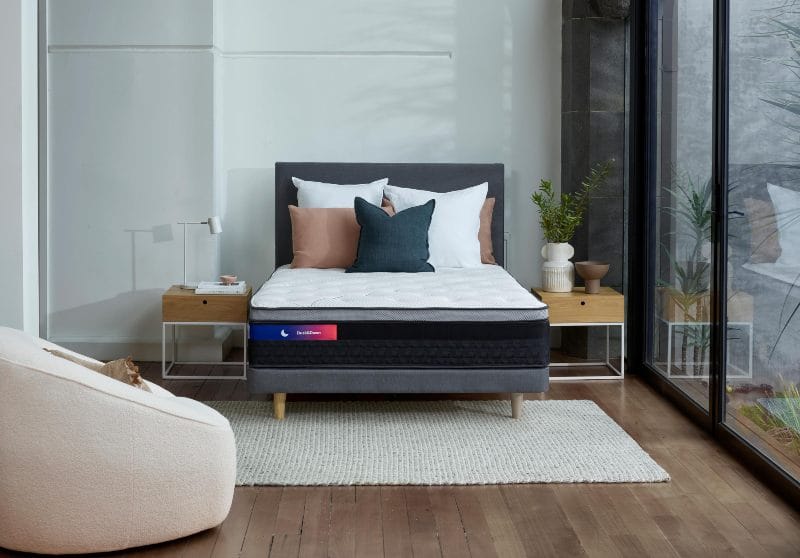 How much will I pay for it?
The Dusk and Dawn Essential mattress is available in 5 sizes so there are plenty of options for you to choose from. The smaller size (Single) will cost you $1,149 with the bigger (Super King) going for $2,149. Having said that, they run frequent promotions so you probably won't have to pay the full price. The table below has pricing information for all available sizes.
| | | |
| --- | --- | --- |
| SIZE | DIMENSIONS | PRICE |
| Single | 92 x 188 x 30cm | $1,149 |
| Long Single | 92 x 203 x 30cm | $1,199 |
| King Single | 107 x 203 x 30cm | $1,249 |
| Double | 138 x 188 x 30cm | $1,649 |
| Queen | 153 x 203 x 30cm | $1,749 |
| King | 183 x 203 x 30cm | $1,949 |
| Super King | 203 x 203 x 30cm | $2,149 |
Is the Dusk and Dawn Essential mattress worth buying?
It's time to complete now this Dusk and Dawn Essential mattress review and share my final thought with you. I think that this mattress would be great for everyone looking for:
A hybrid mattress that is designed and manufactured in Australia.
A fairly priced mattress that is available in 2 firmness profiles.
A mattress that will suit combo sleepers.
If you look for all these, the Essential mattress should be high on your list. It's a mattress that is built with high-quality materials and the fact you can choose its firmness allows you to have a more customised sleeping experience. If you look for an Australia-made mattress this is a good place to start.
$250 OFF

Dusk & Dawn Mattress
$250 off mattresses at Dusk & Dawn
Dusk and Dawn Essential Mattress Review
PROS
Good for all sleeping positions
Made in Australia
Good value for money
CONS
Edge support could be better