If you look for a value-for-money option, you should definitely read my Newentor Hybrid mattress review. This is the latest release from this maker and it's definitely an interesting one.
After releasing the Hesperis mattress, the engineers at Newentor decided it was the right time to design a hybrid one. As you would expect, this is another bed in a box and it will be delivered directly to your door. Mine came almost 10 days ago so it's a good time now to move to the full review below.
What is this mattress made of?
The Newentor hybrid mattress is made of 5 layers plus the cover. In detail, these are:
A cotton pad that adds comfort but also allows airflow.
A supportive memory foam layer that can provide your body with the needed pressure relief. This layer comes with a softer feel.
A high-elasticity foam layer that has a dual role. It adds comfort but also has pressure-relieving properties.
A pocket spring layer that includes both soft and firm springs. The engineers at Newentor have designed a 7-zone system that provides tailored support.
Another high-elasticity foam layer that provides extra support.
The Hybrid mattress measures 25cm in height so you should expect a medium profile. The picture below gives us a glimpse of what it looks like from the inside.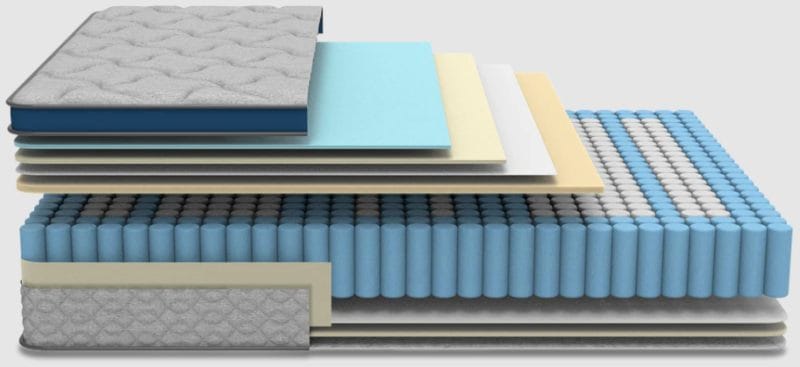 Does it come with a good cover?
The short answer is yes! This mattress comes with a fantastic cover that is made 100% from bamboo charcoal fabric. It's designed to sleep cool and allow airflow. Additionally, this type of fabric has anti-bacterial properties which makes it ideal for people with sensitive skin. Finally, bamboo is an eco-friendly material as it needs far less water to grow when compared to cotton.
The design of the cover is a modern one and it features the colours of their brand; grey and blue. At the top, there is a nice pattern and at the bottom, they have added an antislip surface that will keep this mattress in place. Unfortunately, there are no handles on the side so you will need more effort to move it when that is needed. Overall, this is a fantastic cover and the engineers at Newentor did a great job here.
Is this a firm mattress?
This is a common question so I need to answer it before I continue with this Newentor Hybrid mattress review. During the design process, they wanted to create a mattress that would suit everyone. For this reason, they went with a medium-firm feel and if I use my virtual scale here, I would say this is a 6.5 with 10 being really firm. Let's see now how this mattress performed during the time I used it.

Starting from the back position, the Newentor Hybrid felt comfortable and the upper foam layers did a good job with my hips and shoulders. The zoned system worked well and I felt that every part of my body had the right pressure.
Turning to the side position, the pocket springs adjusted quickly and the mattress remained comfortable. There was no discomfort in the hip area and I felt I could sleep on my side for hours.
Finally, moving to the front position, the sleeping surface wasn't as firm as I would like but it was still ok for me. Support was good and the mattress did a decent job with my spinal alignment. Overall, this is a mattress that is better suited for back and side sleepers.
If you are a couple, this is a mattress that you should definitely consider. It combines minimal motion transfer with great edge support and that is hard to achieve. All I can say here is well done Newentor!
Will I pay for delivery?
When you buy one of their mattresses, you will get free delivery provided you live in mainland Australia. Depending on your postcode, you will receive your products within 3-7 working days. This is quite fast and it shows that Newentor is an efficient company. In my case (Sydney) it was 4 working days. The mattress was delivered to my doorstep and the box was in great condition. The process was straightforward and I received emails with all the steps of the process. Overall, I had a good experience with them so no complaints at all.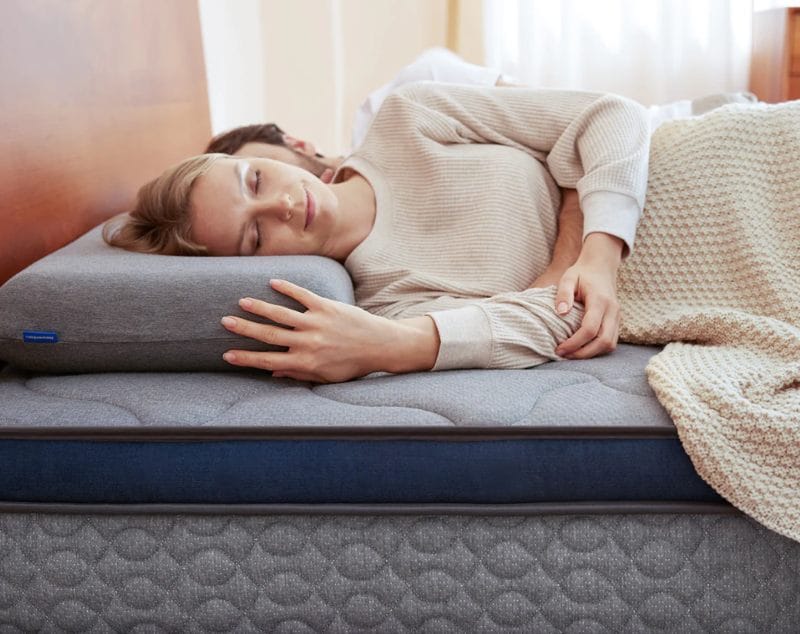 Can I try it first?
Many people hesitate to buy a mattress online and the people at Newentor understand that. For this reason, every mattress comes with a 120-night trial period that gives you exactly 4 months to try it and decide later whether you want to keep it or not. If you are not happy with your purchase, you have the right to return it and ask for your money back. All you have to do is contact them and they will complete the process for you.
Besides that, every mattress also comes with a 10-year warranty that will cover you for a long time. The terms and conditions can be found here so make sure you read them before you purchase your mattress. Overall, this is a great package and it shows how much they value their customers.
How expensive is this mattress?
One of the great things about this mattress is that it's available in many sizes. To be more precise, the Newentor Hybrid comes in 7 sizes so you have plenty of options to choose from. The smaller size (Single) costs $880 while the bigger size (Super King) sells for $1,380. The table below has pricing information for all the available sizes.
| | | |
| --- | --- | --- |
| SIZE | DIMENSIONS | PRICE |
| Single | 92 x 188 x 25cm | $1,080 |
| Long Single | 92 x 203 x 25cm | $1,120 |
| King Single | 107 x 203 x 25cm | $1,180 |
| Double | 137 x 188 x 25cm | $1,280 |
| Queen | 153 x 203 x 25cm | $1,380 |
| King | 183 x 203 x 25cm | $1,480 |
| Super King | 203 x 203 x 25cm | $1,580 |
Is this an option I should consider?
This is the main question in everyone's head and it's time to address it now that I am about to complete this Newentor Hybrid mattress review. In my opinion, this can be a good option for those looking for:
A value-for-money mattress that is made with excellent materials.
A hybrid mattress that is designed with couples in mind.
A mattress that comes with great service from a name you can trust.
If this sounds good to you, then you should definitely add this mattress to your shortlist. This is another winner from Newentor and if you can find it on sale, it can be a great choice for back and side sleepers.
Newentor Hybrid Mattress Review
PROS
Great value for money
Fantastic materials
120-night trial period
CONS
Not that great for stomach sleepers