If you look to upgrade from your old mattress, you should definitely read this Ecosa Vital mattress review. After seeing great success with their original mattress, the people at Ecosa decided that it was time for an upgrade. This is how the Vital mattress was born and it's here to improve the way you sleep.
Unlike its original sibling, this mattress is a hybrid one. That means that you will find both memory foam and pocket springs. My Vital mattress arrived almost 10 days ago so I'm ready now to write this full review.
What is the Vital mattress made of?
The Ecosa Vital mattress is made of six layers plus the cover. These are:
An air memory foam layer that is designed to keep the sleeping surface cool during the night. For this reason, it comes with pin-core holes.
A tranquil memory foam layer that has excellent pressure-relieving properties.
A transition foam that connects the upper layer with the pocket springs. This type of foam is designed to reduce motion transfer.
A pocket springs layer that has the ability to support your body and spine. They have added a seven-zone system that can provide you with a more personalized sleeping experience.
A recycled felt layer that protects the pocket springs.
A reinforced foam layer that provides firm support but also protects the pocket springs.
This mattress measures 23cm in height so it comes with a medium profile. That means that your old sheets will definitely fit this mattress. The image below showcases the position of each layer.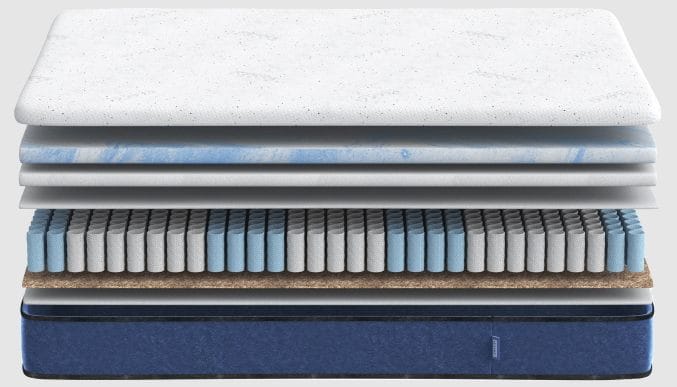 Is this a good cover?
The cover of the vital mattress is ocean cycle certified. To make one, 120 plastic bottles are collected from the ocean and then repurposed into this cover. This is a great initiative by Ecosa and it shows how much they care about the environment. The upper part is removable and it's machine washable. All you have to do is unzip it and pop it inside the washing machine. The design of the cover is very similar to the one found in their original mattress and it features a blue bottom part with a white top part. The cover feels soft but at the same time, it looks very durable. Overall the people at Ecosa managed to build a high-quality cover here so no complaints at all.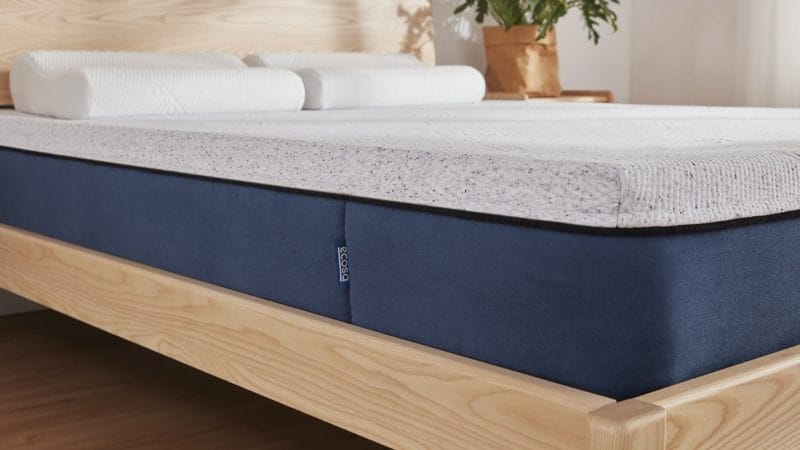 How firm is this mattress?
Let's continue now with this Ecosa Vital mattress review and discuss its feel. During the design process, the engineers at Ecosa wanted to create a mattress that is built for the average sleeper. For this reason, this mattress comes with a medium-firm feel. If I use my virtual scale here, I would say it's a 6.5 with 10 being really firm. It's time now to have a closer look and discuss how it performed in the different sleeping positions.

Starting from the back position as always, the mattress felt comfortable and the springs did a good job distributing my weight evenly. The memory foam layer provided my body with the needed pressure relief and I felt that the mattress did a great job in this position.
Turning to the side position the pocket springs reacted quickly and that allowed a correct spinal alignment. There was no discomfort in the hips and shoulder area and the Vital mattress felt quite comfortable.
Finally moving to the front position the sleeping surface was not firm enough and I felt that this mattress won't suit stomach sleepers. Having said that, if you're not too heavy this one can still be good for you. Overall this is a mattress that is better suited to back and side sleepers.
If you share your bed with a partner the Vital mattress has the ability to minimize motion transfer so you can't forget about the annoying partner disturbance. On the other hand, edge support is average but this is expected from a mattress of this height.
Do I need a specific bed type for this mattress?
If you decide to buy this mattress, the good news is that you can still use your old bed frame. I placed my Vital mattress on my old slatted frame and it worked great. However, you can also use a box spring or a divan bed. In any case, you should make sure that your mattress is well-ventilated. This will keep it fresh and clean and will create a more hygienic sleeping environment.
Will I get free delivery?
One of the main strengths of the Ecosa brand is its amazing service. When you buy a Vital mattress, they offer a very speedy delivery service. What is more here, is that if you live in the Metro areas, they offer a same-day delivery service. This is amazing and only a handful of companies have the ability to provide this type of service.
I ordered my Vital mattress early in the morning and a few hours later, it arrived on my doorstep. This was a unique experience for me and I was really excited to receive my mattress so quickly. The box came in good condition and the packaging was thoroughly sealed. Communication was great and the whole process was really smooth. Overall I was thrilled by their service and I have only good words to say here.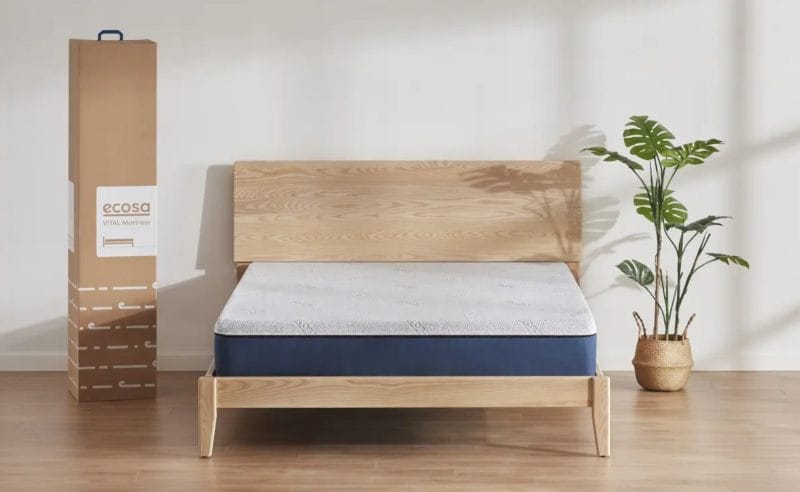 Does it come with a trial period?
Many people feel nervous about buying a mattress online. The salesmen at Ecosa are aware of that and for this reason, they offer a 100-night trial period. That gives you more than three months to try this mattress and decide later whether you want to keep it or not. In the case, you are not happy with your purchase, you have the option to return your mattress and ask for a full refund. The process is a simple one and they will take care of everything for you. All returned mattresses are donated to a local charity. This is a great gesture by the Ecosa management and hopefully, more companies will do the same.
Besides the trial period, every mattress comes with a 15-year warranty that will cover you for a really long time. After all, most makers offer 10 years so that shows how much they respect their customers. Before you buy your mattress you should definitely have a look at the terms and conditions so you know what is included in the cover. Overall this is a very competitive package and the people at Ecosa did a great job here.
How much will I pay for it?
The Vital mattress is available in five sizes so there's definitely one that will suit your needs. The smaller size starts from $700 (Single) with the bigger one (King) selling for $1,100. Ecosa is a brand that is known for running frequent promotions so you will probably pay less than the retail price. For example, when I purchased my mattress, there was a 25% off promo. The table below has pricing information for all available sizes.
| | | |
| --- | --- | --- |
| SIZE | DIMENSIONS | PRICE |
| Single | 92 x 188 x 23 cm | $700 |
| King Single | 107 x 203 x 23 cm | $750 |
| Double | 138 x 188 x 23 cm | $850 |
| Queen | 153 x 203 x 23 cm | $950 |
| King | 183 x 203 x 23 cm | $1,100 |
Is this a mattress I should consider?
This is a tough question to answer but I will do my best now that I am about to complete this Ecosa Vital mattress review. In my view, this can be a good option for anyone looking for:
An affordable mattress that is built with great materials.
A hybrid mattress that is designed for back and side sleepers.
A mattress that comes with a 15-year warranty.
If this is what you look for, the Ecosa Vital mattress can be a good option. This is a mattress that will suit back and side sleepers and it comes with excellent service and support. If you don't want to break the bank, this can be a good choice.
Ecosa Vital Mattress Review
PROS
Nice recycled cover
Very comfortable
15-year warranty
CONS
Not great for stomach sleepers