If you are after a budget option then you should definitely read this Deep Dream Premium mattress review. This relatively new brand sells its products through the popular online retailer Lifely. They offer a number of mattresses with budget-friendly price tags but are they any good? I guess we will find out soon.
As expected, all Deep Dream mattresses are rolled ones and they will come packed inside carton boxes. This of course happens to reduce costs so they can provide their customers with value-for-money mattresses. I got mine almost two weeks ago so it's a good time now to move to the full review below.
FREE DELIVERY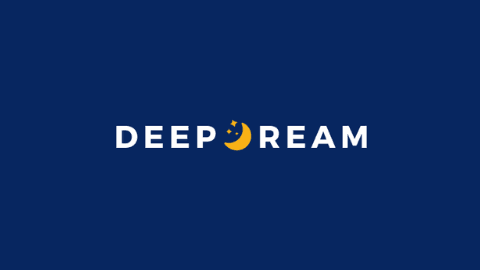 Deep Dream Mattress
Free metro delivery for all mattresses
Free metro delivery for all mattresses
Show Less
What is this mattress made of?
This mattress is made of 5 layers plus the cover. In detail, these are:
A convoluted foam layer that has the ability to actually conform to your body's curvature. This helps with better spinal alignment.
A cool gel memory foam layer that has great pressure-relieving properties. This layer is designed to keep the sleeping surface cool during the night.
A second convoluted foam layer that works in the same way as the upper one.
A high resilience foam layer that comes with a soft feel. It's designed to help with support.
A layer made of pocket springs. It comes with a 5-zoned system that promises tailored support.
The Deep Dream Premium mattress measures 34cm in height so you should expect a high profile. All foams used to make it comply with the CertiPUR-US standards so they don't contain any harmful chemicals.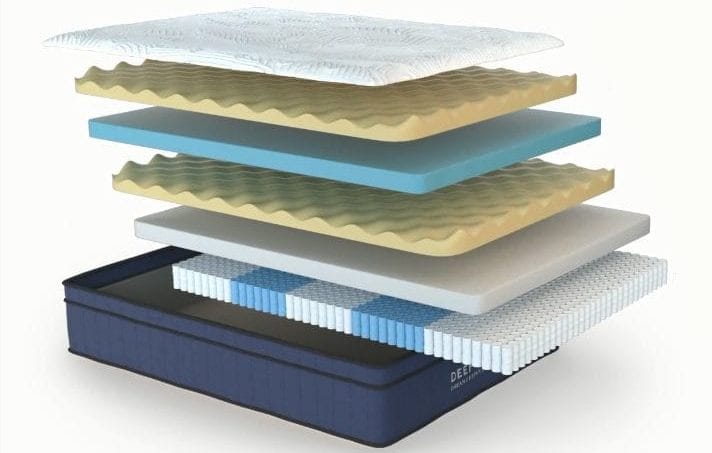 Is this a good cover?
The cover of this mattress is made of organic cotton and it looks quite premium. They chose this material because it has the ability to breathe which is important for a mattress. Additionally, cotton is a skin-friendly material and the cover comes with the OEKO TEX 100 label. That means that is good for allergy sufferers or those who have sensitive skin. The sleeping surface feels soft and the cover features a modern and beautiful design. Unfortunately, this is not removable so if you want to clean it you should use a mild detergent and spot clean it where this is needed. Overall, this is a nice cover that compliments this mattress quite well.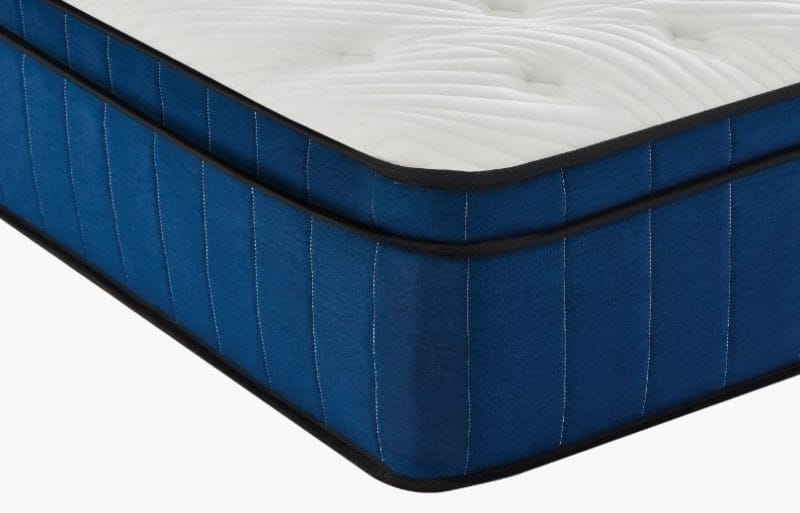 How firm is this mattress?
I would like now to move on with this Deep Dream Premium mattress review and talk about its feel. This is probably the softest mattress that I have reviewed and if I use my virtual scale here, I would say it's a 5 with 10 being really firm. Let's see now how it performed during the first week of use.

Starting from the back position, the mattress felt soft from the beginning and it was comfortable in this position. Support was good and my spinal alignment was correct.
Turning to the side position, the springs adjusted quickly and sinkage increased. The mattress felt supportive and it was really comfortable for my hips to sleep this way. This is one of the benefits of a softer mattress.
Finally, moving to the stomach position, the sleeping surface felt too soft for this position and I didn't feel very comfortable sleeping this way. It's known after all that soft mattresses are not ideal for the front position.
If you share your bed with a partner, this type of pocket spring is designed to minimize motion transfer and I felt that they did a decent job. Moreover, the edge support is average which is expected for a mattress of this price.
Does it come with free delivery?
If you decide to buy a Deep Dream mattress, you will get a free delivery service provided you live in a Metro area. For every other region, there will be a small delivery fee. If you wonder about delivery times, the people at Lifely are known for their great service so you should expect your mattress within 5-8 working days from the moment you place your order. In my case, it was 5 days and I remind you that I live in Sydney. Communication was great and the whole process was straightforward. Overall, they offer a good service here so no complaints at all.
Will I get a trial period?
Unfortunately, the Deep Dream mattress doesn't come with a trial period and that in my view is its biggest weakness. The boxed mattress industry was built on the existence of trial periods so it's really disappointing that the Deep Dream mattresses lack that. I guess this is a way to cut costs but hopefully, this will change in the near future.
However, if you decide to buy one, you will get a 20-year warranty which is impressive. After all, most other makers offer 10-year warranties so the people at Deep Dream did a fantastic job here. Overall, this is not a complete package despite the excellent warranty policy.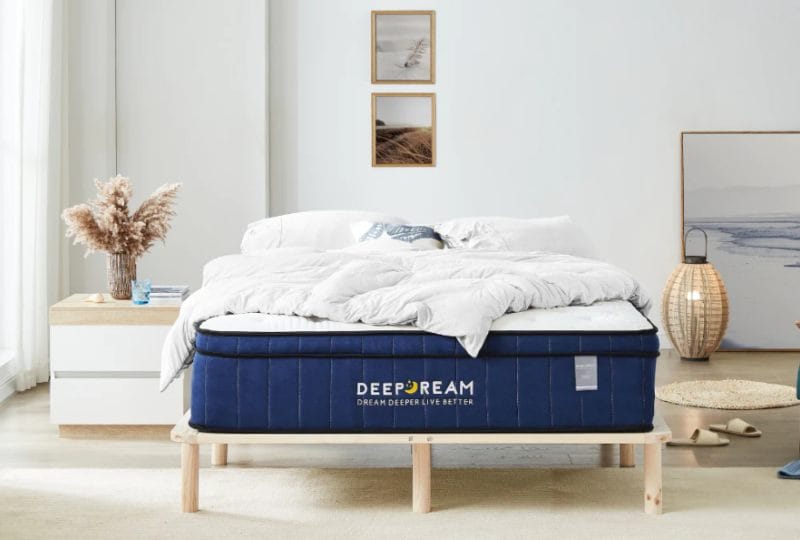 Is this an affordable mattress?
The Deep Dream range presents great value for money so if you have a tight budget, this is a brand you should consider. The Premium mattress is available in 4 sizes so you have a few options. The smaller size (King Single) costs $461 with the bigger (King) selling for $869. In the table below, you can find pricing information for all available sizes.
| | | |
| --- | --- | --- |
| SIZE | DIMENSIONS | PRICE |
| King Single | 203 x 107 x 34cm | $461 |
| Double | 188 x 137 x 34cm | $649 |
| Queen | 203 x 153 x 34cm | $759 |
| King | 203 x 183 x 34cm | $869 |
Should I buy this mattress?
This is not an easy question to answer but I will do my best now that I am about to complete this Deep Dream Premium mattress review. I think that this would be a good option for those looking for:
A cheap mattress that is made with high-quality materials
A hybrid mattress that has a great cooling system.
A mattress that comes with a 20-year warranty.
If you look for all these, this can be a good option. Deep Dream managed to build a value-for-money mattress that is really hard to find at this price. It's not the best mattress I have reviewed but when you are on a budget, this is definitely an option you should consider.
FREE DELIVERY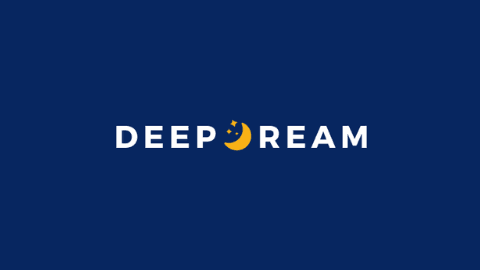 Deep Dream Mattress
Free metro delivery for all mattresses
Free metro delivery for all mattresses
Show Less
Deep Dream Premium Mattress Review
PROS
Value for money option
Great materials
20-year warranty
CONS
Not good for stomach sleepers