In this Emma Diamond hybrid mattress review, I will talk about this latest release from Emma that is designed for those who sleep hot. After seeing great success with their Emma Comfort mattress, they decided it was time for a more premium mattress.
Awarded "Best Cooling Mattress" for 2023
The Diamond mattress follows a different design approach and it's the first hybrid mattress from Emma. During the design process, they wanted to create a mattress for the hot Australian weather so they used graphite but we will talk about it later. Mine was delivered about 2 weeks ago so let's move now to the full review below.
What is an Emma Diamond Hybrid mattress made of?
The Emma Diamond mattress features 4 layers plus the cover. In detail, these are:
A graphite foam layer that is designed to stay cool during the night. It also minimizes motion transfer so you and your partner can sleep better.
A comfort foam layer that can adapt to your body and provide it with the needed pressure relief.
A pocket-spring layer that will support your body and adjust to its movements. This layer allows airflow so it helps the mattress stay cool during sleep.
An HRX foam layer that is the base of this mattress. It features a 3-zone system that can provide your body with personalized support.
The mattress measures 25cm in height and the picture below showcases the position of each layer. All foams used to make it follow the OEKO-TEX 100 Standards so they are safe for the human body.

What is the cover made of?
The cover of this mattress is made of polyester. For the top part, they have added 1% elastane to ensure that the fit is great. They used this material for a number of reasons. Firstly, it's very breathable and that helps the mattress stay cool during the night. Secondly, it's easy to maintain and you can wash your cover at 30 degrees using a gentle cycle. Lastly, it feels nice and it's a material that is very durable. That means your cover can look good for many years.
The design is a beautiful one and it features a dual-tone colourway. The upper part is white and the bottom part is grey. The people at Emma also added green details and 4 handles that can help you move the mattress whenever needed. Overall, this is a great cover and that is something I expected from a maker like Emma.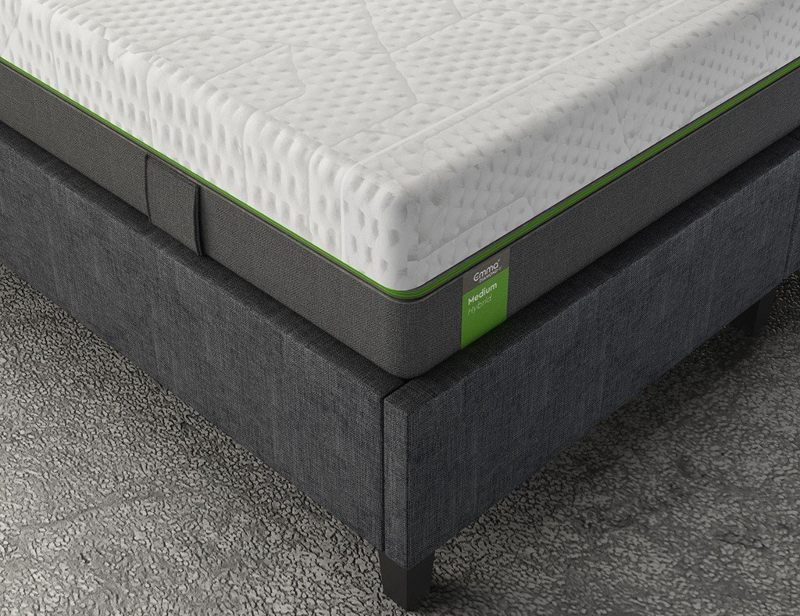 How does the Emma Diamond mattress feel?
When designing it, the people at Emma wanted to create a mattress that will suit most people. For this reason, the Emma Diamond mattress comes with a medium-firm feel. If I use my virtual scale here, I would say it's a 6.7 with 10 being really firm. That makes it slightly firmer when compared to the Emma Orginal mattress. Let's talk now about the different sleeping positions and how this mattress performed.

Starting from the back position, the mattress felt comfortable and the upper layers hugged my shoulders. Support was good and the mattress distributed my weight evenly. Pressure relief was great and that is something I needed as I suffer from a bad back.
Turning to the side position, the pocket springs adjusted quickly and sinkage increased. My spine alignment was great and the mattress did a good job in this position. I felt well-supported and I didn't have any discomfort in the hip area.
Finally, moving to the stomach position, the mattress supported my hips and shoulders and I felt that the feel was right for my body weight. My spine was aligned properly and overall I felt very comfortable sleeping this way. I think that this mattress is a great all-rounder and it will suit most sleepers.
If you share your bed with a partner, the Emma Diamond Hybrid mattress has great edge support so you will get the same performance across the 4 corners of the sleeping surface. In addition, the pocket springs used here are designed to minimise motion transfer so you and your partner won't disturb each other.
Do I need a special setup to use this mattress?
When you buy this mattress, you don't need a special setup so feel free to use your old bed frame. I would advise you to use a slatted frame that allows airflow so your mattress can breathe better. Box springs are also great and if you look for a quality one, the Emma Box bed is a great choice. The video below presents the Emma Diamond mattress in great detail.
Is this a boxed mattress?
If you order an Emma Diamond mattress, you will receive it packed in a box. All you have to do is unroll it and let it rest for 24 hours before you are ready to use it. All mattresses come with free delivery which is great! Emma has a good service and I received mine within 5 working days. My experience with them was great and I received good communication. The courier was polite and prompt and overall, I was happy with the service I got.
Does it come with a trial period?
All Emma mattresses come with a 100-night trial period so you have more than 3 months to try this mattress and decide later whether you want to keep it or not. If for any reason, you are not happy with it, you can return it and they will give you a full refund. In addition, the mattress comes with a 10-year warranty that will cover you for a really long time. The warranty is offered on the dimensional stability and durability of the core materials. If you want more details on that, you can visit their warranty page. The package offered here is a great one overall, and Emma did a great job here.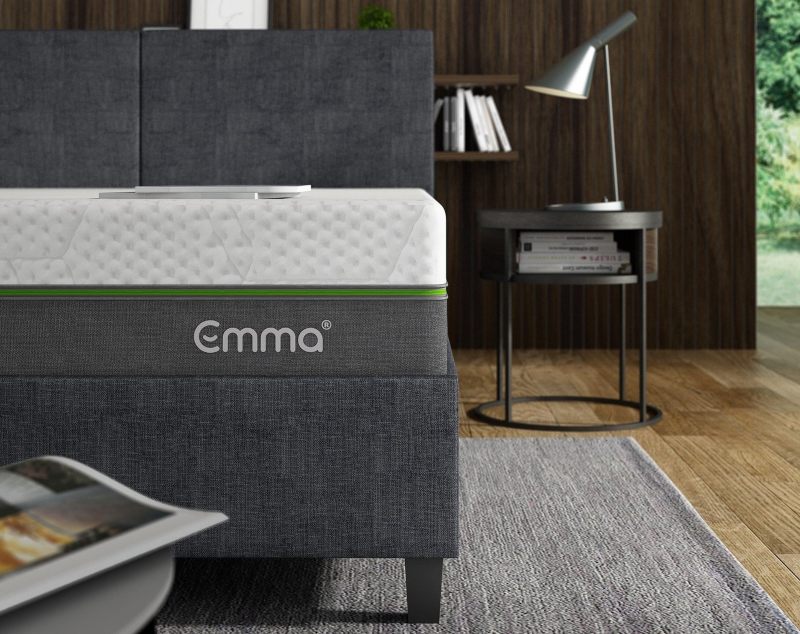 How much does it cost?
The Emma Diamond Hybrid mattress is available in 5 sizes so you have a number of options to choose from. The smaller size (Single) goes for $2,499 with the bigger (King) selling for $3,749. However, you won't have to pay that as the people at Emma run frequent promotions. For example, at the moment of writing, there was a 55% discount so you would pay around $1,600 for a Queen size. The table below has pricing information for all available sizes.
| | | |
| --- | --- | --- |
| SIZE | DIMENSIONS | PRICE |
| Single | 92 x 188 x 25cm | $2,499 |
| King Single | 107 x 203 x 25cm | $2,779 |
| Double | 138 x 188 x 25cm | $3,059 |
| Queen | 153 x 203 x 25cm | $3,329 |
| King | 183 x 203 x 25cm | $3,749 |
Is the Emma Diamond Hybrid mattress a good buy?
It's time now to complete this Emma Diamond Hybrid mattress review and share my final thoughts with you. I think that this mattress is ideal for those looking for:
A mattress that is good for all sleeping positions.
A hybrid mattress that sleeps cool.
A mattress that has excellent support and it's good for couples.
If you look for all these features, the Emma Diamond should be high on your list. It's a complete mattress that comes with excellent service and support. Emma managed to develop a fantastic hybrid mattress and this is an option you should definitely consider.
Emma Diamond Hybrid Mattress Review
PROS
Great for all sleeping positions
Excellent cooling system
Good edge support
CONS
Not the cheapest in the market