Emma is one of the most successful brands in Australia but that doesn't stop them from keeping innovating. In this Emma Zero Gravity mattress review, I talk about their latest release that promises next-level relaxation.
What makes it different from the rest of the Emma mattresses is the fact it features the AirGrid® technology but more on that later. This is a hybrid option that is built for the Australian climate and as expected it's another mattress in a box. I decided to get one the moment I saw it on their website so let's move now to the full review below.
What is this mattress made of?
This mattress has a complex design that features 5 layers. In detail, these are:
An Airgocell foam layer that can regulate heat so you can comfortably sleep even during the summer months.
An AirGrid layer that has the ability to adapt to your body's movements and provides a rebounding comfort. This allows the mattress to take the pressure off your joints.
A foam layer that has the ability to optimally distribute body pressure. This means that you can sleep well regardless of your build or sleeping position.
A multi-zone pocket springs layer that will provide your body with tailored support. This type of spring allows airflow.
An HRX foam layer that is the foundation of this mattress. This layer is designed to promote a healthy spinal alignment.
The Zero Gravity mattress measures 25cm in height and the image below shows us the position of each layer.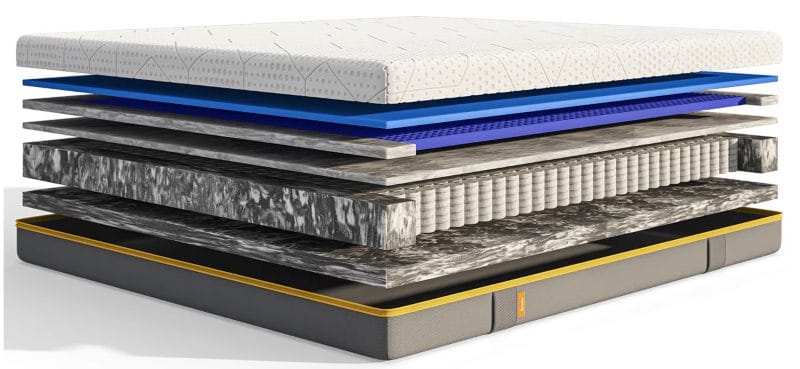 Is this a nice cover?
The cover of this mattress is made of 99% polyester and 1% elastane. It's almost identical to the one they use for the Emma Diamond Hybrid mattress but it comes with a different colourway. This one features a white top part and a grey bottom part. Between the two, there is a yellow line that in my opinion adds a more 'sporty' look. The cover is very breathable and durable. If you want to clean it, the good news is that it's removable and you can use your washing machine. Make sure you wash it at 40 degrees using a gentle cycle. On the sides, you will find four handles that allow you to move it with more ease. Finally, at the bottom, there is an anti-slip surface that allows this mattress to stay in place. This is a well-designed cover and it's obvious that during the design process, the Emma engineers paid attention to the details.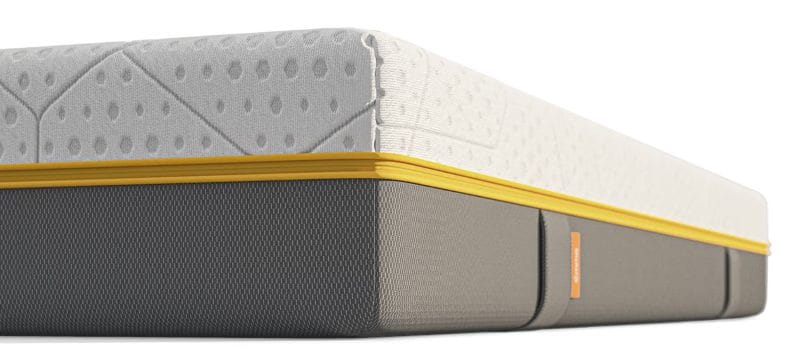 Is this a firm mattress?
It's time now to continue writing this Emma Zero Gravity mattress review and talk about its feel. This mattress is geared towards the average sleeper so it comes with a medium-firm feel. If I use my virtual scale here, I would say it's a 6.5 with 10 being really firm. I would like now to talk about the performance of this mattress over the past week.

Starting from the back position, the mattress really surprised me. I felt that it had the best weight distribution mechanism and that made me feel very comfortable. My spine had a good alignment and the overall support was excellent.
Turning to the side position, the mattress had a very quick reaction and that impressed me. The pocket springs and the rest of the foam layers adjusted to the change and that allowed my spine to have a good form. Support was great and I didn't have any discomfort in my hips or shoulders.
Finally, moving to the front position, I felt that the mattress was a good match and the sleeping surface was as firm as it should have been. The Zero Gravity mattress is a good all-rounder and it will suit most body types.
If you wonder about the edge support, the reinforced side walls do a great job so you won't face any difficulty getting in and out of bed. Moreover, this mattress is built to minimise motion transfer so you won't disturb your partner. For these two reasons, I can say with confidence that this mattress is suitable for couples.
Do they offer free delivery?
Every Emma mattress is delivered for free regardless of where you live. However, the proximity to the warehouse will determine the delivery times so you should have this in mind. If you live in the Metro area you will probably have your new mattress within 1-2 business days. For all other areas, delivery can take up to 7 business days. As you know, I live just outside Sydney so I got my mattress within 2 days. The box came in great condition and the process was very straightforward. The courier arrived on time and the whole experience was pleasant. Overall, they offer a good service so no complaints at all.
Can I try this first?
This is one of the main questions I get asked about boxed mattresses. The good news is that the Emma Zero Gravity mattress comes with a 100-night trial period which gives you more than 3 months to try it. If you are not happy with it, you have the right to return it and get your money back. This makes it a risk-free purchase so if you worry about it, the people at Emma have your back.
Additionally, this mattress comes with a 10-year warranty which shows that it's built to last. Before you buy it, make sure you read the detailed policy so you know what it covers. Overall, this is a great package which is expected from a brand like Emma.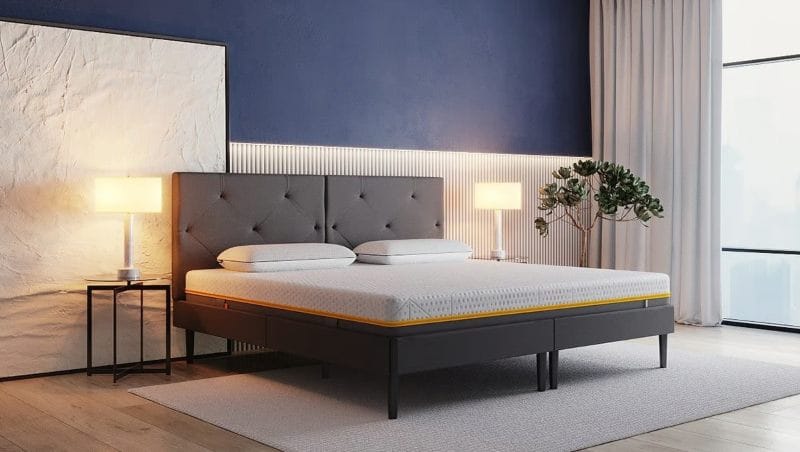 Is this an expensive mattress?
This mattress packs the latest technology so it's not the cheapest in the market. There are only 3 sizes available but hopefully, they will add more in time. The smallest one (Double) will cost you $3,979 with the bigger one (King) going for $4,869. However, these are just the retail prices so you will probably pay less than that. Emma runs frequent promotions and at the moment of writing, a double mattress would cost you $1,790. The table below has pricing information for all available sizes.
| | | |
| --- | --- | --- |
| SIZE | DIMENSIONS | PRICE |
| Single | 188 x 92 x 25cm | $3,249 |
| King Single | 203 x 107 x 25cm | $3,609 |
| Double | 188 x 138 x 25cm | $3,979 |
| Queen | 203 x 153 x 25cm | $4,329 |
| King | 203 x 183 x 25cm | $4,869 |
Is the Emma Zero Gravity mattress for me?
That is the question in everyone's head right now and I will try to answer it before I complete this Emma Zero Gravity mattress review. In my opinion, this is a good option for anyone looking for:
A hybrid mattress that has excellent weight distribution.
A well-made mattress that features the latest technology.
A mattress that comes with a 100-night trial period.
If all these sound good to you, this is an option that you should definitely consider. Emma has introduced the AirGrid technology with this mattress and I must say that this is a game changer. If you want to experience next-level relaxation, this is the way to go.
Emma Zero Gravity Mattress Review
PROS
Fantastic technology
Good for all sleeping positions
10-year warranty
CONS
Not the cheapest mattress in Australia