If you are looking to improve your sleep, you should definitely read my Emma Microfiber pillow review! After all, I have mentioned many times that a good pillow is essential for a good sleep. Emma is a maker that entered the Australian market last year and since then, they have seen great success.
Their Emma Original mattress was a big hit and recently they decided to launch their pillow. Unlike their mattress, this one follows a different design philosophy so don't expect to find any foam here. The Emma pillow measures 70x40cm so it will fit your standard pillowcases. When you buy one, you will get a 100-night trial period which gives you more than 3 months to try it and decide later whether you want to keep it or not. This is great and very few pillows come with this feature. On top, they offer free delivery within Australia so it's easy to understand that this pillow comes with a great package. Mine arrived two weeks ago so it's a good time now to move to the full review below.
CONSTRUCTION
The Emma Microfiber pillow has an interesting design. To be more precise, there are 2 pillows inside a pillow and you can adjust it according to your taste. The first insert is stuffed with a large amount of microfiber filling so it offers more support and makes a loftier pillow. The second insert is thinner and it comes with a cloud-like feel. You can choose to use one or two inserts to create a pillow that suits your needs. The filling they use here is made of 100% polyester which is an eco-friendly material. Moreover, all the materials used to make it follow the OEKO-TEX Standard 100. That means that the Emma pillow contains no harmful substances and therefore is harmless for human health. Overall, this is a well-made pillow and Emma did a great job here.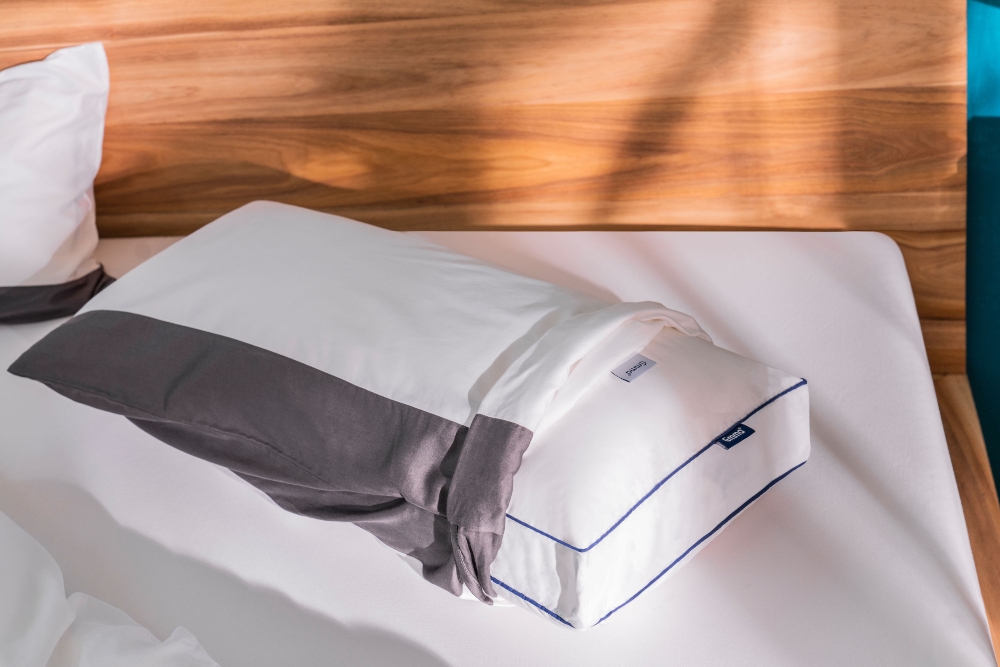 COVER
The cover of the Emma pillow is made of 100% luxurious micro-elastic polyester. They used this material because it's very breathable but at the same time it feels soft and luxurious. In addition, it can retain its shape which is important for a modular pillow like this one. The design is contemporary and a beautiful one featuring a white colour with blue lines. I personally liked it a lot! If you want to clean it, you can place the whole pillow inside your washing machine and wash the whole thing. This is great as it makes it very easy to maintain. Overall, this is a nice cover and Emma did great here.
SUPPORT
Before you buy your next pillow, make sure you consider the sleeping position that you spend most of your night. Based on that, you can then choose a pillow that has the right loft for you. This is the first rule that you have to follow! The people at Emma knew that and they created a modular design so you can adjust the height and feel according to your needs. This is clever thinking and I was impressed by it. I decided to use both inserts and the pillow worked well for me in every sleeping position. Support was great and the Emma pillow managed to retain its shape which is something that not all microfiber pillows can achieve. Overall, this is a great one and I think that it will suit all types of sleepers.
IS THE EMMA MICROFIBER PILLOW FOR ME?
It's time now to complete this Emma Microfiber pillow review and share my final thoughts with you. I was really impressed by it and I think that Emma nailed it here. The modular design gives sleepers a number of choices and this is a great all-rounder. In addition, it stays cool during the night and comes with a 100-night trial. If you look for a high-quality pillow that comes with excellent service and support, this one should be high on your list.
Emma Microfiber Pillow Review
PROS
Great for all sleeping positions
Adjustable height
100-night trial period
CONS
Not the cheapest in the market