Brosa is a very popular brand in Australia and a couple of months ago I reviewed one of their mattresses. Today, I am going to talk about another mattress from their range which is called the 'Firm Favourite'. So if you want to hear more about it then you should read this Brosa mattress review.
Unlike other boxed mattress makers, Brosa manufactures everything here in Australia. To create their range, they used the Greywing technology (brand no longer operates) and they came up with 3 different variations. The 'Firm Favourite' is the most affordable one. I received my mattress almost a month ago so it's a good time now to move to the full review.
FREE DELIVERY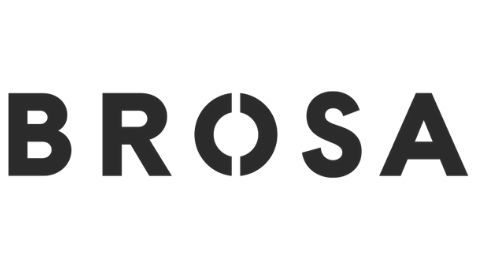 Brosa Mattress
Free delivery with all mattresses at Brosa
Free delivery with all mattresses at Brosa
Show Less
What is a Brosa Firm Favourite mattress made of?
The Brosa 'Firm Favourite' features a 2-layer construction plus the cover. These are:
A Tranquil Microclimate layer which is designed for the Australian weather. It has all the pressure-relieving properties of memory foam but it doesn't trap heat. This ensures that you won't sleep hot and you will have a comfortable sleep.
A high-density foam layer which is there to provide your body with the needed support. It's also the base of this mattress.
The picture below shows the inside of the 'Firm Favourite' mattress.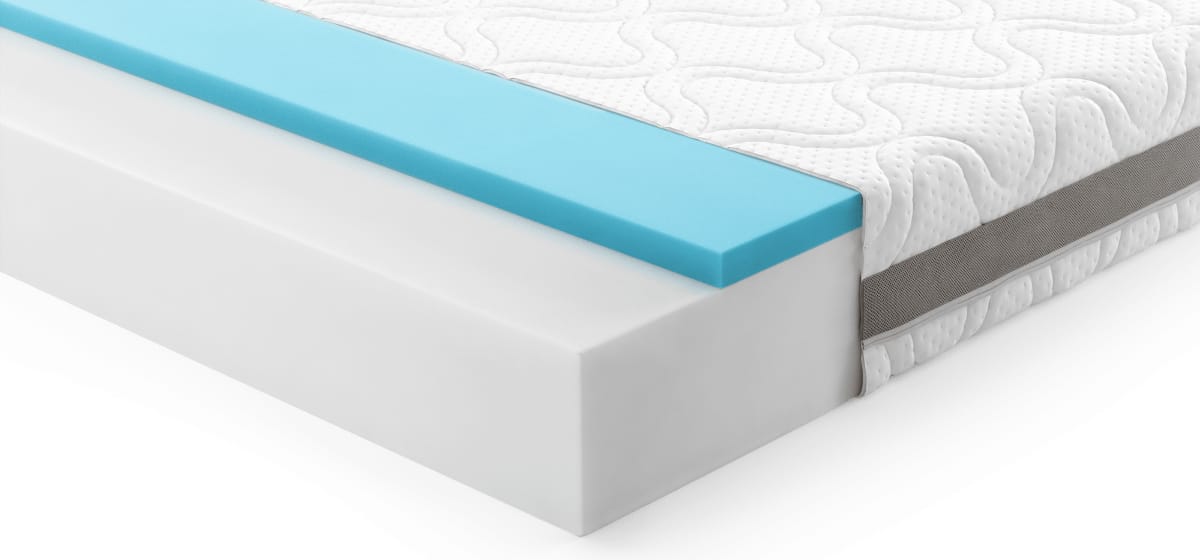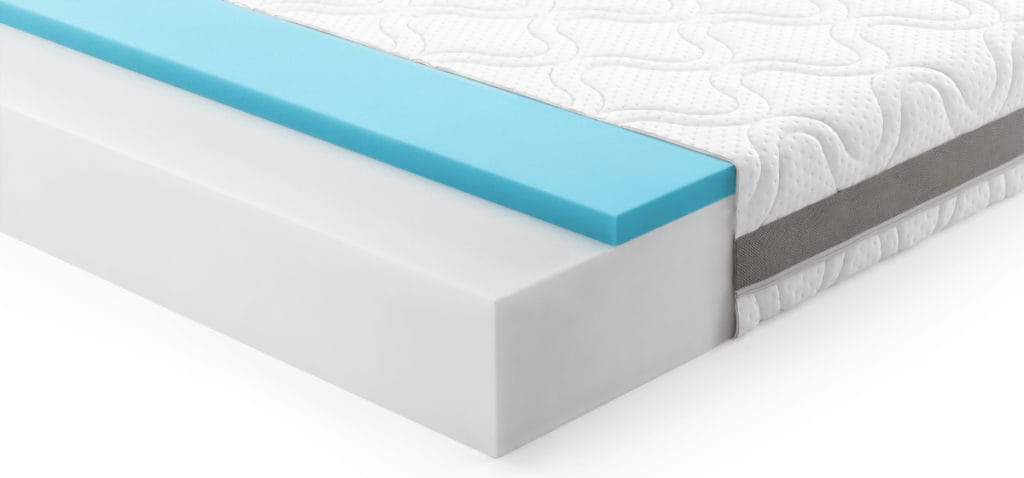 What is the cover made of?
The cover of this mattress is the same one used in their 'Super Supportive' version. It features a quilted surface which looks very premium. The cover feels soft but it's well-built so it will last for long. To help with airflow, mesh panels were placed on each side which will help the mattress stay cool, especially during the Australian summer. Moreover, handles exist in every corner which will help you with moving the mattress when you need to. This is practical thinking and I hope more makers will do the same. The design of the cover looks very classy and it's one of the best I have seen. Overall, it's a high-quality cover so no complaints at all here.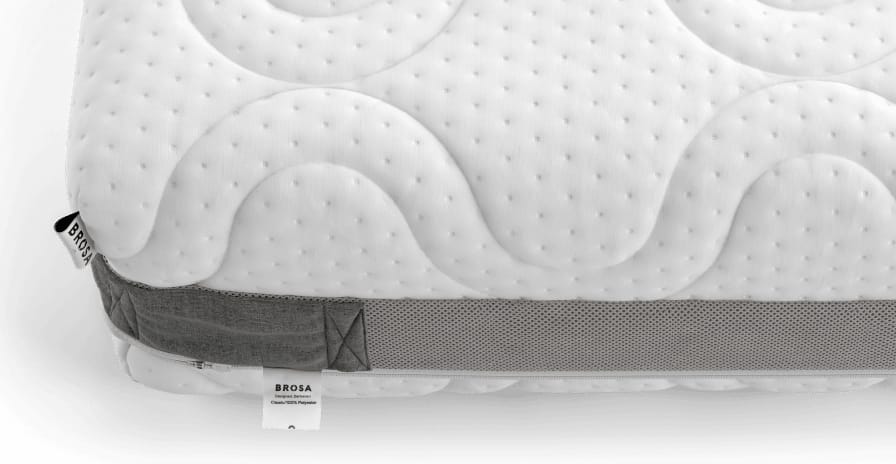 How does the Firm Favourite mattress feel?
This mattress is designed for those who like a firmer feel. If I use my virtual scale here, I would say that this is an 8 with 10 being really firm. I would like now to talk about the different sleeping positions and how this mattress performed.

Starting from the back position, the mattress felt very firm from the beginning. I felt well supported and my spine was aligned properly. Pressure relief was average but this is something I expected from this mattress.
Turning to the side position, the mattress reacted quickly and sinkage increased. I felt well supported but it wasn't very comfortable in this position. This mattress is quite firm and side sleepers should probably look elsewhere.
Finally, moving to the stomach position, I felt that this mattress did a great job! My hips and shoulders were aligned properly and it was very comfortable in this position. Support was excellent and I think that this mattress will suit most stomach sleepers.
The 'Firm Favourite' is also suitable for those who share their bed with a partner. The foam-only construction means that the motion transfer is minimal so you won't get too much partner disturbance. On the other hand, edge support is average but this is expected from a mattress of this kind.
What type of bed should I use with this mattress?
All Brosa mattresses can be used with any type of bed frame. However, the maker suggests you use a slatted bed frame, a box spring base or an adjustable base. You can also use your floor but this is not very hygienic so you should probably avoid this option. For me, the best choice is the slatted base as it allows airflow which is important for all mattresses.
Will it come rolled in a box?
Most mattresses that I review here come packed in a box and the 'Firm Favourite' is not an exception. Unlike some other makers, they don't offer free delivery so you will have to pay for it. The minimum amount is $30 which is what I paid to have my mattress delivered in Sydney. During check out, they offer a number of options for you to choose from. These include delivery in the room of your choice and mattress set up. Couriers were polite and they arrived on time. Overall, I had a good experience with them so no complaints at all.
Will the Brosa Firm Favourite come with a trial period?
The Brosa mattress comes with a 10-year warranty which is what we expect these days really. Having said that, it's still a great feature and it shows how confident they are in their products. If you want to know more about the terms and conditions you can visit their page here. Besides that, you will also get a 30-day trial period which gives you a whole month to decide whether you want to keep this mattress or not. This is great but other makers offer up to 100 days so there is definitely room for improvement here. However, the package they offer is still good so you will be fine with it.
How much will it cost me?
The Brosa 'Firm Favourite' is the most affordable mattress in their range. It's available in 5 sizes with the smaller King Single size going for $599 and the bigger King size selling for $999. The table below has pricing information for all available sizes.
| | | |
| --- | --- | --- |
| SIZE | DIMENSIONS | PRICE |
| King Single | 107 x 203 x 20cm | $599 |
| Double | 138 x 188 x 20cm | $649 |
| Queen | 153 x 203 x 20cm | $874 |
| King | 183 x 203 x 20cm | $999 |
Is the Brosa Firm Favourite mattress for me?
This is the question that I am always asked to answer now that I complete this Brosa mattress review. I think that this mattress is ideal for those looking for:
An affordable memory foam mattress from a brand you can trust.
A mattress with a firmer feel that will suit mostly back and stomach sleepers.
A mattress that comes with a 10-year warranty and a trial period.
If you look for all these, then the Brosa 'Firm Favourite' can be a good choice. It's not the best mattress I have reviewed but it comes at a fair price and it's a good value for money. If you like a mattress with a firmer feel, this is a good start.
FREE DELIVERY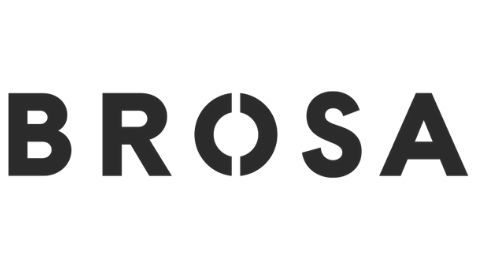 Brosa Mattress
Free delivery with all mattresses at Brosa
Free delivery with all mattresses at Brosa
Show Less
Brosa Firm Favourite Mattress Review
PROS
Great for stomach sleepers
10-year warranty
Nice cover