Getting a new mattress can be a difficult task as there are so many options out there. Noa is an established brand in Australia and they recently decided to expand their mattress range. In this Noa Luxe mattress review, I will talk about their premium option and whether it's one that is worth your attention.
Noa is a Canadian brand and all their mattresses are manufactured in China. They entered the Australian market around 3 years ago and since then they have seen great success with their boxed mattresses. All of them are hybrid mattresses and the Noa Luxe is no exception. Mine was delivered almost a month ago so it's now a good time to move to the full review below.
What is a Noa Luxe mattress made of?
The Noa Luxe mattress features a total of 6 layers plus the cover. In detail, these are:
A cooling gel memory foam layer that is designed to wick away heat so the sleeping surface stays cool during the night. It also helps with pressure relief.
A bamboo charcoal latex foam layer that is there for added comfort. They chose this material because it's very breathable and it's allergen-free. It also has the ability to repel odours.
A micro-coil layer that is there to provide your body with support. These are designed to allow airflow.
An adaptive transition foam layer that is designed to provide outstanding motion isolation. This helps with the annoying partner disturbance.
A layer made of pocket springs that is the base of this mattress. This layer features a clever zoned system which is designed to support the more demanding areas of your body like your hips and shoulders. The springs also add bounce and comfort.
A high-density foam encasement which is designed to offer great edge support. It's 9cm thick and it's a great addition to this premium mattress
The Noa Luxe mattress is 31cm in height so you should expect a thick one. In the picture below, you can have a better look at what it looks like from the inside.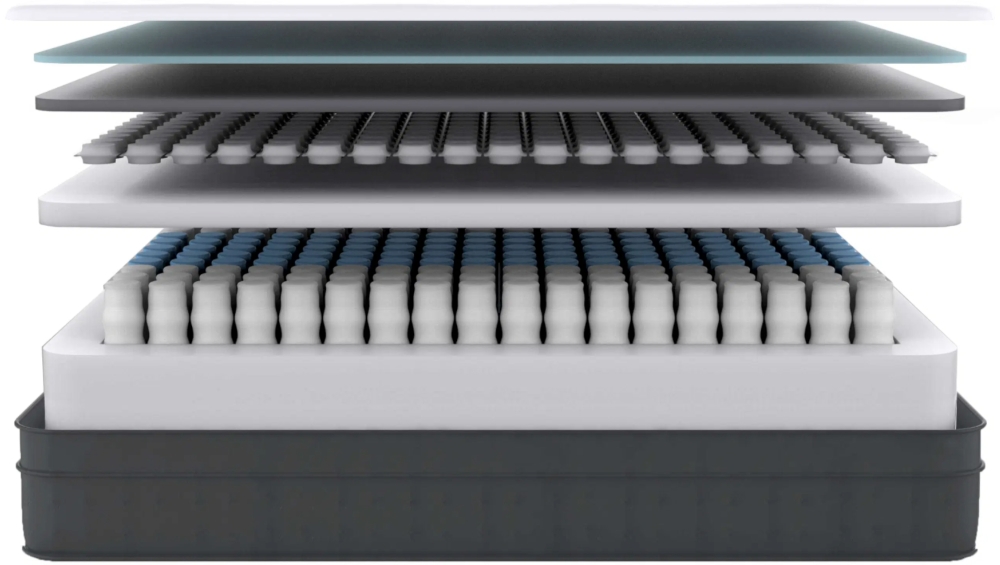 What is the cover made of?
When you are designing a premium mattress, you need to make sure that the cover you use is a high-quality one. That is why they decided to use Tencel here and in my opinion, this is a great choice. For those that you might have never heard of this material, Tencel is made of wood pulp and it has a number of advantages when compared to polyester. Firstly, it has the ability to repel odours and it's a very breathable material. Secondly, it has the ability to regulate heat efficiently and it can dry very quickly. Finally, it's naturally antibacterial and has anti-dust mite properties. All these reasons make this an excellent choice for a premium mattress like the Noa Luxe.
The design of the cover is a contemporary one and I personally like it. It features a two-tone colourway with the top part being white and the side part being dark grey. The cover feels soft and it looks premium. Overall, this is a great one and I think they did a great job here.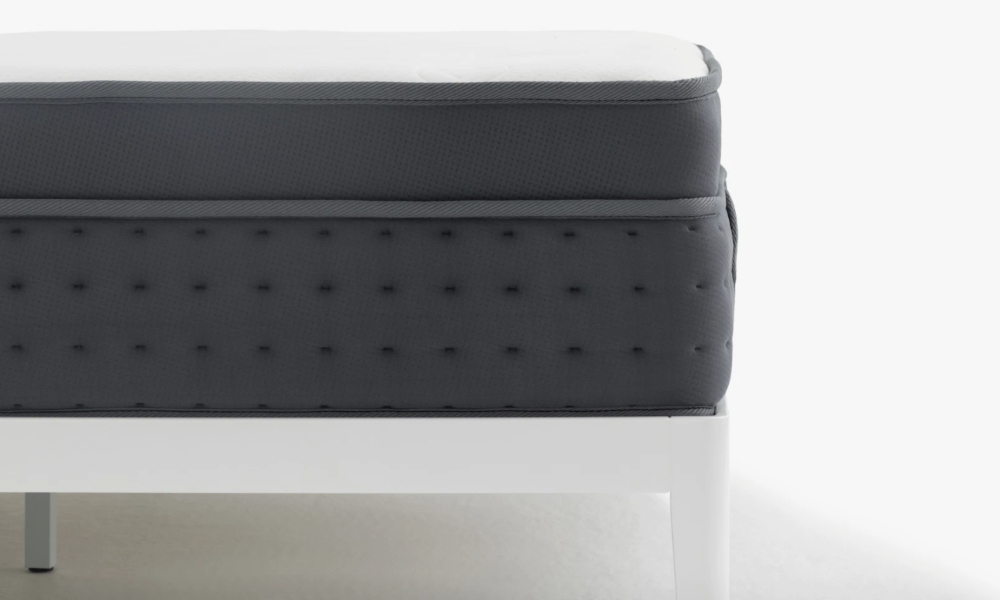 How firm is the Noa Luxe mattress?
I would like now to continue writing this Noa Luxe mattress review and talk about its firmness. This mattress is a medium-firm mattress that feels closer to the firmer side of things. If I use my virtual scale here, I would say this is a 7 with 10 being really firm. Let's see now how this mattress performed in the different sleeping positions.

Starting from the back position, the mattress adjusted quickly to my body's weight and the upper foam layers provided my body with pressure relief. I felt well-supported and my spine was aligned properly. Overall, I was very comfortable in this position.
Turning to the side position, the springs adjusted quickly and I felt that my spine was in good form. The feel of this mattress allows it to perform well in all sleeping positions which makes it a great choice for combo sleepers. Support was good in the side position and the Noa Luxe did a good job.
Finally, moving to the stomach position, the zoned system worked well to provide my hips and shoulders with support. Pressure relief was adequate and I felt that this mattress will suit people who like to sleep on their stomachs.
If you share your bed with a partner, the adaptive transition foam layer does a great job so you won't feel the annoying partner disturbance. In addition, the edge support is great and you will get the same performance across the 4 corners of the mattress.
What type of bed should I use with this mattress?
If you buy this mattress, you don't need a special setup. That means that you can use your old bed frame or even your floor. Having said that, I would advise you to use a slatted frame or a box spring. If you use slats, make sure that the distance between them is not longer than 7cm.
Is this a boxed mattress?
I have already mentioned above that the Noa Luxe mattress is a boxed one. They usually ship their mattresses within 3-7 business days. I live in Sydney so I got mine after 4 days. The service was great and they contacted me for my delivery details via text and email. The courier was prompt and polite and overall, I had a great experience with them.
Will the Noa Luxe mattress come with a trial period?
Every Noa mattress comes with a 100-night trial period which will give you more than 3 months to try this mattress and decide later whether you want to keep it or not. If you are not happy with it, you can return it for free and they will give you your money back. The process is simple and all you have to do is talk to their customer service department. Besides that, they offer a 15-year warranty for all their mattresses so you will be covered for a long time. I have to point out here that this is the longest warranty offered in Australia! Noa did great here and a premium mattress like this one should come with a great package like the one they offer here.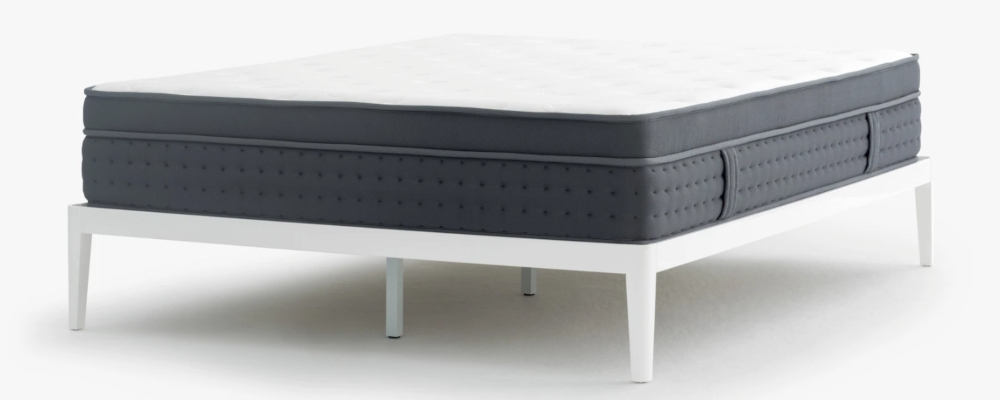 How much does it cost?
The Noa Luxe mattress is a premium one so all these great features come at a cost. The smaller size (Single) sells for $1,199 while the bigger (King) goes for $1,799. However, they run promotions very frequently so you don't have to pay the full price. At the moment of writing, for example, there was a '$400 off' promotion which makes it a good value for money. The table below has pricing information for all available sizes.
| | | |
| --- | --- | --- |
| SIZE | DIMENSIONS | PRICE |
| Single | 92 x 188 x 31cm | $1,199 |
| King Single | 107 x 203 x 31cm | $1,299 |
| Double | 138 x 188 x 31cm | $1,399 |
| Queen | 153 x 203 x 31cm | $1,599 |
| King | 183 x 203 x 31cm | $1,799 |
Is the Noa Luxe mattress any good?
This is always a tough question to answer now that I am about to finish this Noa Luxe mattress review. Having said that, I think that this mattress would be ideal for everyone looking for:
A premium mattress that is made with high-quality materials.
A hybrid mattress that is designed for all sleeping positions.
A mattress that comes with a 15-year warranty.
If you look for all these, the Noa Luxe mattress should be one to consider. It's a great all-rounder and in my opinion, it's one of the best boxed mattresses in Australia!
PROS
Amazing materials
Good for all sleeping positions
Great edge support
CONS
Not the cheapest in the market