Hugo is a relatively new company that entered the Australian market a few years ago. In this Hugo mattress review, I will talk about their first mattress and whether it's worth your money.
Following the global trend, this is another 'mattress in a box' proposition. They decided to differentiate themselves by adding latex to their mattresses but I will talk about this in detail later. They make and design their mattresses here in Australia which allows them to offer fast shipping times. I ordered my mattress around 3 weeks ago so it's a good time now to write this review. All rolled mattresses have a 'weird' smell at the beginning so don't worry if Hugo smells bad. The odour will wear off after the first week. It's time now to move to the full review below.
What is a Hugo mattress made of?
The Hugo mattress is made of a total of 4 layers.
A natural latex layer which is there to keep the sleeping surface cool during the night. It's naturally hypoallergenic and antimicrobial and adds a bit of comfort.
A memory foam layer which provides your body with the needed pressure relief.
A transition foam layer which connects the two comfort layers with the firmer support bottom layer. This gives the 'floating' feeling to the Hugo mattress.
A dense foam layer that provides the body with the needed support. This layer is the base of this mattress.
The image below shows the placement of the Hugo layers.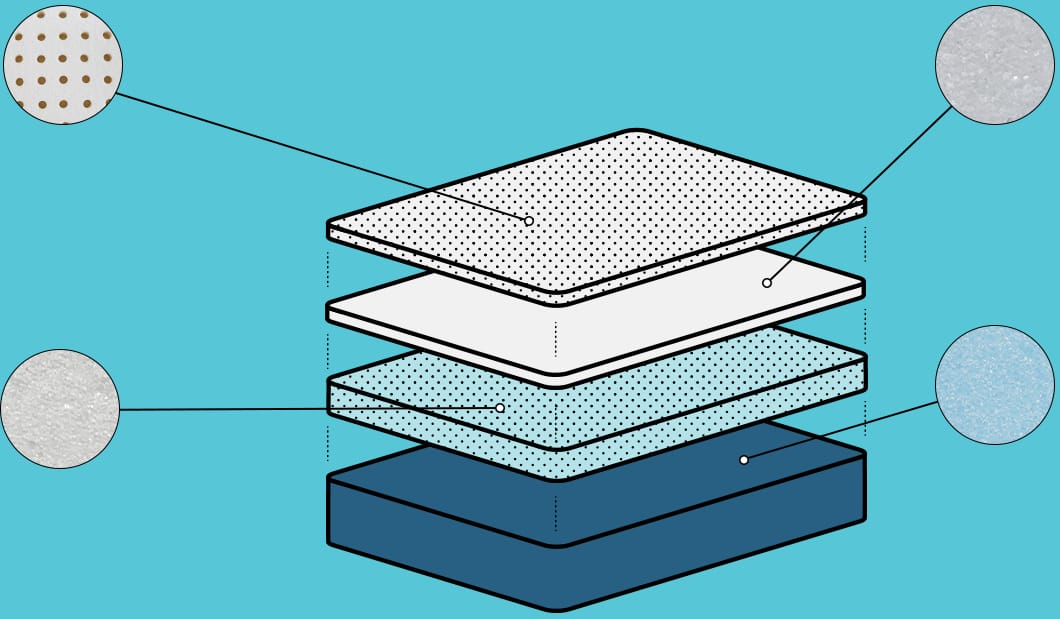 What is the cover made of?
The cover of the Hugo mattress is made of a rayon/polyester blend. This makes it very breathable which is very important. Sleeping on it I felt that the cover did a good job keeping the mattress cool during the night. Polyester is a very strong material but the downside is that it doesn't feel very soft. However, if you use high-quality sheets you will get this nice feel you look for. The cover features a two-tone design. The upper part is white and the lower part is grey. The combination of the two colours is great and the cover looks beautiful. Overall, this is a high-quality cover that does the job.


How firm is the Hugo mattress?
Hugo is a medium-firm mattress but due to the use of latex, it feels closer to a medium one. If I use my virtual scale here, I would say it's a 6 with 10 being really firm. It's time now I talk about the different sleeping positions and how this mattress performed.

Starting from the back position, the mattress was very responsive due to the latex layer. It doesn't feel like a traditional memory foam mattress as it has more bounce. I did feel the memory foam 'hugging' my hips and shoulder but not too much. It was very comfortable in this position and my spine was aligned properly.
Moving to the side position, the mattress adjusted quickly again and sinkage increased. I felt that my hips were deep enough to help the spine get in a good position and support was adequate. Hugo is not a firm mattress which helps with this position. I think that it's a great choice for side sleepers which is something I expected from a mattress with latex.
Finally, moving to the front position, I felt that I didn't get enough support in the hips area. Hugo is not firm enough for this position, especially if your weight is high. It was not uncomfortable but I think that stomach sleepers can find a better choice.
Regarding the edge support, this mattress is a solid construction so you will get the same performance across the surface. On top, the mattress has minimal motion transfer which makes it good for couples. The lack of springs help with that so if the movement of your partner bothers you, definitely go for a foam mattress.
What type of bed should I use with this mattress?
You can place the Hugo mattress on any firm flat surface. They suggest bed slats, ensemble bases or even your floor. If you use slats, make sure the distance between them is no longer than 4cm. I used my old bed frame and the mattress worked really well.
Will it come in a box?
As I have already mentioned, the Hugo mattress is a rolled one. It comes packed in a carton box and is delivered directly to your door. They offer free delivery for all sizes and it usually takes 1-3 days for most areas. However, depending on where you live in Australia, delivery might take up to a week. I live in Sydney so my mattress arrived 2 days after I had placed my order. The courier was polite and delivered my mattress on time. The box will be delivered to your doorstep so you have to carry it in the room of your choice. So make sure you have help especially if you have ordered the bigger sizes. Overall, the service was really good and I have no complaints about it!
Will the Hugo mattress come with a trial period?
The Hugo mattress comes with a 3-month trial period which allows you to test it and decide whether you want to keep it or not. If you are not happy with it, you can return it and get a full refund. Returns are free and you don't have to keep the original packaging to be able to return it. The trial period they offer is slightly less than most other rolled mattresses (100 days) but still, it's very good. The mattress also comes with a 10-year limited warranty. This is great to see but make sure you read the full T&Cs to know the details of the cover. Overall, I think it's a great package and they do really well in this area.
How much does it cost?
The mattress is available in 5 sizes. The smaller size (Single) sells for $695 and the bigger size (King) goes for $1,095. Before you buy any mattress always check my discount code page for big savings.
| | | |
| --- | --- | --- |
| SIZE | DIMENSIONS | PRICE |
| Single | 92 x 188 x 24.5cm | $695 |
| King Single | 107 x 203 x 24.5cm | $795 |
| Double | 138 x 188 x 24.5cm | $895 |
| Queen | 153 x 203 x 24.5cm | $995 |
| King | 183 x 203 x 24.5cm | $1,095 |
Is the Hugo mattress any good?
Finishing this Hugo mattress review, I would like to share my final thoughts with you. I liked the fact that Hugo used latex which is a material that has many benefits. It keeps the mattress cool and adds bounce. These are the main problems with memory foam mattresses. The Hugo mattress is a great choice for anyone looking for:
A medium-firm mattress that is great for back and side sleepers.
A mattress made here in Australia with high-quality materials.
A latex mattress that comes with great service and support.
If you look for an affordable mattress that will remain cool during the summer and will provide you with the needed comfort, then Hugo should be high on your list.
PROS
Great cooling system
Minimal motion transfer
Very comfortable
CONS
Not great for stomach sleepers