THIS MATTRESS IS NO LONGER AVAILABLE. IF YOU LOOK FOR A NEW MATTRESS YOU CAN VISIT THIS PAGE HERE.
Getting a 'mattress in a box' is the norm these days and more makers enter this market almost every month. In this 624 mattress review, I will talk about this interesting proposition that has two firmness options! You can have either a medium-firm feel or a medium-soft one but more on this later.
Based in Sydney, they combined memory foam with latex to create this versatile mattress. As I have mentioned already, this is a rolled mattress so you should expect it to come packed in a box. Mine arrived around 3 weeks ago so it's a good time now to write this review.
MATERIALS
The 624 mattress has a 3-layer construction plus the cover. These are:
A 3cm natural latex layer that is there to provide your body with the needed pressure relief. It contains activated charcoal which acts as a natural filter absorbing odours and impurities from the body. This layer gives the medium-firm feel.
A 4cm memory foam layer which conforms to your body shape. It also helps with pressure relief and it's the layer that gives the medium-soft feel.
A 19cm high compact resistant Kantec foam which is the base of this mattress. They claim that this type of foam eliminates 100% of partner disturbance. It's also quite breathable which helps to create a hygienic bed with temperature regulation.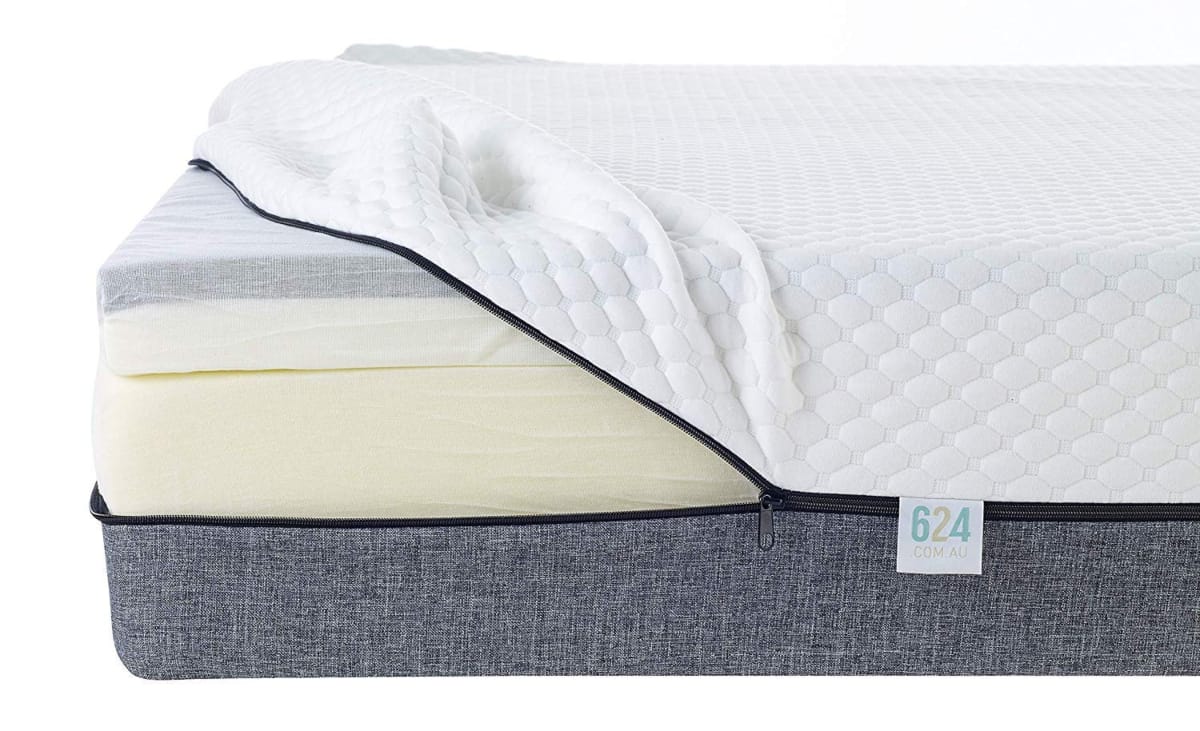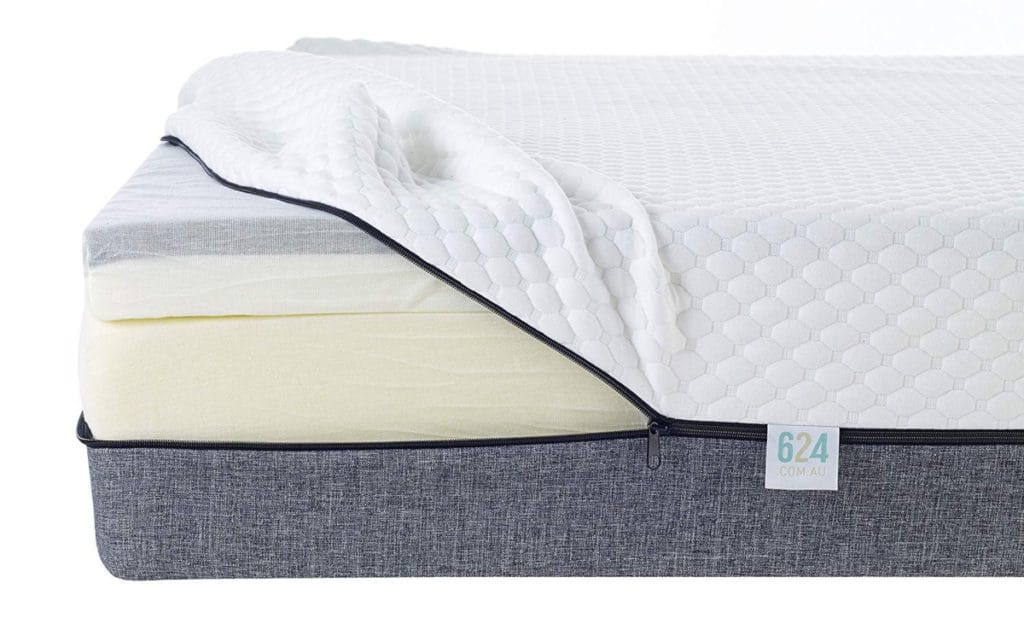 COVER
The cover of the 624 mattress is made of Kantec Fabric which is a really breathable material. The top part features a white colour and has the ability to draw moisture away from the body. This is very important especially during the summer months. The sleeping surface feels soft but strong at the same time. The bottom part features a grey colour and has gripping points to keep the mattress in place. I personally like this feature as it's very useful. If you want to clean it, you can remove it and put it in the washing machine. Overall, I think it's a high-quality cover so no complaints at all.
FIRMNESS & COMFORT
The 624 mattress is a reversible one. This means that you can adjust the feel of it. All you have to do is change the top layer. If you prefer a medium-firm feel then you should have the latex layer on top. If you prefer a medium-soft feel then you should have the memory foam layer on top. I went for the former as I prefer the medium-firm feel. If I use my virtual scale here, I would say it's a 6.7 with 10 being really firm. It's time now to talk about the different sleeping positions and how the 624 mattress performed.

Starting from the back position, the latex layer did a good job providing my body with the needed pressure relief. I didn't feel this 'hugging' feeling that I usually get from traditional memory foam mattresses. Support was adequate and it was comfortable in this position.
Turning to the side position, I felt that sinkage was not ideal for good spine alignment. This is a common problem for all foam-only mattresses and 624 is not an exception. I felt that support was good but the lack of enough sinkage made me feel that this mattress is not ideal for side sleepers.
Finally, moving to the stomach position I felt that this mattress performed really well in this position. I felt that my hips were in an ideal position and support was great. The mattress also provided my body with the needed pressure relief and overall I felt really comfortable in this position.
One of the strongest features of this mattress is the minimum motion transfer. This makes it ideal for couples so if you share your bed then this can be a good option. The edge support is good but nothing special which is what I expected from a foam-only mattress.
BED TYPE COMPATIBILITY
This mattress can be placed on any flat surface. So if you have already a bed frame then you can use it. It can also work with adjustable beds. If you plan to place this on your floor or a platform bed with little ventilation you should make sure to regularly air it.
DELIVERY & PACKAGING
As I have already mentioned, the 624 mattress is a rolled one. That means that it will come packed in a carton box and it will be delivered directly to your door. The couriers are not allowed to get inside your house so you should be aware that you will have to carry the box to your bedroom.
They offer free delivery for mainland Australia and Tasmania. If you live in a different area then there will be an extra cost. Their delivery times are quite fast and you should expect your mattress within 1-5 days from the day you order it. I got mine 2 days after and the service was excellent. I received good communication from them and the courier was polite. Overall, I think they do a really good job here so no complaints at all.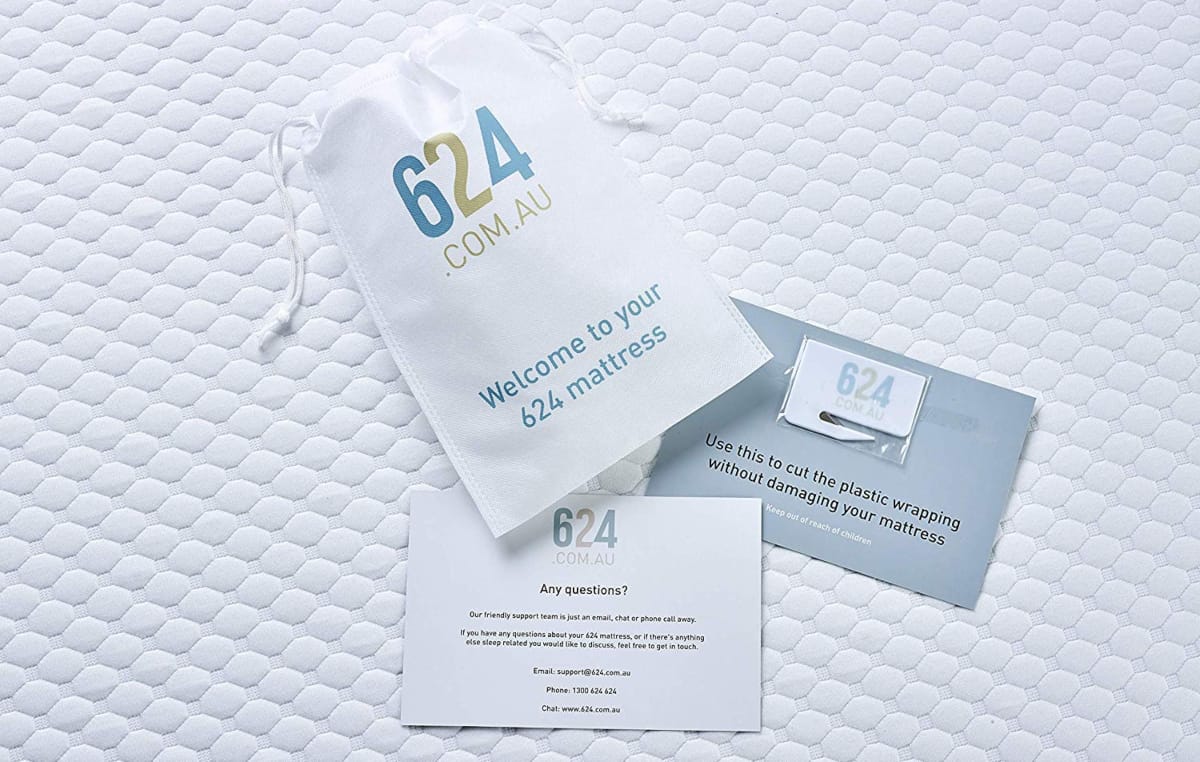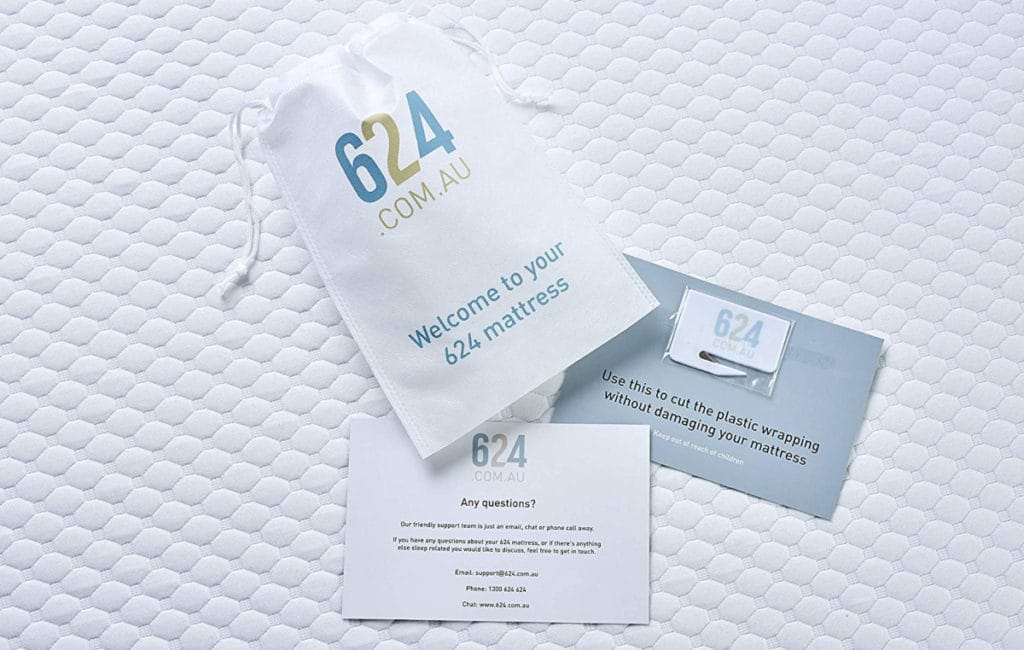 TRIAL PERIOD & WARRANTY
The 624 mattress comes with a 125-night trial period which is way more than what other makers offer. This is actually more than 4 months! If you are not happy with it, you can return it for free and get a full refund. The process is fairly simple and all you have to do is contact their customer service department. I need to state here that you don't need to keep the original packaging to be able to return this mattress.
Besides the trial period, you will also get a 10-year warranty which is great news. It shows that they are confident about their manufacturing process. Overall, I think they offer an excellent package here.
MATTRESS PRICING
The 624 mattress is currently available in 5 sizes. This is the average for this industry and you will probably find the one that suits your needs. The smaller Single size sells for $599 with the bigger king size going for $999. As you see, their pricing is very competitive. The table below has pricing information for all sizes.
IS THE 624 MATTRESS FOR ME?
Finishing this 624 mattress review, it's time to share my final thoughts with you. I think that this mattress would be ideal for anyone looking for:
A mattress that has 2 different firmness feels.
A foam mattress designed with couples in mind.
A mattress that comes with excellent service and a 125-night trial period.
If you are looking for all these then this can be a great choice for you. I personally really liked it and I think it's probably the best value for money mattress in a box.
PROS
125-night trial period
2 different firmness options
Minimal motion transfer
CONS
Not great for side sleepers