If you look for an affordable way to improve your sleeping experience, you should definitely read my Onebed topper review. For those that you have never heard of this brand, this is an Australian maker that has a great mattress range and recently decided to create a topper for those who have a limited budget.
My general advice to those who consider getting a mattress topper is to firstly set their expectations right. A topper can improve a mattress that remains supportive but lacks comfort or pressure relief. If your old mattress lacks support, the time for a new mattress has come. If you are good with that then you should consider getting a mattress topper. It's time now to move to the full review below.
Materials
The Onebed topper has a straightforward design and it's made of one piece of foam. What is interesting here is the fact that they used Davina foam. This is a type of foam that is similar to memory foam but it's way more responsive. In addition, it has an open-cell structure that allows airflow. For these reasons, it's an excellent choice for toppers and Onebed chose wisely here. The topper measures 2 inches in height so you should expect to raise the sleeping surface significantly.
Around the foam layer, there is a cover that is made of 100% polyester. This is a breathable material that is easy to maintain. In addition, it's very durable and it has a nice feel. Overall, this is a well-made topper that will definitely impress you.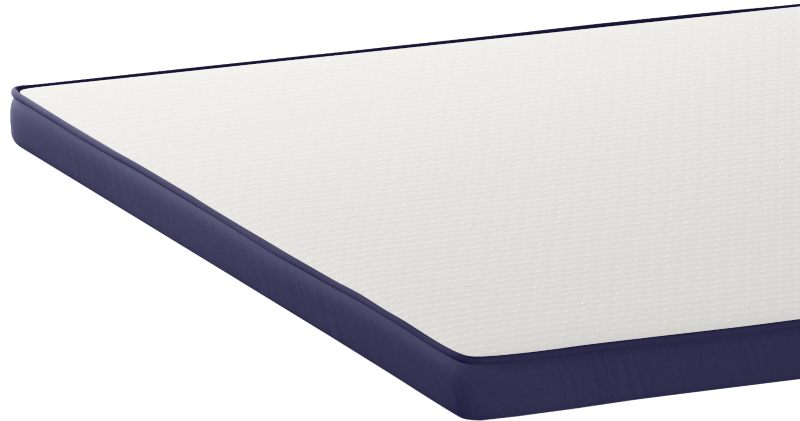 Support & Comfort
This topper is designed to be both supportive and comfortable so it comes with a medium-firm feel. If I use my virtual scale here, I would say it's a 6 with 10 being really firm. That makes it softer than many mattresses but as I mentioned before, this is ideal to use with an old firm mattress.
The topper features a 5-zoned support system that is designed to promote a correct spine alignment. This is very important and it's one of the reasons you should get it. In addition, the Onebed topper can minimise motion transfer so if you share your bed with a partner, this can be a great fit. Overall, this is a well-balanced topper and I think that it will suit most sleepers.
Trial Period & Warranty
If you decide to buy this topper, you will get a 125-night trial period that gives you more than 4 months to try it before you decide whether you want to keep it or not. If this is not what you expected, you can return it and get a full refund. All you have to do is make a claim and they will take care of everything.
Moreover, they offer a 5-year warranty that will cover you for a long time. This is great and it shows how confident they are about their products. Finally, delivery is free and it usually takes between 5-7 working days but that, of course, depends on where you live. Overall, this topper comes packed with a great package and Onebed did a fantastic job here.
Pricing
The Onebed topper is available in 5 sizes so you will definitely find the one that suits your needs. The smaller size (Single) sells for $300 with the bigger (King) going for $390. However, you will probably not have to pay that much as they run promotions on a frequent basis. For example, at the moment of writing, there was a 40% off promotion so you would only pay $234 for the King one. The table below has pricing information for all the available sizes.
| | |
| --- | --- |
| SIZE | PRICE |
| Single | $300 |
| King Single | $320 |
| Double | $340 |
| Queen | $360 |
| King | $390 |
Is the Onebed topper any good?
It's time now to complete this Onebed topper review and share my final thoughts with you. This is a great all-rounder and it's definitely one of the best toppers in Australia. The use of Davina foam separates it from its competitors and if you look to upgrade your old mattress, this is a solution that won't break the bank. For all these reasons, this is a highly recommended topper by me.
PROS
Davina foam is excellent
Very supportive and comfortable
125-night trial period
CONS
Design of the cover is uninspiring