In this Newentor topper review, I will talk about this affordable way to improve the way you sleep. After reviewing the Newentor Hesperis mattress, I was really curious to see what they did with this topper.
Before you decide to buy a mattress topper, you should first set your expectations right. A topper cannot fix an unsupportive old mattress. If your old mattress has lost its shape and cannot distribute weight evenly, then the time has come for a new one. On the other hand, if you feel that your old mattress is too firm or you need more pressure relief then a mattress topper can be the way to go. It's time now to move to the full review below.
Materials
This topper features two layers. The upper one is made of Gel-Visco memory foam that is designed to sleep cool during the night. The maker claims that it can lower skin temperature by 1.5-2℃. This layer has excellent pressure relieving properties that can help you sleep easier. Underneath that, there is a support foam layer that has the ability to improve your spine alignment during sleep. This foam type is designed to provide your body with the needed comfort and support.
Around the foam layers, there is an eco-friendly cover that is breathable and feels soft. It's certified by OEKO-TEX Standard 100 so it is free from any toxic substances. If you want to clean it, you can remove it and pop it inside your washing machine. That makes it quite easy to maintain. At the bottom of the cover, there is an anti-slip surface that will keep the topper in place.
Support & Comfort
This is a double-sided topper so you have two options. The memory foam side is the softer of the two and has great pressure relieving properties. You should choose this if you look for more comfort. If I use my virtual scale here, I would it's a 6 with 10 being really firm.
On the other hand, the support foam side is the firmer of the two and you should choose it if you need more support and better spinal alignment. In my virtual scale, this would be a 7 with 10 being really firm. Both sides will do a good job and overall, this is a high-quality topper.
Trial Period & Warranty
The Newentor topper comes with a 120-night trial period so you have exactly 4 months to try it and decide later whether you want to keep it or not. That makes this purchase completely risk-free. Besides that, you will also get a 10-year warranty and free delivery. Finally, there is also an internal cover that can absorb moisture and prevents the breeding of mites and other bacteria. Overall, this is a very well-made topper and Newentor did a great job here.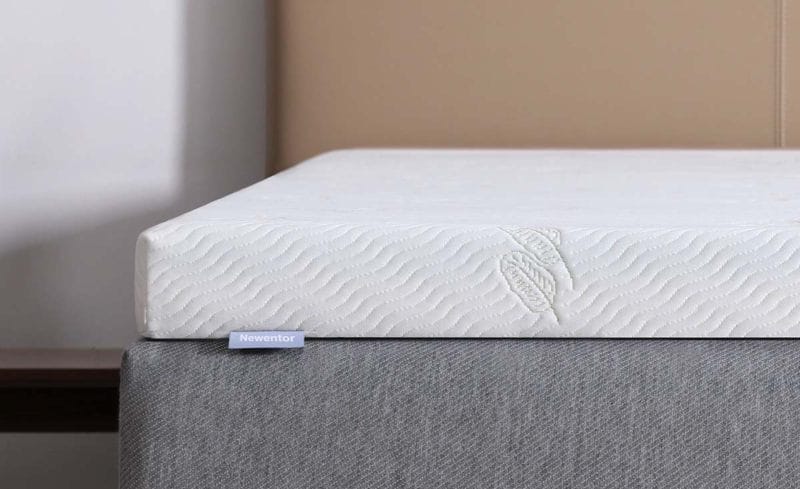 Pricing
The Newentor topper is available in 6 sizes and that is great news! The smaller size (Single) sells for $320 with the bigger (Super King) going for $490. The table below has pricing information for all available sizes.
| | | |
| --- | --- | --- |
| SIZE | DIMENSIONS | PRICE |
| Single | 92 x 188 x 7cm | $320 |
| Long Single | 92 x 203 x 7cm | $340 |
| King Single | 107 x 203 x 7cm | $350 |
| Double | 137 x 188 x 7cm | $365 |
| Queen | 153 x 203 x 7cm | $390 |
| King | 183 x 203 x 7cm | $430 |
| Super King | 207 x 203 x 7cm | $490 |
Is this a good buy?
I would like now to complete this Newentor topper review and share my final thoughts with you. This is a great addition to the Australian market and it comes at a fair price. I really liked the fact it comes with two firmness profiles and it's available in 6 sizes. All that means more options for sleepers and that is very important these days. If you look for a high-quality topper that is versatile, this is the one to consider.
PROS
2 firmness profiles
Excellent cooling system
120-night trial period
CONS
Cover design could be better