If you are looking for a cot mattress, you have come to the right place. In this Joey baby mattress review, I discuss this exciting new option that is definitely one to consider. For those who have never heard of this brand, this baby mattress is developed by Koala and you can buy it directly from their website.
What is really interesting about it is the fact it features a hybrid design so it combines foam with pocket springs. This is impressive but I will talk about it in detail later. Without any further ado, let's move to the full review below.
Materials
The core of this mattress is made of polyurethane foam that is combined with steel pocket springs. The people at Koala decided to follow this architecture as it has a number of advantages. Firstly, the foam has great pressure-relieving properties so your baby's joints can get proper rest. Secondly, the springs can support the growing body of your baby as it increases in weight and height. Finally, the springs increase airflow so this mattress breathes better. This not only keeps it cool during the night but it also helps with hygiene.

Around the core, there is a cover that is made of two layers. The outer one is made of 100% polyester while the inner layer is made of 100% Tencel Lyocell fibre with TPU backing. This is a great combination as it has some great properties. Firstly, this is a durable fabric that will last for a long time. Secondly, Tencel is very breathable so this mattress will sleep cool during the night. Finally, this cover is machine-washable which is super important when we talk about baby mattresses. Overall, this is a well-made cot mattress that won't disappoint.
Safety
When you shop for your baby, safety should be your priority. The people at Koala understand this, so this one is Australia's most safety-certified baby mattress. To be more specific, it meets the Red Nose Australia criteria and it's INPAA endorsed. Additionally, it meets the voluntary Australian standard AS/NZS 8811.1:2013 and it's OEKO-TEXⓇ Standard 100 certified. All these make it an excellent choice for your family and your baby.
Service & Support
If you decide to buy one, Koala has packed it with a great support package. For starters, you will get a 120-night trial period that gives you 4 months to try it at home. If you are not happy with it, you can return it and ask for a full refund. Returns are free and the people at Koala will arrange everything for you. Moreover, you will get free delivery which is one of the fastest in Australia. Finally, the Joey baby mattress will come with a 5-year warranty so you will be covered for a really long time. Overall, this is a fantastic package, especially if we consider the price here.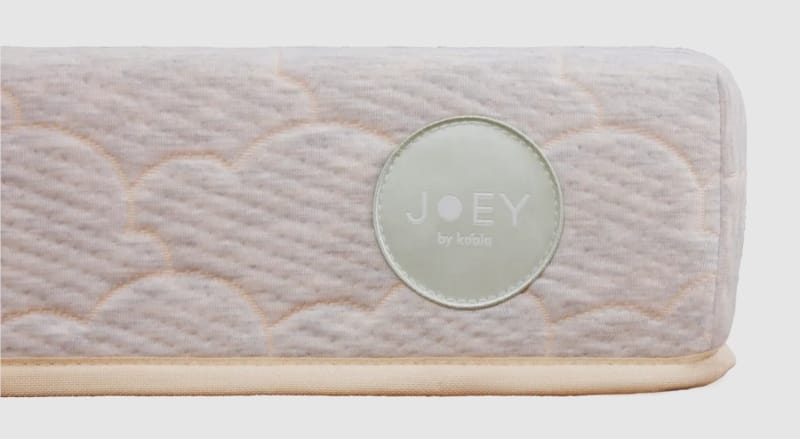 Pricing
The Joey baby mattress is available in only one size and this in my opinion is a big drawback. Parents have different needs so hopefully, Koala will add more sizes in the near future. This baby mattress will cost you $300 so this is an affordable option.
Verdict
It's time now to complete this Joey baby mattress review and discuss whether it's an option you should consider. This is a high-quality cot mattress that is built with excellent materials and it's packed with a great support package. All that comes at a fair price from a name you can trust. If they were offering more size options, this would be an ideal option for your first baby mattress.
Joey Baby Mattress Review
PROS
Great materials
Many safety certifications
120-night trial period
CONS
Available in one size only