When shopping for a newborn baby, the list can be really long. One of the main things needed is a quality cot mattress. Ecosa is a popular Australian maker, mainly known for its adult mattresses. In this Ecosa cot mattress review, I will discuss their attempt to create a baby mattress and whether it's one you should consider.
I decided to order an Ecosa cot mattress as a gift for my niece who is due next month. After all, I am the 'mattress expert' in the family. My cot mattress was delivered 5 days ago so I am ready now to move to the full review below.
Materials
The Ecosa cot mattress is adjustable so you can change its feel as your baby grows. At the heart of it, there is a Nestflow™ core that is made from food-grade polypropylene. That means that it's free from latex, adhesives, or chemical-filled nasties. This mattress features two layers with different firmness profiles. For the first months of your baby's life, you should choose the firmer side but as it grows, you can move to the softer side to add some extra comfort.
The Nestflow™ core is very breathable which is important for good hygiene. The good news is that it's washable so if you have a big mesh, you can wash the core in the shower, bath or under a garden hose. This is extremely useful and an important reason to consider getting this cot mattress.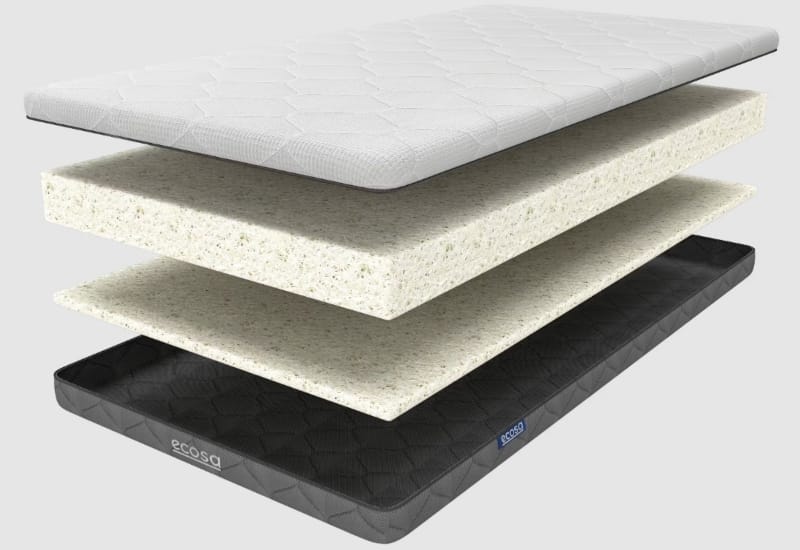 Around the core, there is a cover made from a 3D Mesh & Tencel blend that works great. If you read my reviews, you already know that I am a big fan of Tencel, a material that has some excellent properties. These include breathability, temperature regulation and being hypoallergenic. Additionally, Tencel is an eco-friendly material as it's made of wood pulp. The great news here is that the cover is removable and machine-washable so it's extremely easy to keep clean.
Safety
When it comes to baby mattresses, safety should be your number one priority. This cot mattress comes with the Red Nose approval that ensures it's safe for baby use. Moreover, it's compliant with the AS/NZS Voluntary Standard and the STANDARD 100 by OEKO-TEX®. The latter means it's free from any harmful or toxic substance. As you see, the people at Ecosa did a great job here and they made sure that this cot mattress complies with all the safety standards.
Service & Support
If you decide to buy one, you will get a 100-night trial period that allows you to use it for more than 3 months at home. If you are not content with it, you can return it and ask for your money back. This is very impressive, especially for a cot mattress. Moreover, you will also get a 5-year warranty that will cover you for a long time. This is a fantastic package and it shows why Ecosa is considered such a great brand.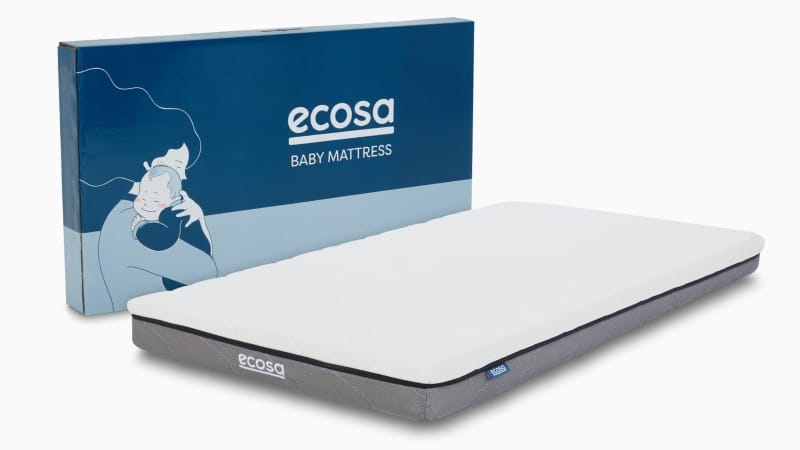 All cot mattresses come with free next-day delivery provided you live in a Metro area. The cities that are included are Melbourne, Sydney, Brisbane, Perth and Adelaide. If you live in any other area, you will receive your cot mattress for free within 1-7 business days. If you are in a hurry, Ecosa offers a same-day delivery service for a $50 flat fee. I live in Sydney, so I got my mattress within a day. It was well-packed and the box was in mint condition. Overall, this is a great service offered here so no complaints from my side.
Pricing
One of the most impressive things about this cot mattress is the fact it's available in 7 sizes! Yeah, this is not a typo so you will definitely find the one that suits your baby's bed. All sizes are similarly priced and you should expect to pay around $500 to get yours. This is a fair price and the good news is that Ecosa runs frequent promotions. That means that you will probably pay less than that. In fact, that was the case for me as they were running a 20% off promotion at the time of my purchase.
| | | |
| --- | --- | --- |
| SIZE | PRICE | |
| 100 x 60cm | $440 | |
| 120 x 60cm | $480 | |
| 130 x 69cm | $540 | |
| 132 x 70cm | $560 | |
| 140 x 70cm | $580 | |
| 131 x 75cm | $580 | |
| 132 x 77cm | $600 | |
Verdict
It's time now to complete this Ecosa cot mattress review and share my final thoughts with you. This is a well-made cot mattress that comes with all the important safety certifications. Add excellent service and reasonable pricing and you have a great deal! Ecosa managed to build something great here and this is hard to ignore.
Ecosa Cot Mattress Review
PROS
Fantastic materials
Fully washable mattress
100-night trial period
CONS
Cover is not waterproof