We spend almost one third of our lives in bed. That's why is so important to have the right mattress. An adult dog will sleep approximately between 12-14 hours a day. Don't they deserve a comfortable place to sleep? In this Sleeping Duck dog bed review, I will talk about this unique option that can be the perfect gift for our four-legged friends.
I have a little puppy named "Paris" and he likes to sleep on my couch. However, when the night comes he wants to join me in my bedroom. As I don't want him spending the whole night on the floor, I decided to get him a dog bed so he can have a comfortable and cosy sleep. Being a mattress guy, I first looked at the brands that I already knew and I was happy to find out that Sleeping Duck has developed one. Without any further ado, let's move to the full review below.
Construction
As expected from such a brand, this dog bed is made with high-quality materials and it has a great finish. To be more precise, they have used AntiGravity foam which is also found in their human-sized mattresses and the Sleeping Duck pillow. This is something I never expected but it shows how seriously they conducted this project. Around that, there is a cover that features a double layer. This is waterproof and if it gets wet, all you have to do is remove the outer cover and let it dry. Additionally, if you want to give it a proper wash, you can remove both layers and hand wash them with soapy water. This is great but I would personally prefer it to be machine-washable.
Before you buy a dog bed, you should pay attention to its safety. This one features hidden zips, pointing inwards so your puppy's teeth are safe. Moreover, your floors won't be scratched so this is a win/win situation. The Sleeping Duck dog bed features a dark grey colour that will suit every part of your house. It's a very beautiful one and I personally loved it. Overall, this is a premium dog bed that really impressed me.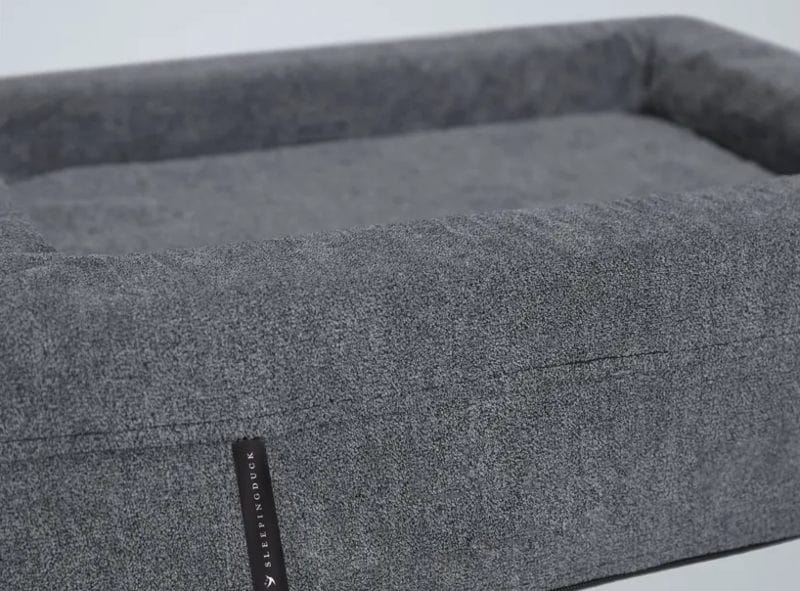 Delivery & Guarantee
If you decide to buy one, the people at Sleeping Duck will offer you free delivery which is great. Unfortunately, the Dog Bed doesn't come with a trial period so once opened, it cannot be returned. I guess this is normal as it's hard to check if your dog feels that this is a comfortable bed or not. The maker's advice is to carefully choose the bed size and to do that, you should consider your dog's sleeping habits. Finally, this dog bed comes with a 12-month limited warranty which I think should be longer.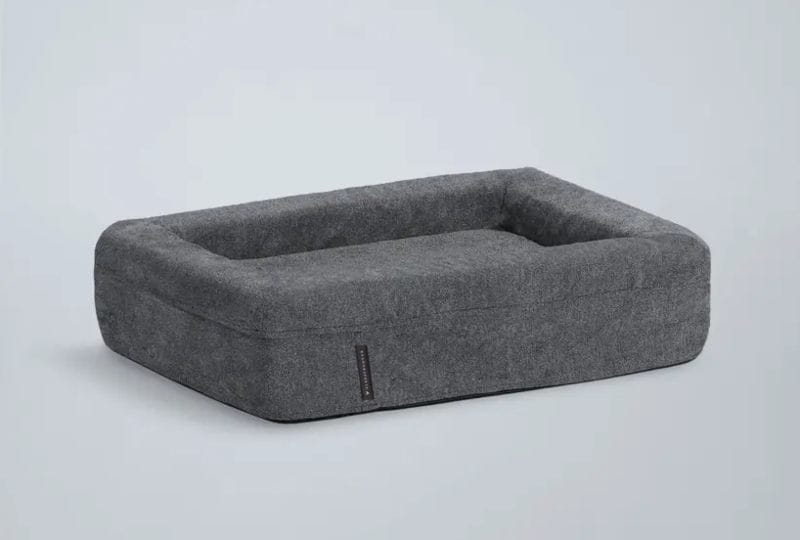 Pricing
This pet bed is available in 3 sizes so you will definitely find the one for your furry friend. The smaller size starts at $200 and the truth is that it's a bit pricey. Having said that, if you consider the quality here, I would say that it's more reasonably priced. The table below has information about all available sizes and their prices.
| | | |
| --- | --- | --- |
| SIZE | DIMENSIONS | PRICE |
| Small | 66 x 48 x 15cm | $200 |
| Medium | 84 x 64 x 15cm | $250 |
| Large | 115 x 90 x 15cm | $350 |
Verdict
I hope you found this Sleeping Duck dog bed review useful but if you feel that you have any queries about this product, don't hesitate to contact me. I personally think that this is a premium dog bed and if you have the budget for it, this is definitely an option you should consider. Moreover, this dog bed can be a great option for ageing dogs who suffer from arthritis. In any case, Sleeping Duck did a great job here and this dog bed won't disappoint you.
Sleeping Duck Dog Bed Review
PROS
Fantastic materials
Clever design
Free delivery
CONS
Not the cheapest dog bed out there