Weighted blankets known also as gravity blankets are widely used these days for a number of reasons. The most common ones are anxiety and insomnia. In this Ecosa weighted blanket review, I will talk about this new option and whether it's one you should consider.
If you don't know what a weighted blanket does, I will try to describe it in simple terms. When we are hugged we feel more calm and safe. The extra weight that these blankets have, replicate the 'hug feeling' so people feel better which can help with a number of conditions. When I saw the Ecosa weighted blanket, I was really curious to try it out so I was excited when I received it about 2 weeks ago. It's time now to move to the full review below.
Applying gentle pressure to the body can promote the release of serotonin in the brain, relieving anxiety and helping you drift off to a restful snooze.

According to

Ecosa
What's inside the Ecosa weighted blanket?
The Ecosa weighted blanket has a straightforward design. Inside the blanket, you will find evenly distributed micro-glass beads which are placed in hexagonal pockets. The pockets ensure that all these beads will stay in place during use.

Around that, there is a bamboo cover which is a material that I personally love. Bamboo is naturally soft and hypoallergenic. It's also very breathable so you won't feel too hot during the night. Moreover, Bamboo is great for the environment as it needs 3 times less water compared to cotton. All materials used to make this blanket are TGA approved which is great.
How heavy should my weighted blanket be?
This is the most frequent question that I am getting and one of the reasons I wrote this Ecosa weighted blanket review. Thankfully, Ecosa has created the below table that will help you find the one that suits your needs. All you have to do is measure your own weight and then look at the table below to find the right one for you.
| | |
| --- | --- |
| Body Weight | Blanket Weight |
| 70kg or Less | 7kg |
| 70kg – 90kg | 9kg |
| 90kg or More | 11kg |
How much does it cost?
When you buy this weighted blanket, you will be given three weight options. The smaller 7kg one starts at $300 with the bigger 11kg one going for $330. Before you choose the weight you should always look at the table above to choose the right one for you. Ecosa run frequent promotions so you won't have to pay the full price. The table below has pricing information for all weights.
| | |
| --- | --- |
| Blanket Weight | Price |
| 7kg | $300 |
| 9kg | $320 |
| 11kg | $330 |
How will it be delivered?
All Ecosa weighted blankets come with Free delivery Australia wide. Depending on your postcode, the blanket with be delivered within 3-10 business days. They use Australia post for their shipments and the whole process was very smooth for me. Overall, I think they did a great job here.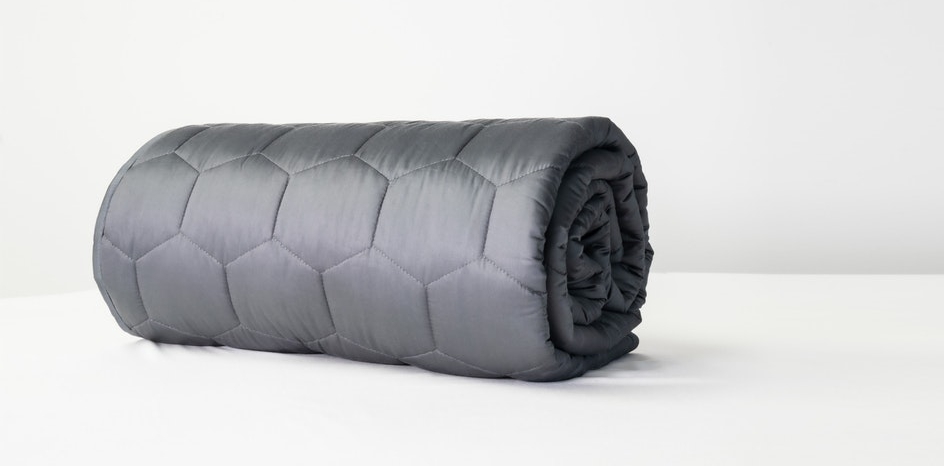 Should I buy the Ecosa weighted blanket?
This is the question that I need to answer now that I complete this Ecosa weighted blanket review. In my opinion, this is a well-made blanket from a maker that you can trust. It's definitely geared towards people who don't have a normal sleep cycle but it's not limited to them.
I don't have any sleep issue but I really enjoyed the deep pressure which helped me calm faster. It's a nice feeling and for me, it improved the quality of my sleep. It's not therapy but living under all this stress, it's great to have this blanket to help our mind and body. If you are in the market for a weighted blanket, the Ecosa one is a great choice and I highly recommend it!
Ecosa Weighted Blanket Review
PROS
Excellent bamboo cover
Nice design with hexagonal pockets
Free delivery service
CONS
Not the cheapest in the market